Considering
Spoon
has been playing and recording for 24 years, the Austin-based band has probably reached its zenith, popularity-wise. It's hard to imagine some sort of bigger commercial breakthrough coming down the line for the angular art-rockers, especially in a pop-music environment where guitars are almost criminal.
It's a damn shame, though, that more people aren't privy to the wonders of leader Britt Daniel and his merry cohorts' brand of dance-floor-ready rock 'n' roll. Don't get me wrong; Spoon packed the Knitting Factory pretty full Monday night, and they have a dedicated fanbase, thanks to their regular appearances on the festival circuit and catalog of excellent albums like
Girls Can Tell
(2001),
Ga Ga Ga Ga Ga
(2007) and this year's beauty,
Hot Thoughts
.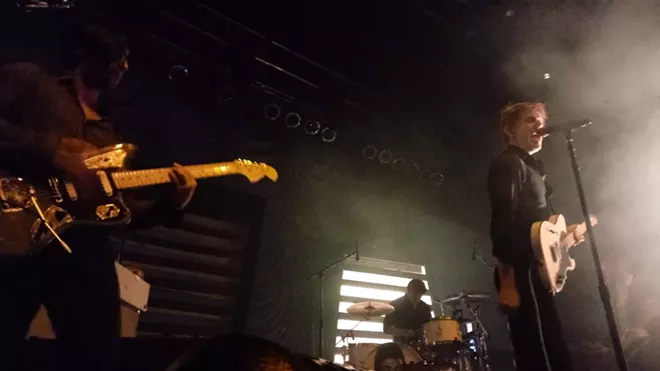 As I was standing on the Knitting Factory floor just in front of the stage, surrounded with moving, grooving fans ranging from young dudes in Primus shirts to twentysomething women dancing in circles to middle-aged cats like myself doing the Old Rock Guy headbob — all joyfully enjoying "Got Nuffin" or "Don't You Evah" or the tasty new jam "Can I Set Next To You" — all I kept thinking was, "These guys should be
huge
!"
Of course, that would mean having to see Spoon in much larger venues than the cozy Knitting Factory, a spot big enough to allow the band's ornate stage lighting and multi-tiered stage, but small enough to feel like Daniel might just reach out and tough your hand at any moment.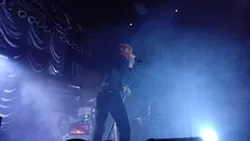 The lanky lead singer/guitarist is a rock star no matter what size the stage, strutting side to side, lifting his guitar for some audience adulation and dramatic stage effect, and occasionally telling stories about, say, seeing Iggy Pop abuse his microphone stand the night before. He joined keyboardists/guitarists Alex Fischel and Gerardo Larios at their stations at times, banged on Jim Eno's cymbals at others, and joined a furious tambourine showdown with bassist Rob Pope as the band lit into "Pink Up" during the encore.
The first song of the encore might have been the highlight of the show as Daniel took the stage alone with his guitar and did a scorching version of "I Summon You" before the rest of the band joined him to close out with a run of "Pink Up," "Hot Thoughts" and "My Mathematical Mind."
Spoon sprinkled songs from
Hot Thoughts
throughout their nearly 20-song set, from the opener "Do I Have To Talk You Into It" to "WhisperI'lllistentohearit," a song that opens with a sprawling, gauzy electronic introduction before erupting into a furious guitar jam laced with seriously booming beats. "I Ain't the One" was a strong ballad from the new album.
It's hard to beat Spoon when they're delivering old favorites, through, and "I Turn My Camera On," "Inside Out" and "Stay Don't Go" were all excellent.
At this point, though, excellent is what I've come to expect from Spoon, every time they take a stage.
Spoon setlist for Spokane, Aug. 28, 2017:
1. Do I Have to Talk You Into It
2. Inside Out
3. I Turn My Camera On
4. Rent I Pay
5. Stay Don't Go
6. Don't You Evah
7. Do You
8. Via Kannela (instrumental interlude)
9. I Ain't The One
10. Anything You Want
11. Can I Sit Next To You?
12.WhisperI'lllistentohearit
13. Don't Make Me A Target
14. The Underdog
15. Got Nuffin
Encore
16. I Summon You
17. Pink Up
18. Hot Thoughts
19. My Mathematical Mind