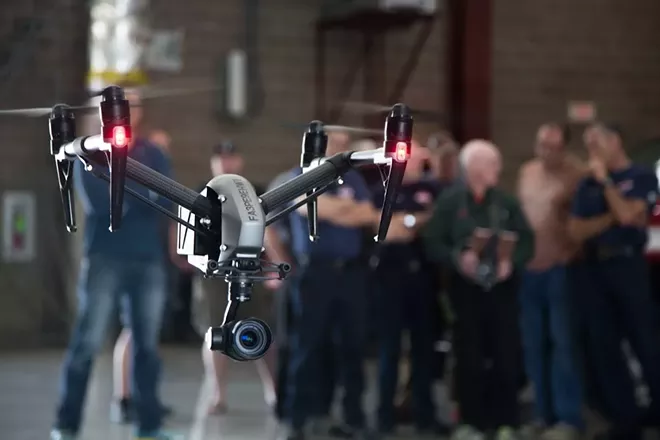 Accurate information, and getting it quickly, is essential for emergency first responders. The Spokane Fire Department is working to bolster both with its new drone program.
Nearly a year after Spokane City Council gave the OK for the city's fire department to use the unmanned aircraft, the program is getting off the ground.
The fire department already has three drones that cost about $1,150 each, and is waiting for a fourth, which comes with a $9,000 price tag, says Lt. Todd Powell, the drone program manager.
Altogether, the department has spent $27,898.27 on drones, cameras, batteries and other accessories, according to city spokesman Brian Coddington.
The department has launched its drones in only a few real-life emergency situations so far this year, but 10 firefighters are currently trained and licensed to fly them through the Federal Aviation Administration.
"The whole point of the drone program is so we have another way to collect information to make more informed decisions," Powell says, adding that the aircraft will give responders invaluable information quicker and without putting lives at risk.
For example, Lt. A.J. Miller, a member of the department's hazmat team, says it can take up to an hour or more to prepare a person to walk into a hazardous material "hot zone."
Flying a drone over the area can reveal the same information — such as what kind of materials are involved and how much — in a matter of minutes, he says.
That saved time is crucial.
"Especially in Spokane, we sit over an aquifer," Fire Chief Brian Schaeffer says. "We're probably one of the most aggressive hazmat teams, because we have to protect the aquifer at equal cost to protecting live. That is public safety in Spokane. If that stuff reaches that aquifer, that could contaminate it for generations to come."
Another useful feature is the thermal camera that will be mounted on at least one drone. Those will help in water rescues, Powell says.
Federal regulations say pilots must fly drones within a line of sight, meaning the pilot must be able to see the drone at all times. They also cannot be flown higher than 400 feet.
"It's so logical," Schaeffer says of his push to get the department drones. "And we've made a pledge that we're not in the surveillance business, nor will we ever be. We're in the business of saving lives."