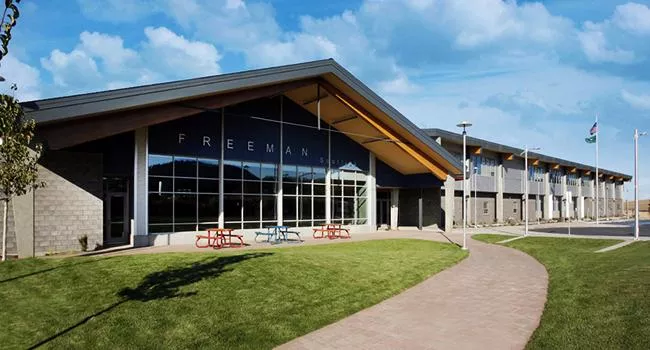 A sophomore student brought two guns to Freeman High School on Wednesday morning, but the first one jammed when he tried to fire it, Spokane County Sheriff Ozzie Knezovich said.
Before the student shooter, who has been identified by news outlets as Caleb Sharpe, could fire the second weapon, a classmate, Sam Strahan, approached and tried to intervene.
"That student was shot, and that student did not survive," Knezovich told reporters.
Sharpe
continued to fire down the hallway
in the south Spokane County high school, striking at least three more classmates, according to students. All three were transported to Sacred Heart Medical Center and are in stable condition. One of the victims was expected to require surgery Wednesday afternoon, according to hospital officials.
The shooter has been taken into custody, and is currently in the Spokane Juvenile Detention Center, Knezovich said. There are few details about the shooter's motive, but Knezovich said "it sounds like a case of a bullying type of situation."
Several local media outlets have interviewed Freeman High School students. One freshman girl described hearing loud popping sounds and said she saw her classmate walking down the hallway "very calmly," with a "passive face." The freshman girl said she crouched down and "just heard screaming and screaming and screaming," according to an interview with KREM 2.
She described seeing at least two classmates shot and lying on the ground next to her.
Another student told reporters that the suspected shooter handed notes to classmates in the days before the shooting. The notes indicated that the troubled student intended to "do something stupid," the student being interviewed told reporters. In an interview with KREM 2, the student said that counselors were given a copy of the notes.
Another student, who spoke with KHQ, described hearing the gunshots as he was waiting for his first class to begin.
"They just sounded like popping," the student said. Watch more below:
Local, state and federal law enforcement agencies responded to the scene to interview more than 300 witnesses. Knezovich said there is no longer a threat to the public.
"These are senseless and tragic events," he said. "They really don't need to happen, and I don't understand them."
Freeman School District Superintendent Randy Russell said school is canceled tomorrow.