ON INLANDER.COM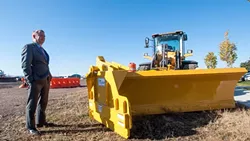 NEWS
: With another hellish winter likely on the way, the city of Spokane has a
new snowplow plan
that will see workers plowing the moment it snows — though that will create bigger berms.
NEWS
: This week, we wrote about the issues caused by the
stalled state capital budget
. Here's a
list of the major projects
on hold because of it.
NATION
: Sgt. Bowe Bergdahl
has pleaded guilty
to desertion and misbehavior before the enemy. Bergdahl, 31, from Hailey, Idaho, was held captive by the Taliban for five years before the Obama administration traded him for five Taliban detainees at Guantánamo Bay, Cuba. (via
New York Times)



IN OTHER NEWS
No longer unspoken
The hashtag #MeToo has
exploded on social media
, signifying all the women who have been sexually harassed or assaulted, and helping people to understand the prevalence of such behavior in society. (
The Atlantic
)
Watch for falling trees!
Strong winds are expected to roll into town today, with
gusts reaching up to 40 or 50 mph
. Don't worry; this is nothing like the historic Noiveme2015 windstorm. (KREM)
Community divided
After admitting the process was botched, the Spokane City Council voted 4-2 to allow the Martin Luther King Jr. Family Outreach center to
operate the East Central Community Center
. (
Spokesman-Review
)
Moos on the loose
Following Bill Moos' unexpected departure from his position as WSU athletic director, the university has named John Johnson, senior associate athletic director, to
lead the athletic department in the interim
. WSU President Kirk Schulz also announced the members of a committee that will begin the search for a new athletic director. (KXLY)
ISIS loses its capital
U.S.-backed forces in Syria claim to have
taken over full control of Raqqa
, the Islamic State's one-time capital that held symbolic significance. (
Washington Post
)