ON INLANDER.COM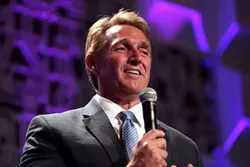 NEWS:
Arizona GOP Sen. Jeff Flake, a fierce critic of President Trump whose first term ends in 2019,
will not seek reelection next year
. Flake made his announcement in a 17-minute speech on the Senate floor, as he challenged not only the president but Republican leadership. (via
New York Times
)
• The full transcript of
Sen. Flake's extraordinary speech on the Senate floor
. (
NYT
)
NEWS:
With Vice President Mike Pence providing the tie-breaking vote, Senate Republicans voted last night to
strike down an Obama-era rule
that would have allowed Americans to band together in class-action lawsuits against financial institutions. (via
New York Times
)
NEWS:
After another audit plagued with errors was pointed out by the state auditor's office, the city of Spokane
has fired its accounting director
.
COMMENT:
It should come as no surprise to Americans, says columnist Robert Herold, that
pouring salt on the wound of racism
will do nothing to help it heal.
IN OTHER NEWS

'Not guilty' plea in North Spokane hate crime

Self-described white supremacist Jason Cooper, 32, and Donald Prichard, 36, both of Spokane,
pleaded "not guilty"
to charges including including first-degree assault, first-degree burglary, and malicious harassment stemming from a vicious Oct. 8 attack on Norris Cooley, a 66-year-old African-American man, in North Spokane. (
Spokesman-Review
)
No swamp-draining here
How a tiny Whitefish, Montana, company with connections to Interior Secretary Ryan Zinke, a former Montana congressman,
landed a $300 million government contract
to help rebuild Puerto Rico's hurricane-devastated power grid. (
Esquire
)
• The tiny Montana company that received the $300 million contract
has links to a major Trump campaign donor
. (
The Daily Beast
)
• Lawmakers on Capitol Hill are asking why this particular small company received this huge contract,
and demanding answers
. (ABC News)
• How the
Spokesman-Review
reported this story
.
Elsewhere in Montana...
Karen Marshall, a Republican Party official in southwest Montana's Gallatin County,
said she "would have shot"
Ben Jacobs, a reporter from the UK's
Guardian
newspaper who was body-slammed by GOP Rep. Greg Gianforte the night before a special election in May. Gianforte, who pleaded guilty to misdemeanor assault in June, was sentenced to community service and forced to attend anger management classes. (
The Hill
)

Assault charges for Griz player
University of Montana safety Justin Strong is
accused of beating WSU student Bradley Mehring
early Saturday morning. Mehring, 23, who was unresponsive at the scene with severe head injuries, was being treated for a skull fracture at Spokane's Providence Sacred Heart Medical Center. Strong, arrested on suspicion of second-degree assault, was released on his own recognizance from the Whitman County Jail. (
Spokesman-Review
)
A legacy of unimaginable wealth, indescribable pain
Inside the story of the secretive family
who have made a $14 billion fortune off of America's opioid crisis
, now a full-fledged public health emergency. (
Esquire
)
• The
ripple effects
of America's burgeoning opioid crisis. (
Esquire
)
RIP, Fats Domino
Fats Domino, one of rock 'n' roll's first stars who recorded more than three dozen Top 40 hits in the 1950s and '60s,
died yesterday in Louisiana
at 89. (
New York Times
)
Another gender boundary falls
Less than a month after the death of iconic founder Hugh Hefner,
Playboy
magazine will unveil its
first transgender Playmate of the Month
, French fashion model Ines Rau, in its November/December issue. (
Washington Post
)
Kid Rock on Senate bid: "F—- no!"
On the Howard Stern Show — because where else would you go for breaking political news? — Robert Ritchie, aka Kid Rock, declared in no uncertain terms that he
would not be running for Senate in his home state of Michigan
next year, as he had previously asserted, admitting that the whole thing was a publicity stunt to promote his new album. (
Rolling Stone
)
Hot time in L.A.
The first-pitch temperature for Game 1 of the World Series was
103 degrees at Dodger Stadium
, making it the hottest postseason game in Series history. Clayton Kershaw struck out 11 Astros in 7 innings as the
Dodgers beat Houston, 3-1
. (ABC News,
Los Angeles Times
)