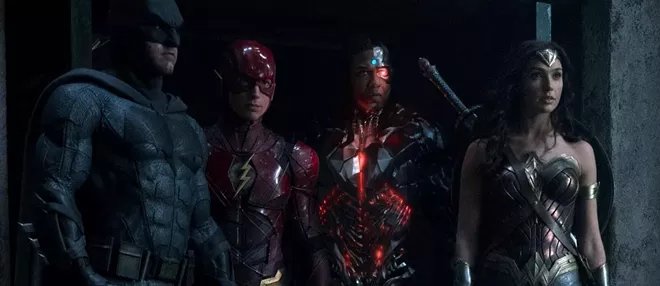 As Oscar season heats up, expect some serious award contenders to start gradually making their way onto Spokane screens in the next few months (we're always a bit behind, movie-wise).
The Florida Project
is this week's notable critical darling, a festival hit that's been attracting buzz since premiering at Cannes. Oh, and don't forget about that scrappy little indie production
Justice League
; hopefully it finds an audience.
Here's what's opening this week.
THE FLORIDA PROJECT
(3 stars)
Opening at the Magic Lantern is this vivid snapshot of life in a run-down motel in Orlando, shot on location with a cast of mostly non-actors. Structured as a series of vignettes, our critic Seth Sommerfeld calls it a
winsome, bittersweet look at a childhood in poverty
. From the director of 2015's acclaimed
Tangerine
. Rated R.
JUSTICE LEAGUE
The latest DC blockbuster from Zack Snyder reunites Batman and Wonder Woman, then teams them up with Aquaman, the Flash and Cyborg to take down world-destroying supervillain Steppenwolf. That the movie runs just shy of two hours will likely be its only form of restraint. Rated PG-13.
THE STAR
This cheap-looking animated film finally answers the question no one has ever asked: What were the animals like at the Nativity? The huge voice cast includes Oprah Winfrey, Mariah Carey and Christopher Plummer. Rated PG.
WONDER
(2 stars)
A little boy with facial deformities (Jacob Tremblay of
Room
) is sent off to public school for the first time, with his encouraging parents (Julia Roberts and Owen Wilson) looking on. Critic MaryAnn Johanson says this adaptation of R.J. Palacio's
bestselling YA novel
has sweetness to spare,
but it all but bashes you over the head with its messages
. Rated PG.