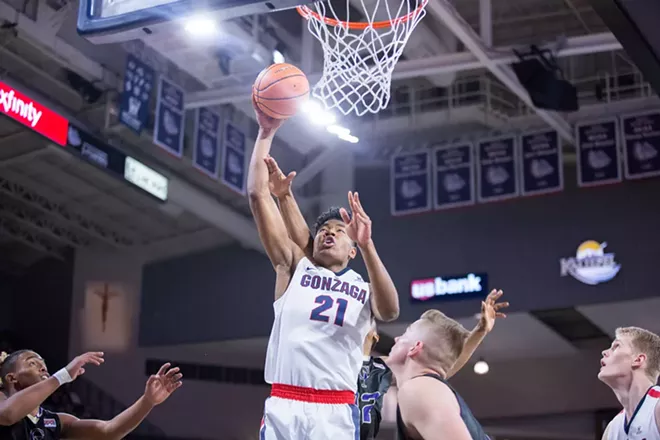 The first few weeks of WCC play was rather anticlimactic up until Saturday night's Zags face-off with San Francisco.
Their margin of victory over five games eclipsed 26 points after dismantling the Portland Pilots at home earlier in the week. But the Zags are always gifted a challenge when playing in the Dons' War Memorial Gym.
Saturday night's test never felt unmanageable, but it was a helpful test for the young Zags to maintain a lead late when San Francisco would linger with just a six-point deficit. Ultimately the Zags front court proved to be too much for their opposition yet again.
A banged-up Johnathan Williams scored 17 points and had nine rebounds as the Zags interior outscored the Dons' 36-18. It was San Francisco's streaky three-point shooting and some haphazard turnovers by the Bulldogs that kept this game close.
The Zags are soundly dominating the glass, leading the conference in rebounds at 41 a game, six more per game than second place. They're also out-rebounding their foes by over 10 a game.
But if there was anything that's been proved in this early conference season it's that the WCC does not have a real answer in dealing with Rui Hachimura. Hachimura is shooting an absurd 76.7 percent from the floor in conference play, and wreaking havoc both on the wings and in transition.
In the staff's plan for Hachimura's time in Division I, his freshman season was for learning and adjusting. You could see times last year where he'd contemplate his next move whenever he had the ball, trying to decipher when to attack and when to pass.
That difficulty in judgement seems over now, as he cleanly and swiftly strikes when the opportunity presents itself. Often, a Hachimura defensive rebound is best followed with him taking it coast to coast, weaving past whatever unfortunate big man is tasked with covering him man-to-man.
Hachimura makes those transition defenders pay with his ability to not only finish through contact but also convert at the free throw line. He's shooting at 89 percent on his free throws, second only to Silas Melson's 90 percent.
His game currently reminds me of Elias Harris' freshman season, where his Euro-step and agile footwork spelled doom for the conference's bevy of un-athletic and slow bigs. It's exciting to not only see Hachimura's game progress, but also seeing him receive opportunities playing the small forward/three position, where he'll need to proficiently play at the next level.
And the competition will only tighten as the Zags face the Saint Mary's Gaels on Thursday night. The teams are tied for first in the conference, with Saint Mary's withstanding tough games from both BYU and San Diego.
The Gaels will likely be another test for the Zags' perimeter defense, which is allowing an unideal 36.5 percent from long range. As great as the Zags have been at selflessly dishing the rock, the Gaels actually lead the conference in assists per game.
And Jock Landale should be another test for a Zags team continues to show new signs of growth.