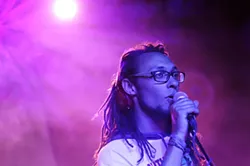 Celebrate Black History Month/African-American History Month in Spokane with a slew of events and activities. From spoken word poetry to fascinating lectures, February will be a busy month. Come to show support of Black History Month and even learn something new. Below are just a few of the free events taking place.
Brotha Nature
Kick off Black History Month with a lyrical and musical treat from Brotha Nature! Brotha Nature is a solo beatboxing lyricist from Spokane who juxtaposes genres like hip hop, electronic and jazz, to name a few, to compose his work.
Spokane Downtown Public Library • 906 W. Main • Fri, Feb. 2 at 6:30 pm

SATURATE Spokane Arts Tour: Celebrating Artists of Color
Saturate is designed to recognize artists of color all over Spokane in various venues. Performances and art pieces will be showcased to give underrepresented artists exposure and an opportunity to be honored and celebrated. Check the new issue of
The Inlander
for a full run-down of Saturate shows.
Various locations • Starting Feb. 2 • spokanearts.org/saturate

Celebration of Gospel Music: Raising the Roof with Praise
The 21st annual Gospel Explosion at Whitworth University features local choirs and praise teams coming together for a night of worship. The event is free, but will accept donations. Warm up those vocal chords or come to appreciate the vocally talented.
Seeley G. Mudd Chapel, Whitworth University • Fri, Feb. 2 at 7 pm
Thurgood
Many are familiar with the Brown vs. Board of education case, but now you can learn more about Thurgood Marshall, the first African-American Supreme Court justice, and his role in the decision on the case. In honor of the 50th anniversary of Marshall's appointment to the U.S. Supreme Court, Gonzaga University hosts George Steven Jr.'s play
Thurgood
, a broadway production that won myriad awards. Dr. Timothy Golden will star as Thurgood Marshall.
Gonzaga University School of Law • 721 N. Cincinnati • Thu, Feb. 8 at 6 pm
Lessons from The Color of Fear
Two of the main cast from
The Color of Fear
, a documentary film, Victor Lewis and Hugh Vasquez give a presentation regarding race relations. The dialogue-friendly lecture will comprise their experience with the documentary, multicultural education and activism.
Weyerhauser Hall's Robinson Teaching Theatre, Whitworth University • Wed, Feb. 28 at 7 pm

Power 2 The Poetry Slam

Power 2 the Poetry slam competition is a free entry, uncensored poetry event complete with a judging panel and prizes for the winners. Power 2 the Poetry is a movement with the aim to raise awareness for social, cultural and political issues. The poetry isn't supposed to be comfortable. It's meant to be meaningful.
Auntie's Bookstore • 402. W Main • Wed, Feb. 28, sign up at 6:30 pm, event at 7 pm • auntiesbooks.com


Be sure to read the
Inlander
for more events in the coming weeks, and check the many area schools and organizations hosting African-American History month activities, including the
City of Spokane
,
Eastern Washington University
, the
Spokane Public Library
system, the
University of Idaho
, and
Washington State University
.