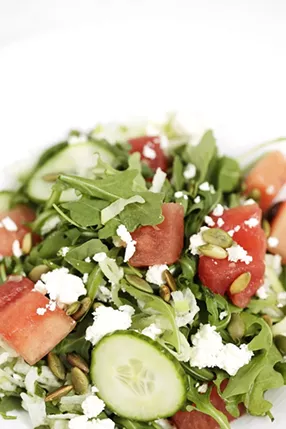 Don't get yourself into a #FOMO (fear of missing out) tizzy and miss the final days of the sixth annual Inlander Restaurant Week, which ends its 2018 run on the evening of Saturday, March 3.
Before you read any further, it's definitely advisable that you visit the
IRW website
or pick up a hard copy of the guide (still available at participating restaurants and our Kendall Yards office) to make your picks and call for reservations as soon as possible.
For those who've already hit up a few (or many) of the participating local restaurants, as well as folks who've yet to fit a dinner into their schedule (or budget) now that the annual 10-day event is a full week in, there are plenty of helpful reviews, food photos and more to be found across the web to help guide your decision.
Definitely search for the hashtag
#IRWRaveReviews
to see local diners' photos of favorite dishes and experiences, and don't forget to share your own photos using that hashtag to generate a donation to the event's designated charity, Second Harvest.
Also in this week's issue of the Inlander,
four staffers share
which area restaurants and menu items they've enjoyed most, so far.
If that's still not enough, check out this post sharing some
local foodies' personal sentiments
about Inlander Restaurant Week, from the Spokane Culinary Arts Guild.
TELL BRAIN FREEZE WHAT ICE CREAM FLAVORS TO MAKE NEXT

Despite the dizzying array of options in the cooler at
Brain Freeze Creamery's
two Spokane locations, not to mention the many other local spots that retail their delightful products, the local business says "not a day goes by when one of our customers doesn't say to us, 'You guys should make…'"
Well, all those ice cream creators can now exercise their right to sweet democracy by voting in the shop's
Second Annual People's Flavor Awards
, which is accepting online submissions now through March 31.
After the flavor submissions, from tame to downright wacky, have been collected, Brain Freeze staff will sort entries into five categories, after which its owners will pick four finalist flavors from each. At a big celebration on May 7, those flavors (20 in total) will be showcased for tasting and voting to decide one winner for each category and an overall winner of the contest. Tickets for that tasting event will go on sale April 1 (details are TBA).
The five flavor categories to consider as you ponder your craziest ice cream flavor creations are as follows: kids (flavors created by kids); chocolate (flavors with a chocolate base); mix-ins (with chunks or pieces of "stuff"); specialty (with a variety of ingredients) and fruit (a fruit base).
Only one entry is allowed per person, so carefully consider your suggestions before you submit!
IN THIS WEEK'S ISSUE

Learn all about the
forthcoming bakery and brewery
to Spokane's South Perry District. The Grain Shed Brewing and Culture Breads are sharing space in a previously long-vacant building on East Newark, on the north end of the business district. The joint venture is called the Grain Shed, and will offer baked goods and craft beers made from wheat and other heritage grains farmed on the Palouse.
A version of this information originally appeared in our weekly Entrée food newsletter; sign up to get it delivered directly to your inbox here. Find the previous edition of the Entrée blog here.