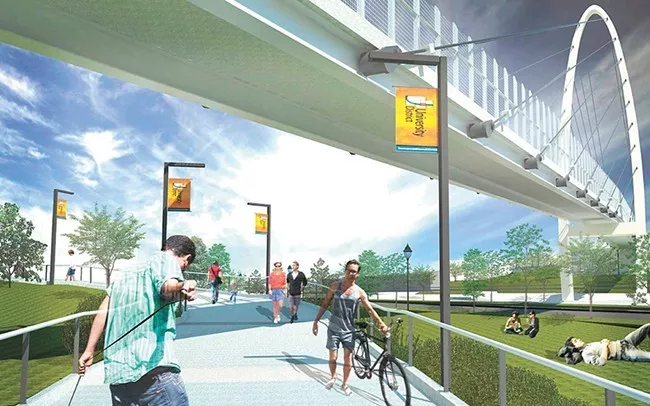 The city formed a naming committee. It solicited hundreds of suggestions to find a
timeless, and perfect name
for the new University District Gateway Bridge, the $9.5 million bicycle and pedestrian bridge connecting the University District to the East Sprague area.
And after all that time, the city Plan Commission finally picked a winner: the, uh,
University Gateway Bridge
. Or maybe just the University Gateway.
Which, fine. Sometimes you travel the world searching for what you thought was missing, only to find what you'd been looking for was in front of you the entire time.
But University Gateway Bridge? Really? Isn't that name sorta dull? Isn't it reminiscent of the Gateway bridges already in Australia, London, Iowa, Michigan, Texas
and
Mexico?
Doesn't "University Gateway" sound like the slow-loading website app where you have to enter in your FAFSA information to get financial aid for a third-rate college?
Since the City Council won't vote on the name until April 16, the city still has a chance to come up with a cooler name.
So with that in mind, here are a couple of suggestions. The city is welcome to take any of these suggestions, as long as they include a little bronze plaque on the bridge, that says "NAME FIRST APPEARED ON INLANDER.COM, AMERICA'S BEST-READ URBAN WEEKLY."
1. T.J. Meenach Bridge 2: Meenach to the Future
2. The Bridge to Snookerville (celebrating Spokane's long legacy of pool halls)
3. The Sherman Alexie There's-No-Way-This-Name-Could-Backfire Bridge
4. The Arc of Spokane
5. Future Campus Brochure Art Crossing
6. Sprague McBridgin'
7 The It's Not U, It's Me District Bridge
8. The Gateway DS50 Core i3 Desktop PC Bridge
9. The George Wright Robert E. Lee Christopher Columbus Atrocity Crossing
10. "
Designated Area of High Prostitution Activity. Vehicles Used to Further Prostitution Activity Will be Impounded
."
11. YOUR AD HERE
12. Spokane, a Plan, a Span, Panama
13. The George McGrath City Council Public Forum Speech Bridge
14. Bridge Crosby
15. Bridge of Khazad-dûm (named after Anthony Khazad-dûm, early Spokane founding father)
16. Mike Leach Bridge, But Not the WSU Football Coach, the Other Mike Leach, One of My Dad's Former Youth Group Kids, You Don't Know Him
17. Dr. Brigette McBridge-Fais, DDS
18. Wildlife Crossing for the Most Dangerous Game of All — Man!
19. The Ben Stuckart Memorial Don't-Name-The-Bridge-After-Somebody Bridge
20. The Bike-fröst
21 Bakken Oil Train Explosion Viewing Platform
22. The
This-Is-Not-A-Trolley-Either
Bridge
23.
Miller's Crossing
Crossing
24. The Please Don't Drop Pennies Off Of This At Passing Cars Bridge
25. I Paid $9.5 Million Through State, Federal and Local University District Funding and All I Got Was This Iconic Civic Landmark
26. The Salish word for "
Canada Island
."
27. 99 Problems, But a Bridge Ain't One
Most of all, however, the bridge needs a short name that communicates not only that it's a crossing, but that it's meant to connect the people to an academic institution. It needs to celebrate Spokane. It needs to recognize the intent to create an intellectual, data-oriented
bio-technology
hub in the area.
So with that in mind, let me propose:
28.
CamBridge
Spokanalytica