For families who take care of a loved one with an intellectual or developmental disability, it can be hard to find time off, whether that's for a weekend away, the chance to take care of their own health needs or for a longer break.
But the staff at the Arc of Spokane hope that a new respite home they've opened in north Spokane will help.
For up to 14 days per year, adult individuals who qualify through the Developmental Disabilities Administration can stay at the home, with staff on site and a care plan designed specifically for their needs, explains Lynnette Richardson, supported living administrator for The Arc.
"The parameters are that they are being cared for by family, a guardian or an unpaid caregiver in a home setting," Richardson says. "There's about 6,000 constituents in Spokane County who have developmental disabilities, whose families may be serving them at home. We want to make sure families know that service is available."
For those who qualify, booking a stay at the home is like booking a stay at a hotel, only families will request the time through their DDA case manager.
"This is a labor of love," says Sima Thorpe, executive director at the Arc, as she stands in the kitchen of the cozy two-bedroom home in the Nevada Heights neighborhood Friday morning.
Thorpe and a handful of other Arc employees met at the respite home for a quick ribbon cutting and celebration under overcast skies May 11, as they marked the successful opening of a service they say was a long-time coming to Spokane.
"Spokane has had no respite facility, ever," Thorpe says. "The number one concern if you talk to any parents, they talk about respite. I'm very proud of my team and my board for making this commitment."
The respite home is one of only a handful in the state and only the second east of the Cascades. Only one guest can stay in each of the homes at a time, so it previously was much more difficult for Spokane and Eastern Washington families to book time away, Richardson says.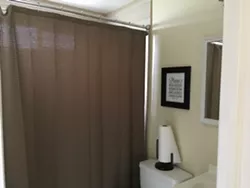 Though it'll definitely be most convenient for Eastern Washington families, time at the Spokane home is open to anyone who is eligible statewide. The guests who have already stayed since it opened in February have come from Western, Central and Eastern Washington.
"So we're pulling from a pretty big area," Thorpe says.
While it was hard to find a home small enough to pencil out with rent and other costs and still break even with the funding provided by DDA, Thorpe says she's glad they found a good location that was relatively close to other care facilities where Arc staff work.
"This is kind of a break-even thing for the Arc," Thorpe says. "We're really doing this because we see a need."
More information on overnight respite care in Washington can be found at
informingfamilies.org
.