A few weeks ago, the Spokane Arena opened voting for its Bucket List, a survey of local folks' dream concerts. And now that the votes have been tabulated, here are the venue's most requested musical acts.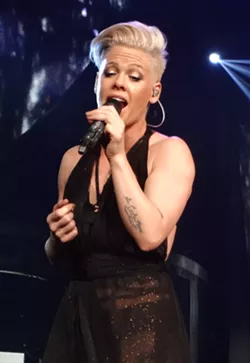 1. P!nk
2. Bruno Mars
3. Justin Timberlake
4. Maroon 5
5. George Strait
6. Ed Sheeran
7. Pearl Jam
8. U2
9. Imagine Dragons
10. Paul McCartney
Also on the list: Taylor Swift (#12), Bruce Springsteen (#13), the Rolling Stones (#15), Beyoncé (#21 — way too low, in our humble opinions) and, uh, Avenged Sevenfold (#26).
The Arena says the Bucket List has helped them land requested artists in the past, so it's totally possible that any of these A-list names could eventually make their way to the Inland Northwest. Keep your fingers crossed.
You can see the full list
here
.