Last night, Spokane City Council unanimously passed an emergency ordinance that places a six-month moratorium on the construction of new cell towers in residential areas of the city - and it's expected to get the city sued.

The ordinance was crafted in response to concerns voiced by residents that new towers were popping up in their neighborhoods with little notice and even less recourse if they objected to the structures.

The newly passed ordinance halts the establishment, permitting and franchising of new cell towers in residential areas (on both public and private property) for a six-month period, during which city council will consider a more comprehensive approach to at Spokane's technology infrastructure.

"What this really does is it gives us a six-month pause to say, hey, how do we want these to look? How do we want these to build? [How do] we want the placement and appearance to look like?" said Councilman Mike Allen, who introduced the ordinance.

Stuckart noted that he had been working on an ordinance that would give residents notice that potentially ugly and unwanted developments like cell phone towers would be sited close to their homes. The moratorium goes further by halting the development of the offending structures altogether.

Mike Piccolo, legal counsel for the city's legislative body, warned that the ordinance will invite a lawsuit, but members of the city council seemed to think it was worth it.

"Oh, we will get sued," said City Council President Ben Stuckart, who went on to add that, "I think it's important, and I think in this instance we should fight for our citizens."

Allen, speaking after the meeting, said that under Washington state law, if a business follows development rules they are considered "vested" and would have grounds for a lawsuit if a government entity suddenly changed the rules midstream.

Under the ordinance, companies could still apply to build towers and any applications that are under six months old could still go forward.

During the public comment period, no representatives from telecommunications companies showed up to complain. Instead, residents spoke of how they got notices that a cell tower was going to be placed in close proximity to their home and they weren't given adequate notice to object. Many praised the council's actions.

"Rarely am I speechless," said Patricia Hansen, a South Hill neighborhood activist. "Tonight I am speechless."


Tags: Ben Stuckart , Mike Allen , city council , cell towers , Patricia Hansen , Mike Piccolo , News , Politics , Image
Last night, Spokane City Council considered what to do with a citizen initiative that would specify what parts of the body can be bared in public.
The initiative was spearheaded by a group of moms
who want more restrictions on so-called "bikini baristas," or coffee stands where scantily clad women (or women not clad in anything at all) serve drive-thru customers coffee, sometimes in plain view of children.
Guess who showed up during the public comment period to speak against the measure? If you guessed that the owners of Spokane's bikini barista stands showed up to call the supporters of the measure a bunch of prudes who were afraid of lady parts and to denounce the initiative as a threat to their business, guess again.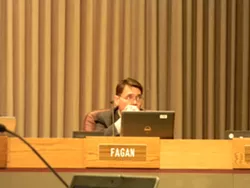 Instead, it was nudists who turned out to tell the city's legislative body that the proposed initiative should be stopped in its tracks before it could rob Spokane residents of their freedom to romp around in the buff.
"The initiative is a broad brush fix for a specific problem, which is the bikini baristas," local nudist Kathy Smith told the council, adding, "The initiative has unintended consequences and attacks nudists who do not engage in that practice."
Dave Smith, another nudist who is involved in local nudist organizations, told the council that some of the behaviors the initiative targets are already covered by Spokane's municipal code, and he was concerned that all the nude events held at restaurants, bed and breakfasts and private homes in Spokane could be jeopardized if it became law.
Tags: Mike Fagan , Beth Solscheid , News , Politics , Image
Councilman Mike Allen tells the
Inlander
that he will not seek reelection this fall.
Allen, often considered part of city council's conservative minority, says that when he ran in 2011 he hoped to create an Office of the Police Ombudsman, find a permanent street-funding mechanism, restore Riverfront Park and other goals. He says that with those goals accomplished, he sees no reason to run.
Allen, who has a business background, considers himself more of a moderate than a conservative.
"I'm always for balance," he says.
Running for his seat is Lori Kinnear, legislative assistant for Councilwoman Amber Waldref, and downtown business owner John Waite. Both have left-leaning politics and if either of them prevail the council could have a 6-1 liberal majority.
Former Republican state Rep. John Ahern is also strongly considering running.
"I'm very dissatisfied with the city council," he says. "It's so left-leaning, I can't believe it."
If elected, Ahern says he would prioritize reversing an ordinance that prevent city workers from inquiring into people's immigration status, which he says invites criminals and terrorist groups to Spokane. He also wants the city to put a moratorium on the growing, processing and selling of marijuana.
"What that council needs more than anything is adult supervision," he says.
Tags: Mike Allen , Lori Kinnear , John Waite , John Ahern , News , Politics , Image
As the Washington State Legislature prepares to conclude its current session, the future of police body cameras in the state could be coming into focus. Lawmakers have allowed a law enforcement-backed bill related to body cameras to clear a key legislative hurdle while letting perish a competing measure supported by the state chapter of the American Civil Liberties Union.
Police body cameras have been adopted by law enforcement agencies across the state, and elsewhere, as a way to bring more accountability and transparency to policing. However, the implementation of police body camera programs in Washington have collided with existing state laws governing privacy and public records that were never designed for the new realities presented by the proliferation of the surveillance devices.
Law enforcement agencies have expressed concern that the state's public records law allows for broad and burdensome requests of footage of people in police encounters. Some of this footage, released under Washington's public records law, depicting people in difficult positions has made its way onto the Internet for the whole world to gawk at. The situation is concerning to law enforcement agencies, and they want the law changed. The Spokane Police Department has encountered these issues as well and, because of them, has been
slow to roll out its body camera program
pending changes to state law.
One of the bills
seeking to make Washington state law more congruent to police body cameras was written with heavy input from law enforcement and would make the state's public records law less public.
"Law enforcement, they don't want to be in a situation where people aren't going to call 911 because they don't want the police officers' visit to their house to be on YouTube," Rep. Drew Hansen, D- Bainbridge Island, said during a hearing on the legislation.
Tags: Roger Goodman , Matt Shea , body cameras , Spokane Police Department , American Civil Liberties Union of Washington State , Washington State Legislature , Drew Hansen , News , Politics , Image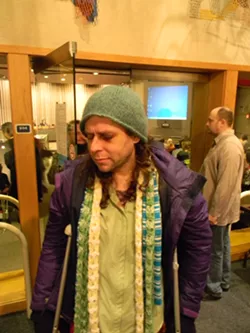 It wasn't the first time Jacina Carla Scamahorn had been beaten up for being who she is, and it happened again last week. But this time would be different.
Last Friday a little before 10 p.m. Jacina Carla Scamahorn was waiting for a ride from a friend outside Boot's Bakery and Lounge. She was chatting with a woman who had asked to touch the fabric of her skirt.
"You might not want to touch it because I had to sit in dog piss and trash the last couple of nights because I had to stay outside," Scamahorn, who has been homeless since 2012, remembers telling the woman.
As she chatted with the woman, two men emerged from Zola, a bar next door, who weren't so friendly. They began berating Scamahorn for being transgender. They told her that she had invited all of her life's difficulties on herself for not being normal. The woman who had been talking with Scamahorn tried to stand up for her, and that's when the beating began.
"I was cowering and the guy was violent," recalls Scamahorn. "He was aggressive, and he was beyond drunk, and all he saw [in] me was was a punching bag."
They beat her, she says, punching her left eye and kicking her as she fell to the ground.
"In their eyes," recalls Scamahorn. "I was a thing, not a someone."
But on Monday, over 100 people showed up to city council to show they thought of Scamahorn as a someone. During the public comment period over 20 people spoke, expressing outrage at the attack, support for Scamahorn and criticism for how police handled it.
Blaine Stum, legislative assistant to Councilman Jon Snyder, says he heard about the attack on Sunday in an email from Rick Eichstaedt, the executive director of the Center for Justice. Stum, who chairs the city's Human Rights Commission, started rallying people to come to city council on Monday to show their support for Scamahorn.
Tags: Boot's Bakery , city council , Blaine Stum , Jacina Carla Scamahorn , News , Politics , Image
A bill has been introduced in the Washington State Legislature that'll make significant changes to the state's public records law — changes intended to make it friendlier to law enforcement agencies now using body cameras.
Although police body cameras are increasingly being adopted by a range of law enforcement agencies in Washington state, from small towns to Seattle, they've run into problems with how the surveillance devices interface with the state's relatively expansive public records law.
In last week's paper, we wrote about how
the Spokane Police Department is reluctant to move forward with its body camera program
with the state's public records law in its current form.
The department, which wrapped up a pilot program and has 25 officers voluntarily wearing the cameras, has had to deal with blanket requests for all the footage, which have already been costly to comply with. Spokane police have also been uncomfortable with some of these videos, depicting people grappling with mental illness or some other crisis, going up on the Internet.
Law enforcement agencies across the state have had been similarly swamped with blanket request for videos. But all that could change.
A
bill,
written with strong input from the Washington Association of Sheriffs and Police Chiefs, was introduced by a trio of Western Washington Democrats on Monday that seeks to address these problems.
The opening section of the bill reads:
The legislature finds that technological developments present opportunities for additional truth-finding, transparency, and accountability in interactions between law enforcement or corrections officer and the public. However, the legislature wants to preserve the public's reasonable expectations of privacy with respect to such interactions; although individuals interacting with law enforcement or corrections officers carrying out their official duties have no expectation that their right to privacy prevents law enforcement or corrections officers from audio and/or video recording their interaction, those individuals do not surrender their right to privacy as it relates to the public records act.
The text of the bill seeks to limit blanket requests by not allowing any video or sound recordings captured by police to be released to the public unless:
The request specifically identifies the name of the people involved in an incident captured on camera, or a specific date, time and location of the incident.
The request includes a case number.
The request is made by someone involved in an incident recorded by a police body camera.
The request is made by an attorney representing someone in an incident recorded by a police body camera.

Anyone else who wants to request any police body camera footage has to get a court order that concludes that the public interest in disclosing the video significantly outweighs privacy concerns. If they want to disclose video from a police body camera, according to the bill, they have to give anyone (excluding law enforcement officers) the opportunity to get a court order to prevent it from being disclosed. Law enforcement agencies can require someone requesting the footage to pay the costs of redacting any part of the video that's not subject to disclosure (i.e. images of minors, Social Security numbers, etc.)
Previously, the Washington ACLU had called the bill "one-sided" and expressed concerns that it would become too difficult to get policy body camera footage.
Tags: Spokane police , body cameras , Washington State Legislature , News , Politics , Image

Lori Kinnear, legislative assistant to Councilwoman Amber Waldref, tells the Inlander that she's filed paperwork to run for city council in District 2.

The position is currently held by Mike Allen, who hasn't announced if he's running for reelection later this year. Downtown business owner and perennial candidate John Waite has announced he's running.

Kinnear has served as a legislative assistant for the past six years, working on legislation that encompasses dangerous dogs, economic development, human trafficking and other issues. "I've learned a lot and I think it's time to apply what I've learned," says Kinnear, who also wants to work with her boss as more of an equal.

Kinnear says that she is particularly proud of recent work done by the city council on development incentives meant to avoid urban sprawl as well as a neighborhood notification system that apprises residents of cell tower construction and other development.

"I am excited about this," she says. "I've wanted to do this for a long time. It's a way of giving back to the community."

Kinnear says that she'll likely have to cut back on her hours as a legislative assistant as the campaign picks up, but she says she has no intention of resigning at this point and has the blessing of Waldref.

"I work at the pleasure of Councilmember Waldref, and the rules clearly say that she can hire me and fire me," she says.

Kinnear, who previously lived in Seattle, has worked as a newspaper reporter, an ad copywriter, a small business owner and for TINCAN, a defunct nonprofit that helped people access technology.

She moved to Spokane in 2000 with her husband, whose family has lived here since 1896.



Tags: Amber Waldref , Lori Kinnear , Mike Allen , John Waite , News , Politics , Image


The Inlander caught up with a few of the 12th men (and women) to see what they're doing for the game.


Councilman Mike Allen

What's going to be the score?

"I think Seattle, defense under 20 points."

Where are you watching the game?

"We're hosting a house party."

Do you have any rituals or food you're planning?

"Pomegranate martinis."






Councilman Jon Snyder


What's going to be the final score?

That's going to be a tough one. 24-17, Seahawks.

Where are you going to watch the game?

"Probably at home with family and friends."

Snyder says he doesn't have cable, but does have an "ancient antenna" on his roof that allows him to watch the game.

Any special rituals or food?

"I gotta watch the game with people interested in the game. I always wear the colors. I gotta eat before because I get too nervous."

"Last year's game was the perfect Super Bowl because if you're rooting for the perfect team you want no doubt. But this year could be a nail-biter."






Council President Ben Stuckart

What will be the final score?

"Seahawks, 34-24."

Where will you watch it?

"At home with my wife and mother."

Do you have any rituals?

"I just yell a lot and cook good food."

What do you cook?

"I think we are going to have prime rib this year."





Councilwoman Karen Stratton



So where are you watching the game?

"I don't pay any any attention to it. I look for the cute ones and point them out to my husband who tells me who they are, and then I watch the commercials. I don't understand it."






Councilwoman Amber Waldref


What will be the final score?

"Seahawks by 14."

Where will you watch it?

"At home. We'll project it onto a wall and have people over."

"I'm much more the football fan than my husband, so I gotta twist his arm."

This weekend Waldref will be attending a conference in Baltimore. She told her husband that by

"Sunday you better have this figured out."

Any special rituals or food?

"KFC this year."


Tags: city council , Ben Stuckart , Amber Waldref , Karen Stratton , Jon Snyder , Seahawks , Super Bowl , For Fun! , News , Politics , Image