Last night, Spokane City Council considered what to do with a citizen initiative that would specify what parts of the body can be bared in public.
The initiative was spearheaded by a group of moms
who want more restrictions on so-called "bikini baristas," or coffee stands where scantily clad women (or women not clad in anything at all) serve drive-thru customers coffee, sometimes in plain view of children.
Guess who showed up during the public comment period to speak against the measure? If you guessed that the owners of Spokane's bikini barista stands showed up to call the supporters of the measure a bunch of prudes who were afraid of lady parts and to denounce the initiative as a threat to their business, guess again.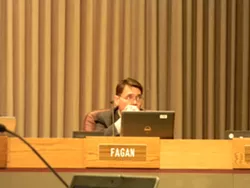 Instead, it was nudists who turned out to tell the city's legislative body that the proposed initiative should be stopped in its tracks before it could rob Spokane residents of their freedom to romp around in the buff.
"The initiative is a broad brush fix for a specific problem, which is the bikini baristas," local nudist Kathy Smith told the council, adding, "The initiative has unintended consequences and attacks nudists who do not engage in that practice."
Dave Smith, another nudist who is involved in local nudist organizations, told the council that some of the behaviors the initiative targets are already covered by Spokane's municipal code, and he was concerned that all the nude events held at restaurants, bed and breakfasts and private homes in Spokane could be jeopardized if it became law.
"First and foremost, I'd like to ask you all, do you even know where the breast begins?" Kristine Brockman, another local nudist, asked the council (the correct answer: the collar bone. The collarbone is where the breast begins, according to Brockman).
Any woman wearing a tank top or a swimsuit, according to Brockman, would run afoul of the law if the initiative were passed into law. The situation is more unfair to women, she said, because men wouldn't have the same problem.
"It completely nullifies gender equality," she said of the initiative.
City Council had four options before it. It could vote the initiative into law, refer it to voters, vote to have its signatures validated or vote to modify the initiative.
Beth Solscheid, the sponsor of the initiative, asked the council to refer it to the voters because it already had more signatures than was required, a suggestion that Councilman Mike Fagan, who has raised concerns about bikini baristas, was supportive of.
"I do sympathize with the plight of the nudists," he said. "But it's my understanding that the majority of their activities take place at Deer Lake."
In the end, the council voted 6-1 (Council President Ben Stuckart is in India) to send the initiative to the city clerk, who would forward it to the county auditor to verify the signatures. It could be on the November ballot.