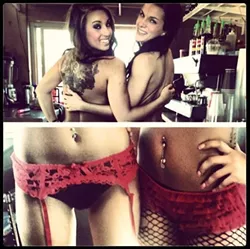 Because we know you were wondering, Spokane City Councilman Mike Fagan says he's OK with bikinis and lingerie. But pasties and G-strings are where he draws the line, at least if you're serving him his coffee.
Fagan is working on an ordinance that would add a new section to city code defining "unlawful public exposure," after he says he received constituent complaints about coffee stands where baristas were wearing "flesh colored pasties and a G-string." He says he'll take it to a full Council vote within a few weeks.
Sexy espresso stands are a growing trend, most with baristas who wear bikinis or lingerie but might have one day of the week like "Topless Tuesday" when they wear even less. Earlier this year, Kitsap County commissioners began requiring adult espresso stands to install fences or landscaping that prevents passersby from seeing inside. In Snohomish County, police say some of the stands were operating as fronts for prostitution.
"I'm not trying to be a prude," Fagan, a self-proclaimed "free-market guy," says. "I'm not saying we need to put a hammer down on bikinis and lingerie, but can we present ourselves in better taste?"
The new "unlawful public exposure" violation, classified as a misdemeanor, would be defined as:
"...the exposure of any of the following body parts of the person without a full and opaque covering in other than a public place provided or set apart for nudity:
1. Any part of the male or female genitals, pubic hair, pubic area, perineum, anus, or bottom one-half of the anal cleft;
2. Any part of the areola or nipple of the female breast; or
3. More than one-half of the part of the female breast located below the top of the areola."
(Read the full ordinance at the bottom of this post.)
Coffee stands (or any other businesses) that wish to continue operating with maximum exposure could do so by moving to an area of the city zoned for adult entertainment.
Fagan says "unlawful public exposure" is both distasteful and a health and safety hazard. But the state health code, which the Spokane Regional Health District uses to inspect food and beverage establishments, says simply: "Food employees shall wear clean outer clothing to prevent contamination of food, equipment, utensils, linens and single-service and single-use articles."
"Our only concern is if a business or someone handling food is specifically in violation of the [state] food code," says SRHD spokesperson Kim Papich. "There's no wiggle room. It's pretty black and white what we're looking for."
Tastefulness, of course, is more subjective. Fagan told a Public Safety Committee meeting Monday he doesn't think the stands "depict a Spokane value."
Council President Ben Stuckart interrupted: "I'd say Walmart doesn't either," he said, "but it's the market."
Fagan says he's ordered coffee from both XXXtreme Espresso (whose baristas are pictured above in a photo from their Facebook page) and Big Shots Espresso (which seems to have even more of a penchant for pasties) to see for himself.
"I do have my punch cards," he told the Public Safety Committee. "I can tell you unequivocally we've definitely confirmed the constituent's claims."
Sarah Birnel, who opened the first location of XXXtreme Espresso in December and just opened the third one Monday, says while her baristas mostly wear lingerie, you'll find pasties on "Topless Tuesdays." Birnel calls the potential ordinance "spooky."
"I'm really scared," she says. "I don't want any restrictions. Topless Tuesday with pasties is the busiest day. This is going to dramatically affect our business."
Birnel says she understands her business offends some people, so she does her best to make sure the stands' signs make it obvious what customers should expect. Still, some people who aren't prepared for scantily-clad baristas are surprised and angry, she says.
To the ultimatum to move to an adult-business-zoned area, Birnel says, "It does seem fair. I hate to say it." Still, she plans to consult an attorney if the ordinance passes, in search of some recourse.
"I really don't want to offend anybody and I hate the fact that I do," she says, "but I'm not willing to not follow through with what I want to do because it'll offend somebody."
Here's the full draft ordinance:
Strip down with more City Hall Eyeball right here.