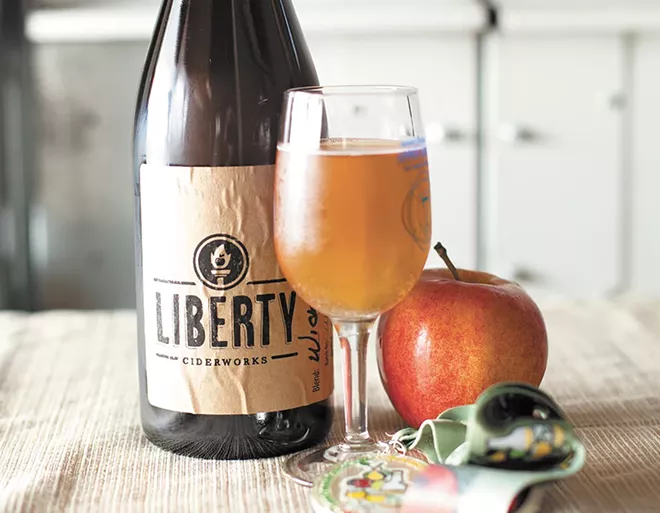 The Northwest has seen this story unfold before.

A bunch of casual sippers and more zealous connoisseurs grow dissatisfied with the mass-produced products sold by far-away, massive corporations. In response, they retreat to their basements and garages and start playing with recipes, learning about fermentation and putting their own spin on the old tried-and-true.
Eventually, some hit on flavors in their homemade libation that are so tasty and unique, it seems a shame to hoard it all for themselves. They start putting some in bottles and growlers to share with like-minded friends and family. When they get a favorable response, a select few decide, "Hey, people like my stuff. Maybe this could be a business!"
In the '80s and '90s, those people were the pioneers of the craft beer movement, and we're still enjoying the benefits of the brew boom through the ever-expanding series of microbreweries throughout Eastern Washington and North Idaho.
Fast-forward to 2015 and that same story is playing out again. This time, though, it's an explosion of craft cideries, a natural evolution for a state that produces so many apples. It's also a return to the drinking habits of Colonial America.
"In America, this was the thing everybody drank until the Industrial Revolution," says Rick Hastings, co-owner of Spokane's Liberty Ciderworks along with Austin Dickey.
Just a few years ago, the area around Spokane and Coeur d'Alene was utterly lacking in craft cider options. What people thought of as "hard cider" was whatever they could get in a six-pack at the grocery store. And while many of the new local craft cider purveyors acknowledge mass-produced cider's role in increasing awareness of cider as another option for beer and wine drinkers, they also knew they could make something better, using apples grown right here in their own backyard.
In the past three years, spots like Liberty Ciderworks and Twilight Cider Works in Green Bluff have opened, both of them focused on traditional Old World, European-style ciders, with a few unique tangents driven by their makers' creativity. Other cideries like One Tree Hard Cider in Spokane Valley, or Summit Cider in Coeur d'Alene — both opened in 2014 — are geared less toward the wine-like intricacies of traditional cider and more toward the beer model of easy drinkability.
"There's an awful lot of creativity going on right now, particularly in the Northwest, with cider," Hastings says. "People are being really wildly, crazy inventive with it, and it does appeal to the craft beer market. And a more traditional approach appeals to the wine drinkers. They appreciate the nuance and the flavors of their favorite grape or wine style, and we can do the same with cider."
No matter what style you prefer, all the regional cideries suddenly popping up in the Inland Northwest are taking advantage of the bounty of apples available in the region, and a drinking population that embraced the craft beer movement as avidly as any part of the country.
"There are still breweries opening up everywhere right now, and don't think the market's going to be saturated for quite some time, and it's the same for cideries," says Grant Barnes, co-owner of One Tree Hard Cider with Neal Hennessy. "Cider has a lot of room to grow. I think we owe a lot to the craft breweries locally who ran a lot of the [mass-produced beers] off the taps. Even though it cost more, they showed that people wanted the quality."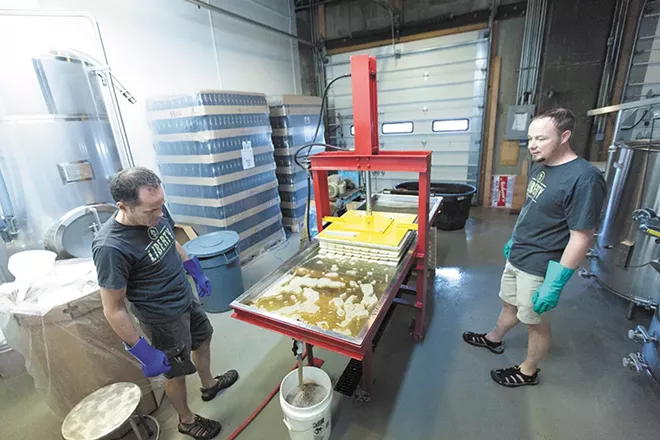 A booming community
For a sense of just how quickly the craft cider scene is growing, consider the membership of the Northwest Cider Association, founded five years ago to represent the interests of commercial cider makers from Washington, Idaho, Oregon, Montana and British Columbia. The NWCA hosts a variety of events to help raise awareness of the burgeoning cider movement, including Washington Cider Week each September, and the Pacific Northwest Cider Awards each June.
In 2013, the NWCA included 32 cideries across the region. Two years later, that number is 66, including 27 in Washington alone. And that doesn't include cideries that, for one reason or another, never joined the association. For example, there is only one Idaho cidery listed as a member of the NWCA, Longdrop Cider Co. in Eagle, but two cideries have opened in the Coeur d'Alene area in just the past year — Summit Cider and North Idaho Cider.
Jason Fletcher, who opened Summit Cider with his partner Davon Sjostrom, said that one of the first things he noticed about getting into cider was the "all-for-one" vibe among cider makers he met before ever getting into the business.
"Within the cider community, the guys at Liberty Ciderworks or the guys at North Idaho Cider, it's very much the way the brewery community is, where everyone is really nice and super-supportive," Fletcher says. "We kind of feel like, if somebody is rising up, we're all pulling up together."
There's competition, but like the craft breweries and distilleries, almost everyone you talk to at the regional cideries mentions swapping advice as they got started, and finding inspiration from each other's products.
All of them, of course, share the bounty of the region's apples as the base for their ciders, as well as occasional special additions like local fruit and hops, even whiskey barrels from local distilleries, that give each of their products a distinct spin.
But look a little closer at a few of the region's cider makers, and you quickly realize how many different styles fall under the "cider" label.
Old World meets New World
The full spectrum of cider styles is available in from the region's craft cider makers, from the traditional, dry styles that Thomas Jefferson would have been comfortable sipping at Monticello to the modern, sweeter versions, full of flavors ranging from cinnamon to cherries to ginger.
For Liberty Ciderworks, which strives to create traditional Old World ciders, working with apples particularly suited for making cider is the first step. As co-owner Hastings puts it, "wine is to grapes as cider is to apples.
"Just like wine grapes and table grapes, you can eat any old grape," Hastings says. "Some just taste better as table grapes, taste better just to eat. Some don't taste so good, but they make wonderful wine.
"There have been apples that have been cultivated for centuries that exhibit the same tendencies as wine grapes: tannic, not necessarily easy to cut up and make pies. They might not taste good right off the tree, but when they're fermented, they give you a lot of flavors and mouthfeel and body."
Liberty certainly knows what to do with cider apple varieties when they get them; at this year's Pacific Northwest Cider Awards, the Spokane cidery won a Silver Medal in the "Old World" category. The challenge, though, is that cider-focused varietals like Kingston Black, Yarlington Mill, Brown Snout and Dabinett aren't as plentiful as your typical Fuji or Pink Lady.
As a result, tradition-minded cider makers like Hastings have to turn to apples that are more pliable than the cider apples. He notes "multi-purpose" apples that have grown in Washington for centuries that are good to eat and for cider: Winesap, Gravenstein, even McIntosh.
"If I had my way, I would be using mostly cider fruit, cider apples, but they're really hard to find," Hastings says, noting that he has about three acres of cider apples planted at a Garfield, Washington, orchard, but he also has started making ciders with crabapples that are much more abundant in the area. "You blend that in with the common variety of apples and you get something pretty wonderful."
While Liberty's ciders lean toward the traditional styles that experts treat in much the same way wine enthusiasts treat their favorite beverage, Hastings still plays with different flavors in his work. He might dry-hop one batch, age another in a whiskey barrel to absorb some of that flavor into his cider, and "there's an amazing array of flavors you can get from the yeast, the way the yeast is treated."
A Northwest style
The guys at One Tree Hard Cider come at their product from a different angle than the traditionalists. Like Hastings, Grant Barnes and Neal Hennessy started making cider as a hobby, and it turned into a vocation. That's where the similarities end.
One Tree started in Barnes' garage, with exactly one recipe: a relatively straightforward semi-sweet apple cider. They were able to get that cider on tap in a few bars and move into a production facility to expand, but it was when they started making flavors like cinnamon-and-caramel, ginger and cranberry that their business really took off. Now, their cider is so popular that both men were able to leave their day jobs a full year before they intended in order to dedicate themselves full-time to One Tree.
As they learned to make cider, they found that the apples that were easiest for them to get, like Red Delicious or Pink Lady, made for a fine cider as long as they added the right amount of acid to balance the sweetness. Once they realized, as Barnes puts it, that "we don't have to be just apple," everything changed.
"Anyone can do apple well," Barnes says. "It's the rest of it that's the fun part. The cider purists of the world are offended by us putting flavors in," but that hasn't slowed them down at all. If anything, Barnes and Hennessy are looking to add some bold new flavors to their line.
"We are all about flavor," Hennessy says. "We're not trying to be subtle. For us, when we say 'cranberry,' we want your mouth to just explode with cranberries."
Their approach has certainly worked so far. The pair teamed with a distributor just months after opening in the summer of 2014, and this summer One Tree Hard Cider will be all over Western Washington, in addition to their current footprint in Eastern Washington and North Idaho. Next up is distribution to Montana, and in 2016 they'll be in Oregon. "The Rockies west is our goal," Barnes says.
A brewery vibe
The cider style at Coeur d'Alene's Summit Cider falls in between the traditional styles of Liberty or Twilight and the bold, flavored styles of One Tree. The small operation remains a boutique, part-time cidery after opening in December 2014.
Jason Fletcher and Davon Sjostrom are ski buddies who met through their children, and didn't get into cider until Sjostrom was diagnosed as gluten-intolerant. He started playing with cider at home, and they shared some with beer-loving friends at a local brewery. The response was positive enough that they got serious about cider.
"Our approach to cider is drinkability," Fletcher says. "That huge gap between the super-sweet ciders that are made by the giant companies and the artisan ciders that are way more on the dry side, maybe not carbonated. There's a huge mid-range that we thought, 'Hey, we can make a really nice product that fits right in there.'"
They were also inspired by a trip to Green Bluff for a tasting at Twilight. They enjoyed the cider, Fletcher says, but they really liked the environment where they did the tasting.
"I liked the place, kind of a neat atmosphere," Fletcher says. "We're also big brewery fans, and I like the local breweries here in Coeur d'Alene in particular. And I said, 'Dude, you know what? This would be really fun to do cider in Coeur d'Alene as a brewery-type atmosphere.' We started planning that night."
They found a spot near Coeur d'Alene Cellars, a wine store, and Tricksters Brewing, and figured a cidery would be a perfect addition to the neighborhood. They built a space with a lot of ski décor, and they intentionally call it a "tap room" instead of a "tasting room," because "they do tastings at wineries, where people taste a little of this and a little of that, then buy a bottle and go home," Fletcher says. "I wanted to create a place where people wanted to hang out and have fun."


---
What's your style?
While the Northwest Cider Association gives awards in 14 different categories at its annual Pacific Northwest Cider Awards, the styles of hard cider can be more easily digested in the broad categories recognized by Wine Enthusiast magazine:
Old World
Traditional French, Spanish and English ciders have distinct characteristics, and require a stop at a specialty store to find a bottled import. The French style ranges from dry to sweet, and can have particularly interesting flavor characteristics due to yeast being distressed during production. Spanish ciders come mainly from the northern region, where cider apples grow more acidic and tart; Spanish cider is never carbonated. And English cider can range from dry to sparkling to the "farmhouse" style that is a bit funky and aromatic.
Try: To buy imported ciders, visit Total Wine and More (9980 N. Newport Highway, Spokane), Huckleberry's (926 S. Monroe St.), Enoteca Fine Wine & Beer (112 E. Seltice Way, Post Falls) and Rocket Market (726 E. 43rd Ave., Spokane)
New World Farmhouse
America's version of this British staple blends apples from American and England as well as France, resulting in a well-balanced acidity, some fruit tones and and "hints of Earth," according to Wine Enthusiast.
Try: LIberty Ciderworks' English Style 2
Crackling
Available both dry and sweet, this style combines tart heirloom apples with sweeter varieties to find a perfect, refreshing balance.
Try: Summit Cider's Corduroy
Flavored
Increasingly common in the Northwest, cider makers are playing with nontraditional additions to their apples to create unique tastes, whether it's a subtle crabapple flavor, or the bold use of cinnamon, ginger or berries.
Try: One Tree Hard Cider's Ginger Cider, Twilight Cider Works' Cherry First Harvest
Beer-Inspired
Another Northwest-centric trend is the addition of hops to hard apple cider, inspired by the craft beer brewers in the region. The result is a crisp cider with a bit of a fruity bite.
Try: North Idaho Cider's Lake City hopped blend
Barrel-Aged
Many craft cideries are adopting barrels used by nearby distilleries to add smoky and woody flavors to the apple cider.
Try: Whiskey Barrel Cider's Whiskey Cider