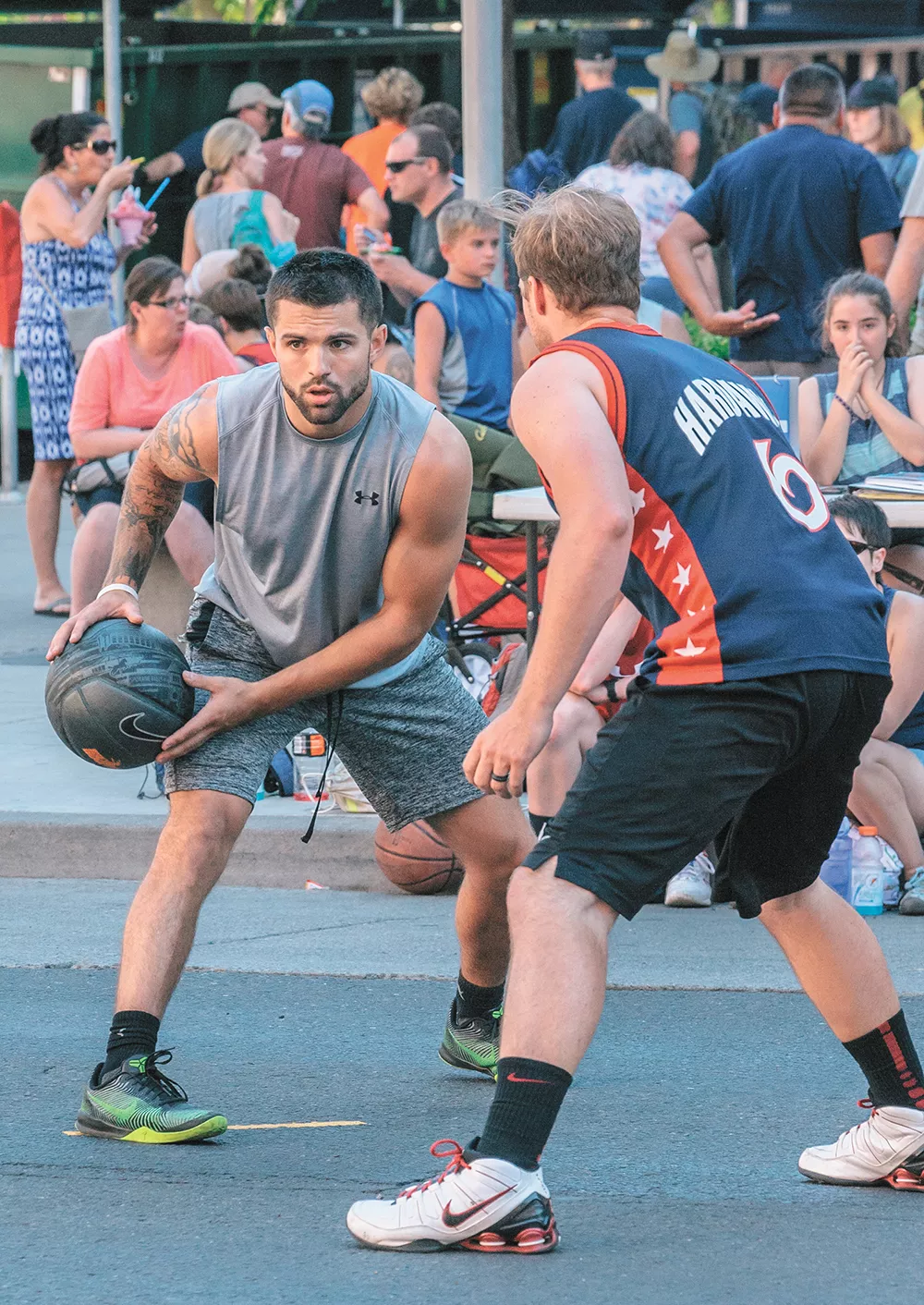 As happy hoopsters descend on Spokane for another Hoopfest weekend, expect downtown to light up with a whole different kind of energy that we only feel a couple of days each year.
Whether you're competing yourself, or are merely a potential spectator to the 3-on-3 tourney action, there are a few activities at Hoopfest, and surrounding the official games, you need to know about to get the most out of your weekend, June 30 and July 1. Here's a handy guide to doing Hoopfest right:
THROW IT DOWN!
OK, most of us can only dream of soaring through the air and dunking a ball, let alone doing it with enough hang time to look cool. There are, however, plenty of gravity-defying gamers among the Hoopfest teams, and the best of the best will compete in a Slam Dunk Competition. The qualifying round is at 2 pm Saturday and the finals are at 3 pm Sunday on the Nike Center Court. If you have the hops, you can even take part; it's $10 to participate.
FROM WAY DOWNTOWN
Perhaps, like the NBA games nowadays, you're really into long-range three-point shooting. Good news: This year, Hoopfest has added a 3-Point Hot Shot Contest, and if you fancy yourself a Larry Bird or Steph Curry, you can throw down $5 and take part in a preliminary round Saturday between 9 am and 6 pm. Or just show up at noon Sunday and head toward the featured courts on Spokane Falls Boulevard to watch the finals.
KEEP YOUR EYES PEELED
Last year, the Golden State Warriors' Kevin Durant dropped by Hoopfest shortly after winning the Most Valuable Player trophy at the NBA Finals. You've probably seen Durant's image adorning this year's Hoopfest poster. Durant just repeated as finals MVP, so is a repeat visit in the works? If not, perhaps another player aligned with Nike will come by — after all, there's a new Nike store downtown, and the shoe company is host to the official Hoopfest store. I'm just saying, if Lebron James or Michael Jordan show up, it wouldn't be the craziest thing in the world (but it would be close).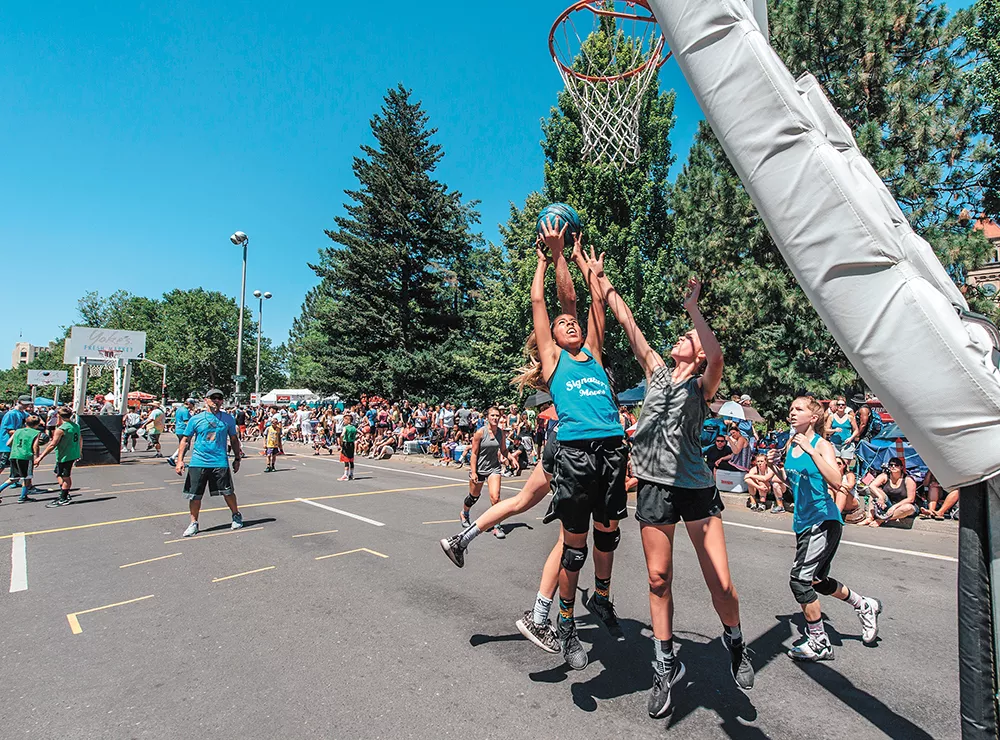 TOURNEY WITHIN THE TOURNEY
Consider this some serious "added value" to your Hoopfest experience. Besides the epic 3-on-3 showdown across downtown, Spokane is hosting the West Region competition of the aptly named The Basketball Tournament (TBT, for short) at Lewis & Clark High School. This relatively new contest features hoops-playing alumni from colleges across the country vying for an ultimate $2 million prize, and players from Gonzaga (playing as Few Good Men), Saint Mary's, Air Force and Utah will be battling Friday (two games, starting at 5 pm) and Saturday (7:30 pm) to pursue that cash. If you don't want to spend the $20-$25 to watch inside the LC gym, you can join the street party on Fourth between Stevens and Washington to watch on the big screen while sipping brews, listening to tunes and hanging with fellow hoops lovers. The block party is $5 and starts at 3 pm on Friday and at 5 pm on Saturday.
PRE AND POST-GAME PARTIES
Life is not made of basketball alone. Whether you're competing or watching, there are several celebrations happening in the area where you can throw a few back with friends and foes alike:
The Bartlett, 228 W. Sprague, is hosting an epic Hoopfest Weekend Kick-off Party featuring T.S. the Solution, La Fonda, the Naturalystics and Marshall Law Band on Friday at 7:30 pm. And on Saturday, they host folk rockers Faun Fables at 7:30 pm.
The Observatory, 15 S. Howard, has a show full of grooves, surf-rock and garage-blues on Saturday night at 9:30 pm thanks to Quaggadog, Marina Obscura and the Dead Channels.
If you're done early on Saturday, the House of Soul (120 N. Wall) is hosting a party from 4-8 pm, with live performances from Max Daniels and Nu-Jack City Band, plus DJs spinning Motown, R&B and Top 40.
The Big Dipper, 171 S. Washington, has some tasty soul and funk Friday at 8 pm with Lanford Black, Ragtag Romantics and the Monties. Saturday, it's hard rock and metal with Portland's Crimson Guardian, joined by Lions Beside Us, Project X and Tufnel at 7:30 pm.
---
BY THE NUMBERS
More than 6,000 teams
More than 3,000 volunteers
More than 14,000 total games played
45 city blocks of Spokane
450 3-on-3 courts
More than 225,000 fans expected to watch