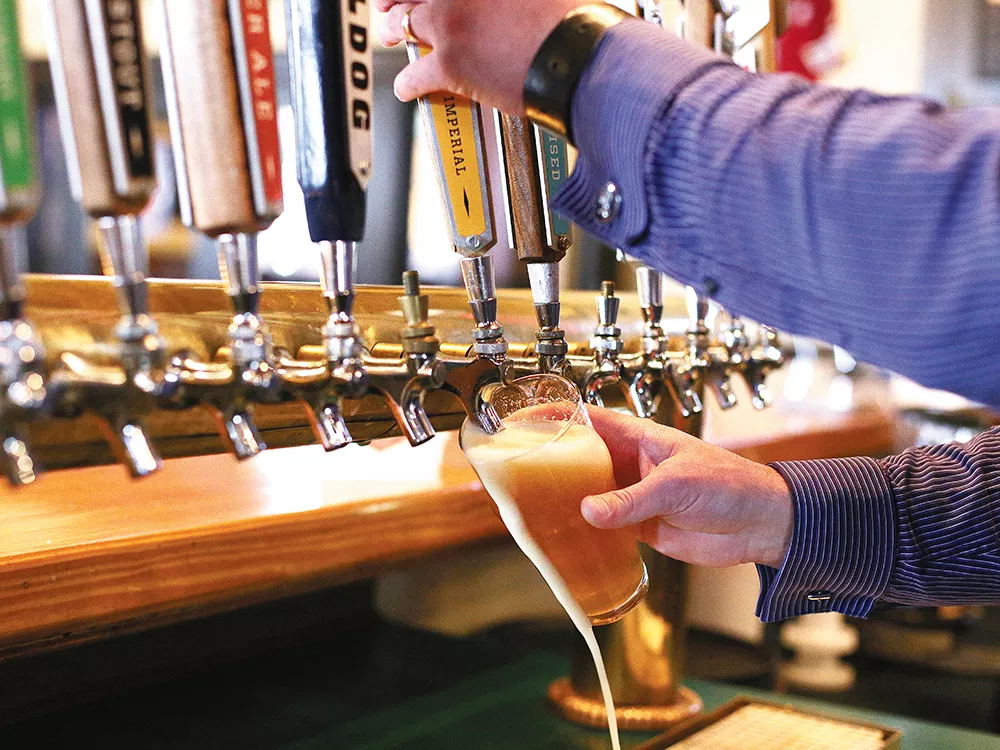 The recent craft brewing boom in the Inland Northwest makes it possible, and perhaps necessary, for beer lovers to use a checklist to keep track of the local beers they've imbibed.
With that said, please hold onto this and check off breweries as you drink your way through the region. We've only listed year-round beers for the breweries, so go ahead and write-in the seasonals and specialty brews as you come across them.
---
12 STRING BREWING

11616 E. Montgomery Dr., Ste. 26, Spokane Valley

Founded: 2011
Barrels brewed in 2012: 383
While the decor and Kid Rock song on the radio may be a few generations behind, 12 String's beers could be the next big thing around here. This pocket-sized operation in an industrial area of the Valley is brewing solid standbys and interesting new beers. Most recently, brewer Terry Hackler rolled out his Anniversary IPA, aged for six weeks in a Dry Fly whiskey barrel. It's smooth with hints of sweet vanilla. Even if you don't make it to the tasting room before this batch is gone, expect to find another beer that's spent some time in a barrel. They'll be expanding their brewing area in June and plan to use that new space for more barrel-aging and maybe even for bottling by sometime next year. (HEIDI GROOVER)
BEERS:
G String Blonde (5.4% ABV)
Archtop Amber (5.5%ABV)
C#7#5 IPA (6.8% ABV)
Jam Session IPA (6.7% ABV)
Don't Fret Porter (5.5% ABV)
Drop D Stout (6% ABV)
---
BUDGE BROTHERS BREWERY
2018 E. Riverside Ave.
Founded: 2010
If you get the feeling you're at the wrong place when you pull up to Budge Brothers, then you're in the right place. The strip-mall-like, off-Sprague location is sparse, but inside a friendly barkeep — likely one of the Brothers Budge — is happy to pour you a flight from the light Orangutan Pale, to the dark and caramelly Extra Stout. You can take a growler to go, but on a sunny Saturday, we recommend you hang about in the BB space with some friends, take down some popcorn and kick back as many beers as the brothers will let you have. (LEAH SOTTILE)
BEERS:
Orangutan Pale (5% ABV)
Spokamber Ale (5% ABV)
Extra Stout (7% ABV)
Hop Train IPA (8% ABV)
---
GOLDEN HILLS BREWING
12921 W. 17th Ave., Airway Heights
Founded: 2009
Barrels brewed in 2012: 650
Golden Hills treads somewhere in the middle — between the easy-drinking popular domestics and the bold flavors of the micros — and creates flavorful lagers that you can enjoy all night. Their inaugural beer, Clem's Gold, is still the most popular: a good-for-all-crowds lager that will satisfy high-minded aficionados while also appealing to Coors Light fans. Brewmaster Bernie Duenwald recently hooked up with new investors, who plan to ramp up production, add new brews, begin offering cans, bottles or both, and widen distribution beyond Spokane and Seattle. Duenwald also got two new fermenters and is experimenting with new recipes. "We thought we'd grow faster, but I was always capital constrained. ... I didn't have the resources to market properly," Duenwald says. That's no longer the case. "You're going to see a lot of changes." (JACOB H. FRIES)
BEERS:
Clem's Gold (5.3% ABV)
Lizzy's Lager (5.5% ABV)
Ben's Brown (4.2% ABV)
7 Seventy IPA (7% ABV)
---
IRON GOAT BREWING CO.
2204 E. Mallon Ave.
Founded: 2011
Barrels brewed in 2012: 179
An afternoon at Iron Goat Brewing, tucked in an unsuspecting East Spokane neighborhood, is an afternoon well spent. Inside the brick Iron Goat building is a cozy, intimate taproom with bar and table seating, perfect for doing a sampler of beers or grabbing a pint before their popular Thursday night trivia. Having moved into their current tasting room last summer, Iron Goat provides beers that aren't for the faint of heart: A run through the sampler leans on the hoppy side, each packing a huge amount of flavor. By the end we were tipsy and decided we couldn't pick a favorite and loved all Iron Goat beers equally. (LEAH SOTTILE)
BEERS:
Garbage Pale Ale (5.2% ABV)
Goatmeal Stout (5.2% ABV)
Bleating Red Ale (5.4% ABV)
Head Butt IPA (6.7% ABV)
The Impaler IPA (8.5% ABV)
---
NO-LI BREWHOUSE
1003 E. Trent Ave.
Founded: 1993
Barrels brewed in 2012: 2,400
After changing its name from Northern Lights to No-Li, this long-running Spokane brewery is celebrating a breakout year. Not only did their beers come out in new, slickly designed 22-oz. bottles, No-Li also racked up some major recognition. Publications like Esquire gave them props, and they racked up awards at the Great American Brewers Festival and contests around the world while keeping the regulars at their spacious Gonzaga-area brew pub happy. Brewer Mark Irvin and partner John Bryant don't expect No-Li's recent run of success to slow down anytime soon; in addition to having their "Spokane Style" claim federally recognized, No-Li is expanding its brewing facilities, allowing them to double their production in 2013. (MIKE BOOKEY)
BEERS:
Born and Raised IPA (7% ABV)
Silent Treatment Pale Ale (5.75% ABV)
Crystal Bitter Ale (5.75% ABV)
Jet Star Imperial IPA (8.1% ABV)
Wrecking Ball Imperial Stout (9.5% ABV)
---
RAMBLIN' ROAD
730. N. Columbus St.
Founded: 2012
Estimated 2013 barrels: 1,000
Brian Guthrie is an attorney by trade, but these days most of his free time is spent making beer. As the brewer and, along with his wife, Danielle, owner of Rambin' Road brewery, Guthrie is watching as his specialty Belgian beers — focusing on sours, farmhouse styles and other adventurous creations — are finding an audience in Spokane. The brewery began distribution in December and is essentially at maximum production already. "It's gone really well. We're struggling to keep up with demands until we get our newer system," says Guthrie. Located just blocks from No-Li Brewhouse near Gonzaga and the Centennial Trail, Ramblin' Road hopes to open a tasting room in the front of their 10-barrel brewery in the coming months. For now, though, look for their bold creations at local bars and restaurants. (MIKE BOOKEY)
BEERS:
Witbier (5.5% ABV)
Saison (7% ABV)
India Farmhouse Ale (6.5% ABV)
Dubbel (8.1% ABV)
Tripel (8.5% ABV)
---
RIVER CITY BREWING
121 S. Cedar St.
Founded: 2012
Estimated 2013 barrels: 2,000
River City Brewing is one of the newest names on local tap lists, and one of the most highly anticipated. Veterans of the Coeur d'Alene Brewing Company — owner and president Gage Stromberg, along with head brewer Cody Ragan and assistant brewer Greg Piller — started brewing at the beginning of the year in downtown Spokane, and the first kegs went out in February. The brewery is tucked beneath the Eldridge Building and devoted to production, but they plan to host tastings some Friday afternoons this summer, Stromberg says. And, by popular demand, they're planning to open a taproom by the end of the year. (LISA WAANANEN)
BEERS:
River City Red (5.6% ABV)
River City IPA (5.3% ABV)
Girlfriend Golden (5.0% ABV)
Coeur d'Alene Brewing Company
Huckleberry Ale (5.0% ABV)
Coeur d'Alene Brewing Company
VB Stout (5.6% ABV)
---
STEAM PLANT BREWING COMPANY
159 S. Lincoln St.
Founded: 1999
Barrels brewed in 2012: 650
For good locally brewed beer in downtown Spokane, just look for the twin brick smokestacks. Follow those and soon you'll be tasting the honed-in labors of Steam Plant Brewing Co.'s Ben Quick, the operation's new brewer. Presently, Steam Plant's 10-barrel brewing system is just big enough to keep up with the demand from within its pub in addition to keeping the kegerators of Spokane full thanks to their affordable keg sales. General Manager Tim Denniston says that Steam Plant has increased its beer sales 30 percent in the last two years and expects that trend to continue. (MIKE BOOKEY)
BEERS:
Blonde Ale (4.4% ABV)
Cutter's Pale Ale (5.2% ABV)
Big Brick Brown (5.6% ABV)
Huckleberry Harvest Ale (4.4% ABV)
Whitman's Wheat Beer (5.8% ABV)
Firebox IPA (5.4% ABV)
Double Stack Stout (6.1% ABV)
Pipefitter Porter (6.3% ABV)