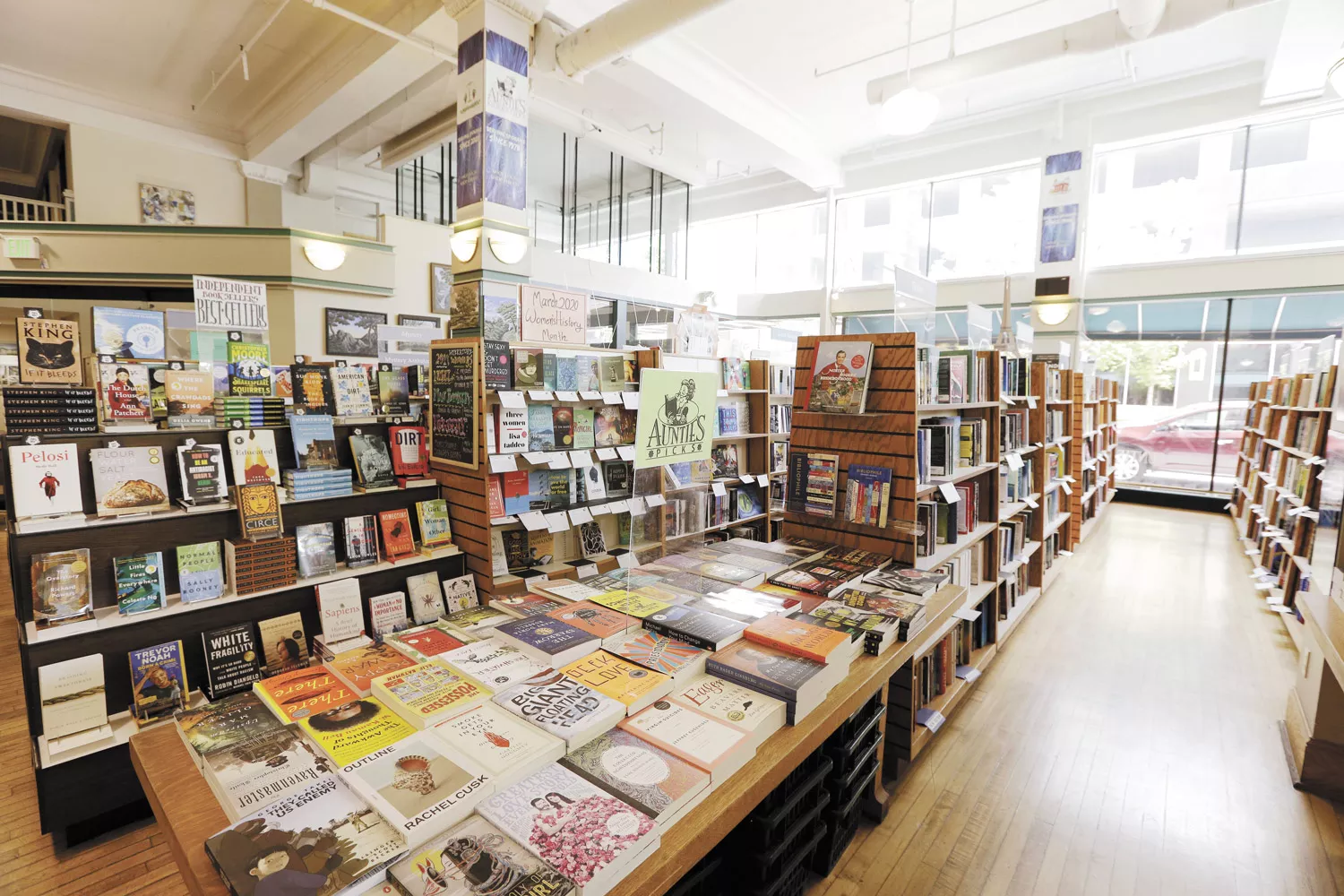 Since 1978, Auntie's Bookstore has been a landmark literary destination for locals and visitors in Spokane's downtown core.
With a wide selection of literature from local and regional authors and other publications spanning across a myriad of genres, the independent bookstore strives to constantly provide the region something new and enriching to pick up and read.
Auntie's Bookstore also has a used book section upstairs, where you can buy from their selection or bring in your own previously read items anytime Sunday through Thursday from noon to 5 pm.
"It's been open for about a year, but a lot of people still don't know about that," says Teri Ness, Auntie's Bookstores events coordinator.
Each month, they hold a variety of events and opportunities, such as their nine book clubs, frequent book readings and signings, and storytimes for young bibliophiles.
Recently, they began holding Mermaid Storytime events for kids to come hang out with local finned friends from the Spokane Merfolk Pod as they read children's books.
Auntie's Bookstore's events highlight many local authors, such as their employee J.T. Greathouse who is releasing The Pattern of the World, the final addition to his Pact and Pattern trilogy (for more info, see page 7, "Fantasy Finale"), which follows a young boy in the Empire of Sien as he harnesses his magical abilities and works to fight against the oppressive systems in the realm.
With thousands of books lining its shelves, Auntie's Bookstore's tries to bring in a variety of recent publications each season, such as Lora Senf's novels The Clackity and The Nighthouse Keeper, her new novel that will be released in October.
Auntie's carries a plethora of wildlife and nature focused books, such as Around the Ocean in 80 Fish and Other Sea Life by Helen Scales, an illustrated book detailing sea creatures and their stories, and What an Owl Knows by Jennifer Ackerman, which explores the history and lives of the curious birds.
Ness runs the monthly science and nature book club which meets the first Tuesday of the month and will be reading Fen, Bog and Swamp by Annie Proulx, which details climate change and its impacts on wetlands.
"We just have so many different kinds of reading materials here," she says. "We just have a very wide variety of topics, genres, formats, and it's cool to just come in here and look around."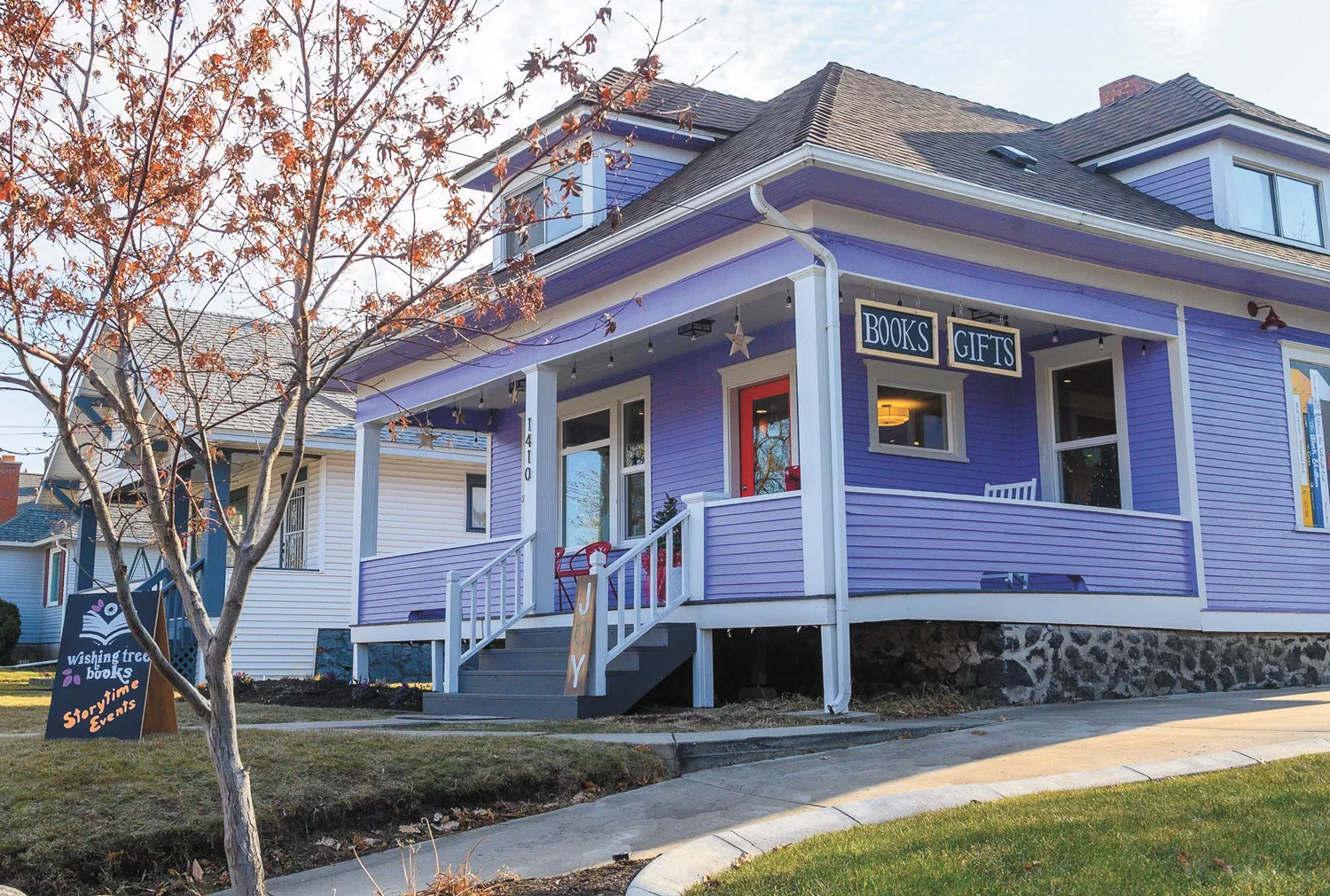 MORE TO CHECK OUT
WISHING TREE BOOKS
1410 E. 11th Avenue
While driving through the Perry District, a lilac house with a bright red door is bound to catch your eye. Inside lies Wishing Tree Books and their unique selection of children's books and gifts, with shelves lined with young adult literature and adult fiction and nonfiction farther back in the store. They put on a variety of events, including toddler and preschooler storytimes, meet-and-greets to engage with the community, and an upcoming discussion with Kate Lebo and Alexis M. Smith about writing and publishing in the region. Looking for something new to read? Check out children's book Plants to the Rescue! by Vikram Baliga for an illustrative deep dive into climate change, or Once There Was by Kiyash Monsef for a captivating fantastical read.
CORNER DOOR FOUNTAIN AND BOOKS
3301 N. Argonne Road, Millwood
It's no surprise that a bookstore with an old-timey feel and a soda fountain standing toward the front of the store would be located in the Millwood Historic District. And with ice cream and a variety of food options, you can grab a bite to eat while reading through your newly purchased literature. Equally fitting, Corner Door Fountain and Books primarily sells local and regional history books with options from local authors, used paperbacks, and children's books. Plus, they have a wide selection of fun knickknacks and eclectic collections of music, so you'll be sure to find something you can't find at other stores while perusing the aisles.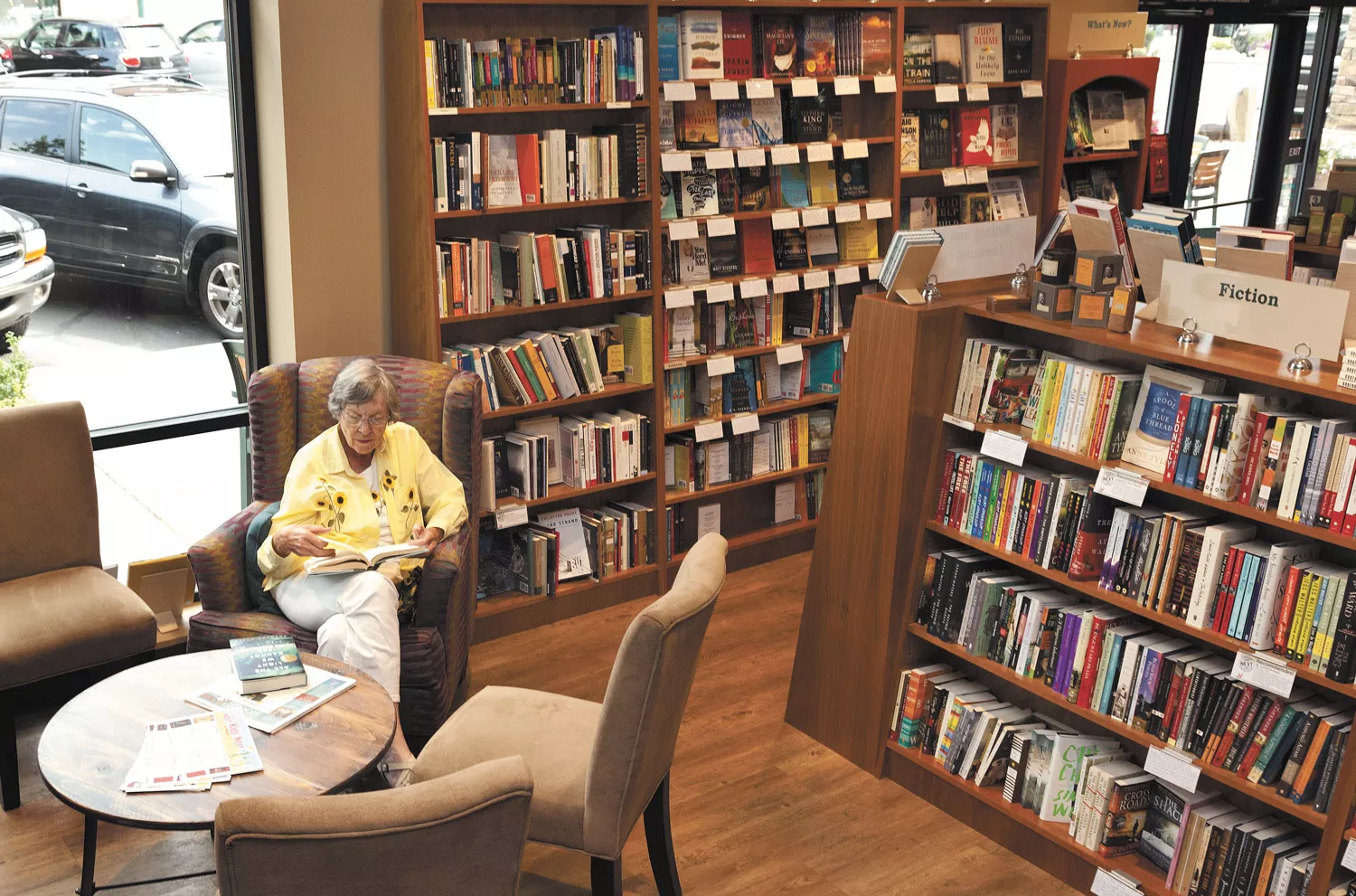 THE WELL-READ MOOSE
2048 N. Main Street, Coeur d'Alene
With thousands of books spanning from New York Times bestsellers to classic and timeless stories, plus a variety of unique and local finds, you'll be sure to find something you enjoy at The Well~Read Moose. The bookstore sends out a monthly newsletter listing new arrivals and upcoming events, such as Daniel James Brown's discussion of his book Facing the Mountain or William Kent Krueger's discussion of his book The River We Remember on Sept. 14. Plus, you can join one of their monthly book groups, which meet either in the mornings or evenings. You can also sign up for subscription boxes with staff selected books and items curated to your personal taste. (SUMMER SANDSTROM)