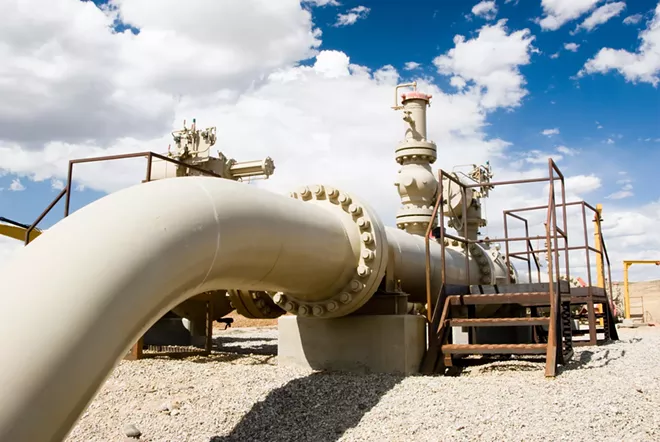 Plans to expand the capacity of an existing natural gas pipeline that goes through the Inland Northwest have concerned environmental and faith groups as they worry about climate impacts and resident safety.
TC Energy, the Canadian company that also owns the Keystone Pipeline System, has proposed increasing the capacity of its Gas Transmission Northwest (GTN) pipeline that runs from British Columbia to California, going through North Idaho, Eastern Washington and Oregon on the way.
Unlike the company's scuttled plans for the Keystone XL expansion for its crude oil system, the GTN XPress expansion wouldn't involve installing a new pipeline.
Instead, compressor stations in Idaho, Washington and Oregon would be updated to increase the pressure so a higher volume of natural gas can be pumped through the existing GTN pipeline.
In a statement, the company says that the expansion is needed to meet demand, and they already have contracts with buyers for 100 percent of the proposed increase.
"Natural gas is a critical component of any strategy to meet North America's long-term energy needs and has contributed to reduced greenhouse gas emissions across the continent," the emailed statement says. "[The expansion] is designed to upgrade our system to meet increased demands from our customers in the region, providing the reliable energy to communities throughout the Western U.S. in a safe, responsible, and reliable manner."
But others are skeptical that the gas will actually be needed in the long run. The attorneys general of Washington, Oregon and California filed a motion last August arguing that the expansion would counteract emission reduction laws in the Pacific Northwest that are meant to combat climate change in coming years.
Burning the increased 150 million cubic feet of gas that would flow each day through the pipeline would be like adding 754,000 more cars to the road every year, according to environmental groups fighting the expansion.
Those opposed to the expansion also worry about the risks of increasing the pressure along hundreds of miles of a pipeline originally built in 1961, as growth has resulted in family homes, schools and other buildings being built nearby. In Liberty Lake, the pipeline runs about 1,000 feet from Ridgeline High School, 250 feet from Cornerstone Pentecostal's Early Learning Center, and less than 100 feet from homes and apartment buildings. In Spokane Valley, the pipeline appears to run underneath the basketball court and playground at Valley Real Life Church.
"Expansions like this are not in the public interest," says Helen Yost, community organizer for Wild Idaho Rising Tide, a conservation group in Sandpoint. "In terms of gas leaks, in some ways they're even more hazardous than tar sands and other oil leaks — they have the potential for fiery explosions that can impact people much farther away from the site of an accident."
The concerned groups are calling on the governors of Washington, Oregon and California to reject the proposal, as the Federal Energy Regulatory Commission could make a decision as soon as this month. Idaho's congressional delegation and Gov. Brad Little signed a letter in support of the project that was almost completely written by TC Energy, HuffPost reported in December.
"It's locking our region into a reliance on fracked gas for another 30 years," says Audrey Leonard, a staff attorney for Columbia Riverkeeper. "From what we've seen, this looks like a way to pump extra gas into the system that there really isn't a need for at this point."
PROTECTING NEIGHBORS
Faith groups organized through Earth Ministry/Washington Interfaith Power & Light gathered with environmental groups multiple times in recent months to protest the expansion.
"This project has great risks to harm our neighbors both in Spokane if there were a potential explosion, and through increasing climate impacts and emissions in our state," says Maddie Smith, an advocacy organizer for Earth Ministry. "And there would be impacts from fracking all of the gas ... that would happen in northeast British Columbia."
Smith mapped out the pipeline using online tools and was alarmed to see how close it traveled to schools and homes in Liberty Lake and Spokane Valley. Smith says the potential to impact Native American and Indigenous communities' land and resources is also a concern.
"If we're caring for our neighbors as we would want to care for ourselves, that means speaking out against risks and dangers in our communities," Smith says. "One of the main concerns we have is around safety and preventing harm."
In 2014, the GTN pipeline leaked more than 1,000 cubic feet of gas near Moyie Springs in North Idaho, with an estimated cost for the incident of more than $575,000, according to federal reports. In 2013 a similarly sized leak was found on the pipeline near LaCrosse, Washington, with the cost estimated at more than $568,000. No one was injured in either of those incidents.
Pipelines are generally considered one of the safest methods of transporting fuels. Still, data from the Pipeline and Hazardous Materials Safety Administration show that from 2020 to 2022, 11 serious gas transmission pipeline incidents across the country killed seven people and injured 10.
Naghmana Sherazi, who is on the Earth Ministry/WAIPL board and is the climate justice advocate for the Lands Council in Spokane, says she also worries about the pipeline's climate impacts and potential risks.
"At the end of the day that pipeline is passing through really densely populated areas," Sherazi says. "We need to get away from fracked gas and cut down on our carbon emissions. The pipeline is old and aging, and we don't know what disaster is waiting to happen."
Sherazi, who is Muslim, says the Quran teaches that people are responsible for caring for the world around them.
"We are put on this Earth to be better stewards of what we have and take care of our environment and leave it better than we found it," Sherazi says. ♦