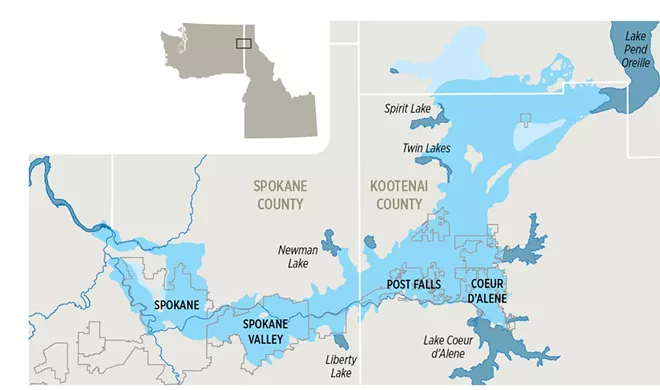 From longer waits at grocery store checkout lines and red lights to limited restaurant availability, long-time Kootenai County residents have seen firsthand what happens when a region experiences explosive growth.
Between 2010 and 2020, the population of the North Idaho county rapidly increased, by about 24 percent, at a time when the U.S. population grew by about 7 percent and neighboring Spokane County by 14 percent.
In the few years since, Kootenai saw another jump of 7 percent.
It's not a change everyone welcomes.
"I ran for office last year and not one person said the county wasn't growing enough," says Kootenai County Commissioner Bruce Mattare. "I heard quite the opposite — that things were growing so fast that it was disruptive."
The boom is eating into precious prairie land and causing more high-density development to be built throughout the county. Kootenai County commissioners have a plan — the Open Space and Park Development Bond — which will place the county's future into the hands of its voters this fall.
If voters approve the $50 million in bond money, the county hopes to acquire public open land for scenic and recreational purposes. This may include new trail systems, dog parks, play areas and many more amenities that have yet to be determined.
"It's an opportunity to mitigate density and add more open spaces," says Mattare. "This gives the community a direct say on the growth of the county."
But these are all just potential ideas. If the bond measure is passed, Mattare says officials plan to identify the best recreational or scenic uses for specific plots of land.
But which officials will decide? Well, that hasn't been decided yet.
County commissioners plan to appoint an Open Space and Park Development Citizens Advisory Board... but only if voters approve the measure on Nov. 7. This advisory board is anticipated to work closely with commissioners and the director of Kootenai County Parks and Waterways to make recommendations about which properties to acquire and what recreational opportunities to develop.
Commissioners hope to enhance the county's existing recreational trail system. By strategically buying parcels of land, the county could link the Centennial Trail, Prairie Trail, and trails along state Route 41 and U.S. Route 95, according to a county-run website meant to inform voters.
Along with these potential benefits, the bond will protect the drinking water supply in the Spokane Valley-Rathdrum Prairie Aquifer, which provides water for most of Kootenai and Spokane counties.
Considering the aquifer, the bond is something of a regional issue. By acquiring open space above the aquifer, officials hope to protect local drinking water and prevent high-density development.
In 1978, the U.S. Environmental Protection Agency designated the Spokane Valley-Rathdrum Prairie Aquifer as a sole source aquifer, making it the second in the nation to receive this weighty title. Then in 1985, Spokane County voters recognized the importance of protecting their drinking water and authorized the creation of a 20-year aquifer protection area, which was reupped in 2004. Three years after Spokane County's reauthorization, Kootenai County formed its own Aquifer Protection District, dedicated to funding aquifer protection programs. The two counties waited six more years to work together, creating the Idaho Washington Aquifer Collaborative in 2013.
New and existing businesses built over the aquifer are already required to report which chemicals they use and store on the property to the Panhandle Health District. While businesses must report any possible contaminants to the aquifer, residential buildings like apartments or senior homes are exempt, according to the health district.
The aquifer has no natural barriers to prevent surface water from entering it, meaning the region's source of drinking water is at risk of contamination.
However, county commissioners aren't asking voters to protect their drinking water. It's just an added bonus of the bond's passage.
By placing this bond on the ballot, lawmakers are asking voters what preserving the prairie is truly worth.
Over the $50 million bond's proposed 20-year term, property owners will be faced with an estimated annual cost of $8 for every $100,000 in taxable value. At the Kootenai County median home value of $480,475, that tax increase would sing to the tune of nearly $29 per year, according to county calculations.
Property owners will face the brunt of a tax increase, but that doesn't mean it won't affect those who rent, says Jonathan Gillham, a spokesperson for Kootenai County.
"Those increases are going to go on the owner, where they may or may not increase rent," says Gillham. "We can't say definitively if this will affect renters."
Census data indicates that more than a quarter of occupied housing units are rented, meaning the tax impact on nearly 18,000 households is virtually unknown.
Still, county commissioners expect these taxes per household to decline over the next 20 years as the population continues to grow.
This isn't guaranteed though.
If the population declines then the opposite is possible: Property owners could be saddled with more than they originally planned for. However, Mattare optimistically says it's all about perspective.
"If there are fewer taxpayers the obligation will be spread among a smaller demographic," he says. "If the population goes down, then land prices could be less and people would be able to purchase land."
Regardless of the tax increase and who it may affect, proponents of this bond have an uphill battle ahead of them. Idaho state statute says at least two-thirds of the ballots cast must be in favor of the bond measure for it to become a reality.
History tells us that many voters in Kootenai County are not fans of taxes or fees. In 2020, the county asked voters to increase vehicle registration fees to fund the largest investment in transportation infrastructure since the 1970s. Officials identified 12 projects that would benefit from this investment, and voters resoundingly said no.
If passed, however, the bond will be the biggest in recent memory. In November 2008, Kootenai voters turned down a $145 million public facility improvement bond, which failed. A year later, in November 2009, voters voted against a nearly $58 million bond, which would've funded improvements to the county detention facility. It also failed.
While many voters may turn their nose up at any potential tax increase, Gillham says just as many citizens have expressed concern over a shrinking Rathdrum Prairie.
"I highly doubt the public will be upset with an open piece of prairie land 20 years down the road," Gillham says. ♦