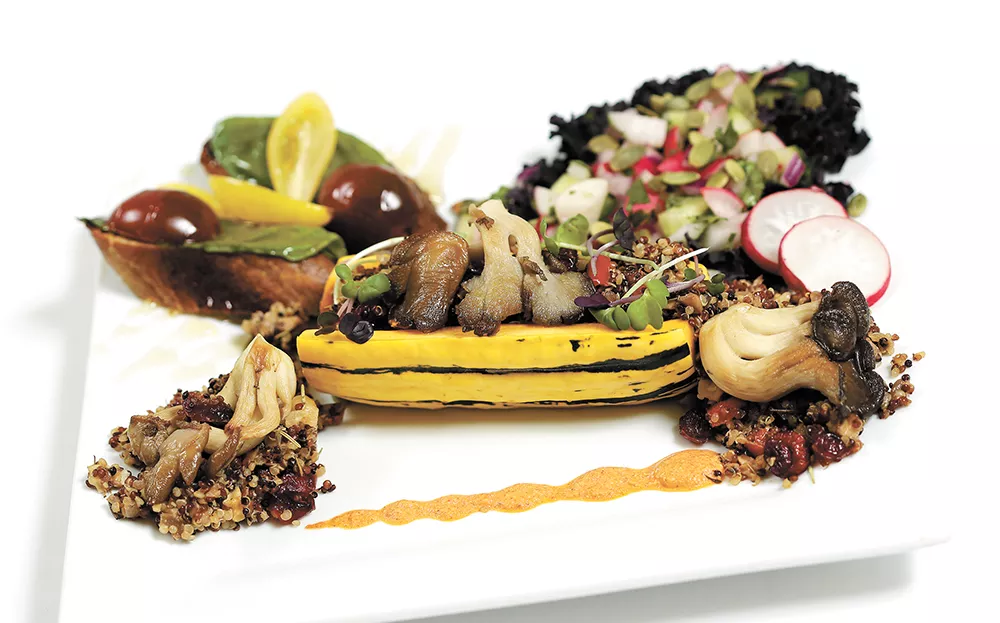 It's really the best way to be overwhelmed; when you first pick up the guide for Inlander Restaurant Week, and immediately begin flipping through more than 100 three-course menus from restaurants across the region, you find that there's everything from the most elegant fine dining to ultra-casual sports bar fare.
We know that's where hungry readers' eyes go first, so now that you've read our featured chef Q&As, learned how Restaurant Week helps feed those in need and skimmed local events and activities coinciding with this year's dining extravaganza, where are you going?
Our list, too, is long, and we all will have to make some tough choices in the coming days, because unfortunately, Restaurant Week is just 10 delicious days each year, and again the participant count has topped out at 108. But that's also OK, because we know you'll also become excited to try, later on, many of the eateries featured here simply based on the appealing dishes they've curated to create a cohesive, diverse and tasty three-course menu of just nine things their kitchen does really, really well.
As so many local business owners and chefs have told us over the past six annual Restaurant Weeks, they love getting to introduce themselves to YOU, and they're putting their best feet forward to make sure you're impressed, tell your friends and come back. So get your pen out and start making a list, don't forget reservations and to make a night of it, because this Restaurant Week is unquestionably full of amazing flavors, dishes, memories and all-around local goodness.
PRIX FIXE
You'll see this phrase, or its English translation — fixed price — repeatedly during Inlander Restaurant Week. Essentially, this means that there's a flat fee for your meal — either $21 or $31 depending on the restaurant — and you get to pick from three different options for each of three courses. But don't worry; if you want a tried-and-true favorite from the standard menu, restaurants will have their regular menus available.
Getting In
There's nothing more frustrating than showing up at that restaurant you've been anxious to try for months, only to be told the wait is 90 minutes. Instead, call ahead. Make a reservation if the restaurant you want to go to takes them. Really. If the restaurant is booked when you call, check their website. Often restaurants that use online reservation tools like Open Table have tables set aside for those online reservations. We've had success with this in years past. For high-demand restaurants, consider an early (4:30 or 5 pm) or late seating (after 8 pm). A final hack, the second weekend of Inlander Restaurant Week tends to be a little less busy than the first.
Getting a Deal
There are some crazy deals to be had during Inlander Restaurant Week. A three-course meal at Beverly's, with filet mignon complete with a Parmesan-crusted scallop gratin on the menu, uh, yeah. A 14-ounce ribeye steak at Masselow's plus two other courses for $31 — ridiculous. So peruse the menus carefully. With all those savings, order a local beer, and of course, make sure you tip your server well. If you really want to go all out, there are some awesome hotel packages that come with dining credits at Inlander Restaurant Week eateries. For instance, a $198 package at the Doubletree includes an overnight stay and dinner for two at Spencer's, plus breakfast for two the next morning. Look for stay-and-play packages on InlanderRestaurantWeek.com.
Giving Back
Not everyone can afford to go out to eat. This year, there are some super easy ways to make sure that everyone can eat during Inlander Restaurant Week. Post about your dinner out, tag it with #IRWRave Reviews on Instagram, Twitter or Facebook (make sure your privacy setting is opened up so we can see your post and count it), and Sysco will donate five meals to Second Harvest. Some restaurants are also adding a donation line on their receipts. Those donations will go directly to Second Harvest.
Making Sense of the Menus
GF / GFA / V / VA
This year, more restaurants than ever before are offering options for the gluten-free, vegetarians or vegans. We even spotted some keto-friendly designations on menus! So how do you make sense of it all? GF means the dish is gluten-free. GFA means the dish can be prepared, by request, gluten-free. V stands for vegetarian, while VA means a vegan option is available.
Drink Local
Local just tastes better. While Inlander Restaurant Week aims to support our awesome local chefs and restaurants, we also want to spotlight the amazing distilleries, wineries, cideries, and breweries that make our community taste so good. Each restaurant is highlighting one local beverage on the listings found in this guide, and then you'll find two more options on the menus inside each restaurant. Drink up!
Hours
While we intended Inlander Restaurant Week to be primarily a dinner event, some of the participating restaurants wanted to offer the three-course meal all day. We salute them. So how do you know when the three-course meal is being served? The hours the Restaurant Week menu is offered are listed here. These aren't the hours the restaurant is open, but strictly when they are making their Inlander Restaurant Week meal available.
RR
What's RR you ask? Reservations recommended. Not all restaurants take reservations, but if you see the RR icon on a menu, call them up and book your table. Don't wait. Some high-demand restaurants may book up before Restaurant Week even begins.