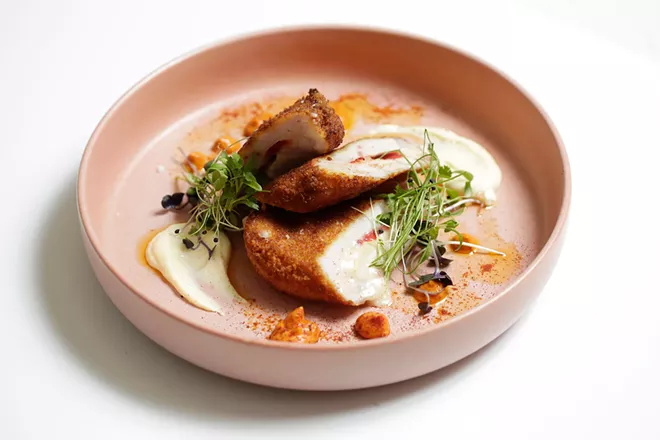 Whether your idea of "adventurous" eats is anything besides a burger or you're a veritable 'venture hound who loves to travel the culinary map when it comes to food, we can send you in the right direction.
Tea is a common enough drink but that's not the only purpose for tea leaves. D'BALI ASIAN BISTRO uses preserved tea leaves to make laphet thoke, or Burmese tea leaf salad with Mama J's special sauce, sesame and peanuts.
To many diners, nuts are a garnish or prominent feature in breakfast cereal or desserts. They abound in Spanish cooking, however, adding crunch and nuttiness, of course, but also creaminess when pureed. Try the sopa de almendras at DE ESPAÑA, with plenty of garlic and spice and served warm.
Goji berries are considered a superfood native to places like China and Tibet, but they don't appear on many Western menus, especially in desserts. FEAST WORLD KITCHEN chef Michelle Ho is making a traditional Chinese jelly with the beautiful red berries, topping it with sliced fruit for this unique third course option.
Some dishes sound very different than they actually are, including steak tartare, which is actually finely diced raw meat with nary a drop of tartar sauce in sight. FRANÇAISE uses gorgeously tender filet mignon dressed in a Dijon-shallot sauce and topped by a (raw) egg yolk for this gluten-free first course option.
LATAH BISTRO marries the unique taste and texture of octopus with creamy cannellini beans in its take on a classic Italian dish. House-made salsa verde and Mama Lil's peppers add crunch and brightness to balance the earthy, peppery arugula in this gluten-free, vegetarian first course option.
Cod is a fairly benign white fish that takes on a unique flavor when preserved through salting. That and the way it's incorporated into emulsified potatoes makes RUINS' brandade an interesting dish for your Restaurant Week culinary journey.
Calling them cuisses de grenouille sounds fancy, but VIEUX CARRE has gone the humorous route with its first course option, Frog Legs Hopalong Cassidy. Delicately flavored frog meat, a French delicacy, is made even more tender through the process of confit or very slow cooking over low heat with added crisp from frying.