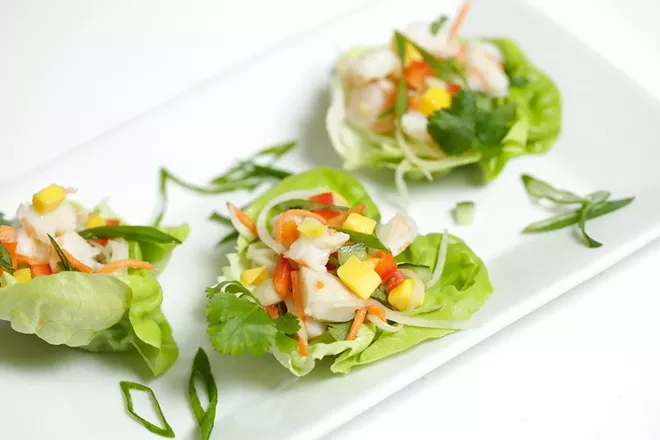 The abundance of our underwater environment is available from many Restaurant Week participants, from freshwater and ocean fish to shellfish and crustaceans.
The marinated black bass is the star of BABA's Mediterranean-inspired fish shish kabob, but only because there are so many supporting roles in the accompaniments like the fruit-forward amba sauce and peppery relish called schug.
BEVERLY'S seafood paella is a golden-tinted bed of saffron rice studded with shrimp, scallops, mussels and chorizo sausage. Ladle on the ruddy-colored rouille sauce for a little extra kick in this classic Spanish dish.
Cornmeal, crackers and even flour are fine for your everyday fish breading, but CHAPS is all about that little something extra. Their freshwater trout is coated in a crunchy pecan mixture and served with a savory brandy sauce.
Lobster is still a treat and can be just the right something special to set off other flavors, like pasta and cheese. Try COLLECTIVE KITCHEN's four-cheese mac and cheese with chunks of delicate lobster meat.
Each year FEAST WORLD KITCHEN participates in Restaurant Week, we marvel at the wide range of cuisines and incredible flavors its continuously changing roster of chefs offer. This year, chefs Cinthia Holman and Nathalia Bueno Jones are making moqueca de peixe, a traditional Brazilian fish and shrimp stew with coconut-based broth.
Quite a few of this year's menus include ceviche, which can be fish or other seafood that takes on the texture of having been cooked when immersed in lime, lemon or some other acidic liquid. KISMET's version uses meaty albacore tuna cured in guajillo pepper and orange, with an herbaceous green mojo sauce and served on a crunchy tostada.
Black cuttlefish ink is that distinct flavor you can see but not quite pinpoint in MOSSUTO'S ITALIAN risotto dish. The unusual dish dips deep into the ocean to include green shell mussels, shrimp and calamari, too.
If SPENCER'S FOR STEAKS AND CHOPS is doing a fish dish, you know it's going to be top-of-the-line. The 6-ounce halibut is cooked in paper, or en papillote, to keep it perfectly moist and tender, and served over orzo.
Fresh, crunchy, and beautiful. That's THAI BAMBOO's Confetti Cups, a lettuce "cup" filled with poached wild shrimp, green papaya, diced red bell pepper, mango, cucumber, carrot, green onion, and cilantro with a zesty lime dressing.