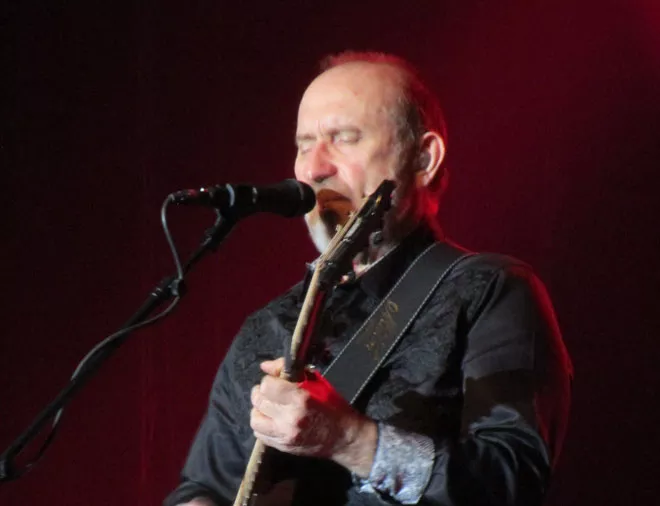 F
our songs into his show Saturday night at Northern Quest Resort & Casino
,
Colin Hay
let the crowd in on how he plots a set.
The Scottish-born, Australia-raised Hay said that he was going to deliver the massive hits he wrote for Men at Work as "condiments" sprinkled among a show full of songs written in the 30-plus years since that band imploded. The old '80s hits would have to be "like pepper" on his concert entree, Hay explained, "and I gotta go light on the pepper, because there's not a lot of hits."
Self-deprecating humor is a strength of Hay's, as anyone on hand for the show found out through his series of hilarious between-song stories. And many of the songs the audience might not have been familiar with sure
sound
like hits, such is Hay's knack for hooks and memorable lyrics.
Among the highlights of the show were a couple songs from Hay's latest album,
Fierce Mercy
; both "Come Tumblin' Down" and "A Thousand Million Reasons" are prime examples that Hay has plenty left to say musically nearly 40 years after breaking through with Men at Work.
Taking full advantage of a band that included guitar, bass, drums, multi-instrumentalist Scheila Gonzalez on a variety of horns, and Hay's wife Cecilia Noel on backing vocals, Hay delivered songs from throughout his catalog, as well as covers like a Noel-sung AC/DC tune, "Shook Me All Night Long."
The Men at Work songs naturally met with great responses from the crowd, several members of which were eager to get up and dance to "It's A Mistake," "Who Can It Be Now?" and "Be Good Johnny." "Overkill" was excellent and remains haunting, and "Down Under" of course offered an audience-singalong moment.
Even more impressive, though, was how Hay finished the show, with two melancholy tunes that belie his stand-up-comic timing and general demeanor. "Waiting for My Real Life to Begin" and the show-closing "Next Year People" are easily among the best songs Hay's ever written, even if they're not as well known as his big hits. As show closers, they showcased the depth of Hay's talents and certainly left me wanting to hear more.
That's a good sign of a quality encore.