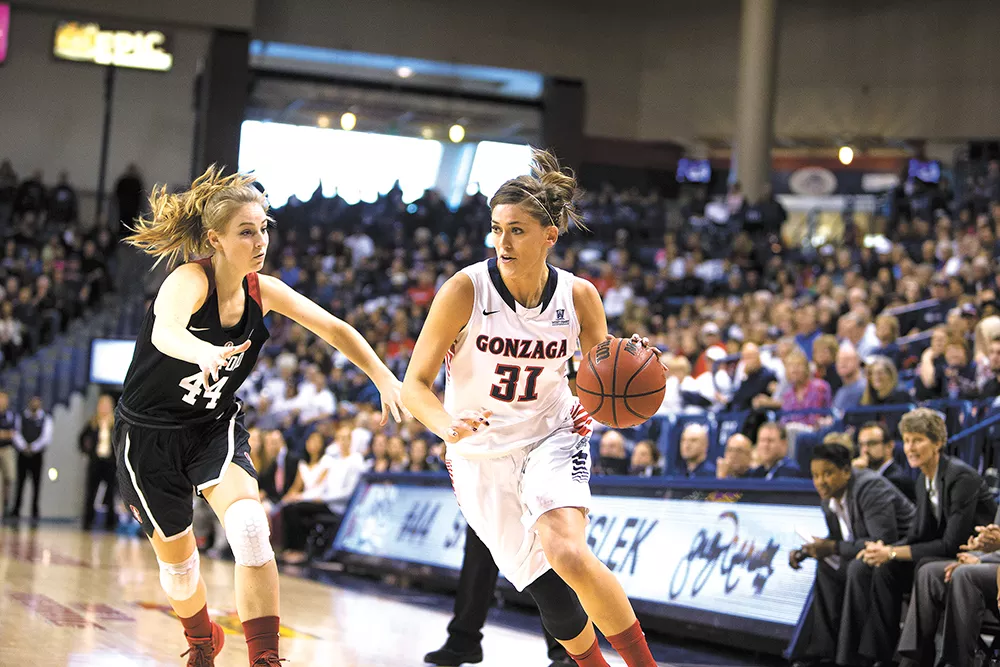 A Little Night Music
On the Civic's main stage, Steven Sondheim's romantic musical comedy explores a tangled web of affairs surrounding a traveling actress and the married men who fall under her spell. Through March 5; Thu-Sat at 7:30 pm, Sun at 2 pm. $22-$30. Spokane Civic Theatre, 1020 N. Howard. spokanecivictheatre.com (325-2507)
Dine at: Hotel RL Restaurant and Bar, 303 W North River Dr.
---
Gonzaga Women vs. San Diego
After an early dinner or a late lunch, watch the Gonzaga women's basketball team take on San Diego. Thu, Feb. 23, at 6 pm. $3-$8. McCarthey Athletic Center, 801 N. Cincinnati. gozags.com
Dine at: Melting Pot, 707 W. Main Ave.
---
Titans of the Ice Age: Mammoths and Mastodons
This touring exhibit from the Field Museum of Chicago explores the fascinating ancient history of giant Pleistocene beasts who once roamed the earth, including right here in the Inland Northwest. Show runs through May 7; museum open Tue-Sun, from 10 am-5 pm (until 8 pm on Wednesday). $10-$15 admission. The MAC, 2316 W. First. northwestmuseum.org (456-3931)
Dine at: Scratch Spokane, 1007 W. 1st Ave.
---
Northwest Bach Festival
Running almost exactly with the dates of Restaurant Week, Festival Director Zuill Bailey is back, fresh off his Grammy nomination, leading another ambitious series of concerts. Guests include pianist Piers Lane, harpsichordist John Bodinger and soprano Danielle Talamantes, performing the works of Ellington, Debussy and, of course, Bach. Many events are at Barrister Winery; check nwbachfest.com for details.
Dine at: Europa Restaurant & Bakery, 125 S. Wall St
---
After Dark
Get in a night full of laughs from some of Spokane's funniest folks at the Blue Door Theatre. This twice-monthly series is a mature audience version of the BDT's monthly show. Fri, Feb. 24 and Fri, March 3, at 8 pm. $7/person. Blue Door Theatre, 815 W. Garland. bluedoortheatre.com (747-7045)
Dine at: Thai Bamboo, 5406 North Division St.
---
Blake Shelton
The country music superstar makes a stop in Spokane for his "Doing it to Country Songs Tour," joined by Raelynn and Sundance Head. Fri, Feb. 24, at 7:30 pm. $32.50-$72.50. All ages. Spokane Arena, 720 W. Mallon Ave. spokanearena.com
Dine at: Safari Room Bar and Grill, 111 S. Post St.
---
Spokane Symphony Classics No. 7
In a program titled "A Kaleidoscope of French Virtuosity," the orchestra pays tribute to French composer Maurice Ravel and the 80th anniversary of his death with a program of his greatest works. Sat, Feb. 25, at 8 pm and Sun, Feb. 26, at 3 pm. $15-$54. Martin Woldson Theater at the Fox, 1001 W. Sprague. spokanesymphony.org (624-1200)
Dine at: Luna, 5620 S. Perry St.
---
Rain: A Tribute to the Beatles
Bring on the Beatlemania and take a trip back in time with a performance by this live tribute to John, Paul, George and Ringo. Sun, Feb. 26, at 6:30 pm. $30-$50. All ages. INB Performing Arts Center, 334 W. Spokane Falls Bvld. wcebroadway.com (777-6253)
Dine at: O'Doherty's Irish Grille, 525 W Spokane Falls Blvd.
---
Kinky Boots
The Broadway musical featuring Tony Award-winning music by Cyndi Lauper explores the power of friendship and believing in yourself. Tue, Feb. 28 through Saturday, March 4; show times vary. $32.50-$77.50. INB Performing Arts Center, 334 W. Spokane Falls Bvld. wcebroadway.com (777-6253)
Dine at: Ripples Riverside Grill, 700 N. Division St.
---
Adam Devine: Weird Life Tour
Known for his on-screen roles in Mike and Dave Need Wedding Dates, Pitch Perfect 2 and the Comedy Central show Workaholics, Devine is one of the industry's rising stars. Wed, March 1, at 8:30 pm. $30-$40. Bing Crosby Theater, 901 W. Sprague Ave. bingcrosbytheater.com
Dine at: Herbal Essence Cafe, 115 N. Washington St.
---
Brian Posehn
This longtime comedian has a huge resume of TV appearances, YouTube views, festival bookings and more. See him live in Spokane and get ready to laugh your butts off. March 2-4, at 8 pm, also March 3-4, at 10:30 pm. $20-$27. Spokane Comedy Club, 315 W. Sprague. Spokanecomedyclub.com (318-9998)
Dine at: Post Street Ale House, 1 N. Post St.
---
Marshall McLean Album Release
The popular Spokane folk musician/songwriter and his band perform a concert celebrating the release of their second full-length record, Sodak. They're joined by openers Bart Budwig and Jeffrey Martin. Fri, March 3, at 8 pm. $20. All ages. The Bartlett, 228 W. Sprague. bartlettspokane.com
Dine at: Manito Tap House, 3011 S. Grand Blvd.
---
First Friday
March's visual arts showcase is a perfect way to spend an evening on the town, strolling the streets to pop into area art galleries and businesses displaying the work of the region's many artists. Fri, March 3, most artist receptions from 5-8 pm. Downtown Spokane and beyond; visit downtownspokane.org for complete listings of all events.
Dine at: Steelhead Bar and Grille, 218 N. Howard St. ♦