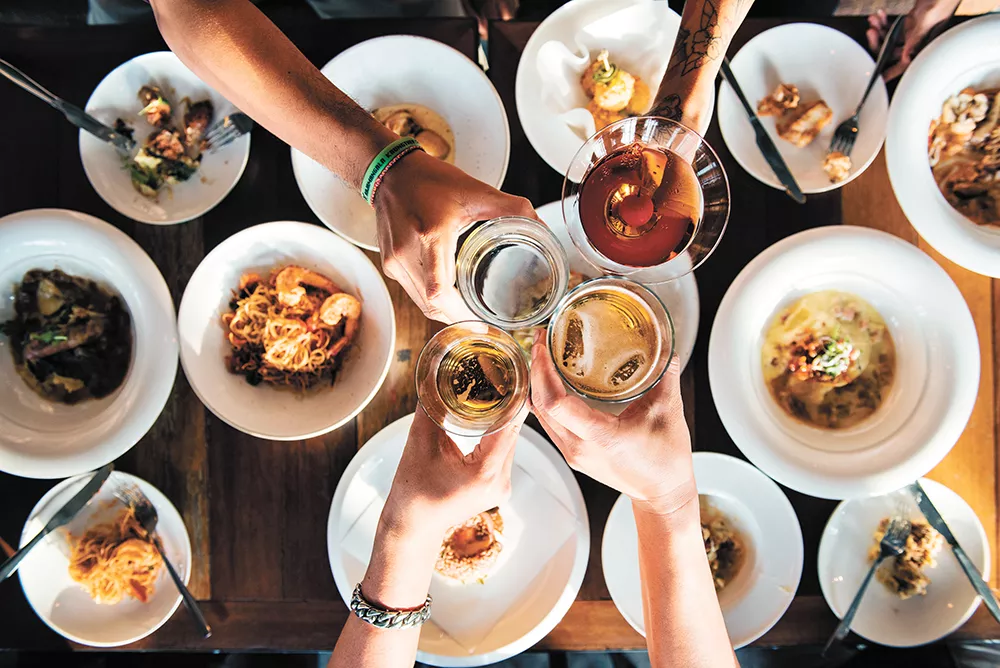 Inlander Restaurant Week has been supporting the concept of Drink Local for a long time, and given the growth of our local craft beer, wine and distillery communities, we'll be doing it for years to come.
There are a lot of reasons to Drink Local. It's great for the local economy, supporting our friends' and neighbors' ventures from Spokane to Pullman, Sandpoint to Moscow, and all points in between. It's great for the environment — when your favorite beer, wine or vodka only has to travel a few blocks or a few miles to get in your glass, your carbon footprint is dramatically lessened.
Most important — especially in the context of Inlander Restaurant Week — is the fact our local products just taste great. We live in a world-class spot for hops, wheat and grapes, and that comes through in our local libations.
Every Inlander Restaurant Week menu includes three Drink Local options for your perusal. (They're listed on every restaurant's menu.) We encourage you to tap into an old local favorite, or try something from the region for the first time. Cheers!
What's Up for Drink Local 2019?
One of the founding goals, way back in 1993, for the Inlander was to support local business and work to build local culture. One of the best ways to do both is to highlight the outstanding beer, wine, spirits and more being produced right here in the Inland Northwest.
Since Inlander Restaurant Week began in 2013, participating restaurants have been featuring drinks that are locally produced, and diners will find more than ever this year, as every participating restaurant will feature three available "Drink Local" specials.
For 2019, Inlander Restaurant Week has brought on a beer, wine and spirits partner to help support the over 100 participating restaurants and to encourage diners to think local when picking out a drink to accompany your meal.
Each of the partners — Townshend Winery, Dry Fly Distilling and No Li Brewhouse — have outstanding award-winning products, widespread distribution and a long history of working to build community in the Inland Northwest. The final partner for 2019 is the Inlander. The Inlander will be dedicating promotion throughout the event and through the rest of 2019 to keep reminding folks of the great local products that can be found in and around the region surrounding Spokane and Coeur d'Alene.