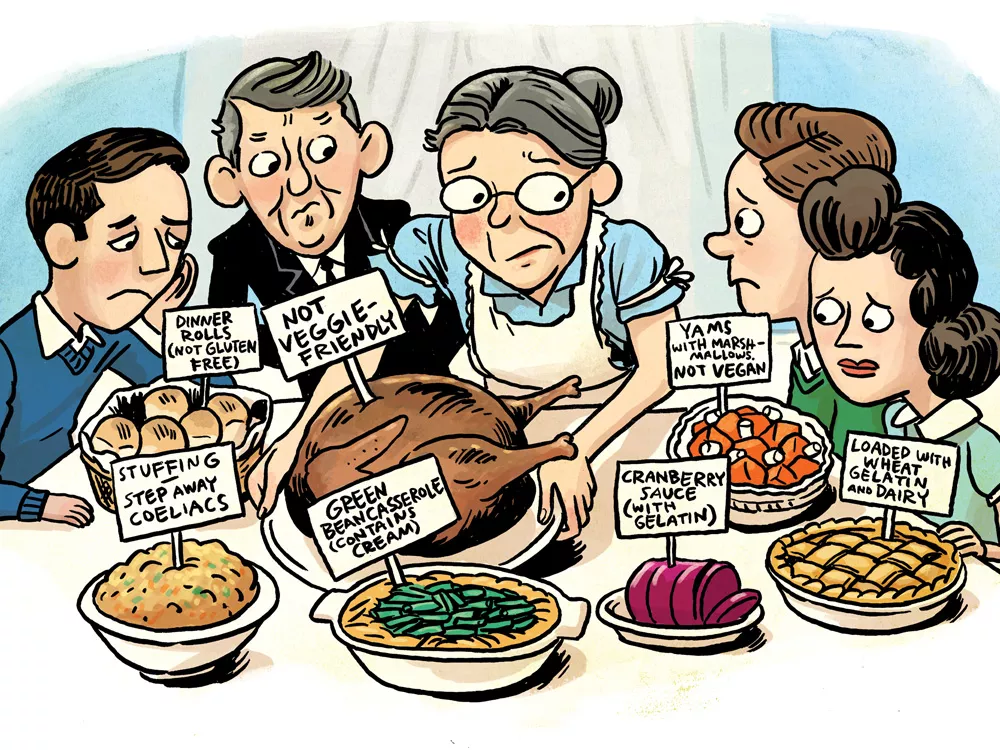 Standing in the gluten-free-flour section at downtown Spokane's Main Market Co-op, I'm starting to sweat. What the hell is this stuff? Sorghum flour? Xanthan gum? Teff flour? What the eff is a teff?
For the first time in my career as an intrepid, fearless home cook, I'm working blind. I can cook a vegetarian meal that will have even the most avid, gun-toting sportsman asking for seconds. I bake my own bread, I can make my own soy milk, and I read Larousse Gastronomique for fun.
But a new challenge — a gluten-free diet — has got me stumped. And suddenly one of my favorite cooking challenges of the year has me sweating in grocery-store aisles like a fool: Thanksgiving.


Here's the deal: My husband and I are vegetarian. But we enjoy chewing on Tofurkey as much as we enjoy a mouthful of bathroom garbage. So every year, it's a challenge to find the right main dish.
We've elected to be vegetarians. It's a choice. But that's what makes our latest cooking challenge a little more difficult. Due to a set of particularly nasty genes, my 30-year-old husband is afflicted with a disease that belies his young age: rheumatoid arthritis. We've read that adhering to a diet that is completely gluten-free (no wheat products) and vegan (no cheese, milk, cream, eggs) can be a cure-all for his pain, without the nasty drugs meant for old people.
If that's true, it's great news. But it's a lot more work up-front than just knocking back a pain pill and a glass of water. Still, he'd rather opt for a more natural solution, so we're giving it a shot.
We started our gluten-free adventure by running down our regular Thanksgiving menu to see what we'd need to change.
Answer? Everything.
Stuffing is made from bread — and most bread is far from gluten-free. Green bean casserole is made from creamy soup — and that ain't vegan. We've been throwing regular Jet-Puffed marshmallows on our yams each year — and those are far from vegan (or vegetarian, because of the whole gelatin-being-made-from-animal-bones — oops). Pie crust, dinner rolls — out.
Dismantling dinner dish-by-dish, we realized how everything we eat — everything — seems to be filled with wheat. Weird things, too: soy sauce, coffee creamer, canned soups. And then the obvious stuff, like bread. Anything whole-wheat. And beer. (Here come the waterworks…)
Ever the devoted glutton, though, I've decided I'm going to make the best damn Thanksgiving dinner possible — one that's free of nasty allergens.


Because I know gluten-free about as well as I know particle physics, I called Leigh Graves, manager of Spokane's White Box Pies — a favorite spot for local coeliacs seeking a sugar and sandwich fix.
She gave some helpful hints: "The first step is looking in your fridge and seeing what has what in it." She pointed me toward the refrigerator door: "Condiments in general" have gluten in them.
Graves says that over 80 percent of White Box's Thanksgiving orders are for some combination of gluten-free, dairy-free, egg-free or soy-free.
"Oh my gosh, it's almost every day that somebody says, 'Do you have something dairy-free gluten-free?'" Graves says.
For that reason, White Box has a gluten-free stuffing and can make almost all of the pies on their menu — like traditional pumpkin and cherry pies — free of gluten.
Seems the allergic have found this out, too — Graves says she's already getting backed up on orders for the holidays and will cut off Thanksgiving orders this Saturday. (Other places to find gluten-free and vegan items include Fresh Abundance, Huckleberry's, Coeur d'Alene's Pilgrim's Market. There's even a whole freezer case devoted to gluten-free stuff at Super 1 Foods.)
If I want to make dinner rolls and pie crusts myself, Graves pointed me toward rice flour and all-purpose flour mixes that are free of gluten.
Which is how I found myself standing in the flour aisle, staring blindly like I was reading Japanese. I ran up a pretty hefty bill, taking home a bagful of flours and thickeners I couldn't pronounce.
But in the end, if a day without Stovetop Stuffing means we'll have a holiday free from aches and pains and doctor's bills and a medicine cabinet full of prescriptions, that's something I can sure-as-hell be thankful for.