In 1960, five male vocalists came together and formed The Elgins. After seven years, some lineup tweaks and one significant name change, they had a string of massive hits under their collective belt — songs like "My Girl," "Ain't Too Proud to Beg" and "I Wish It Would Rain" — and were among the constellation of musical artists who came to embody a distinctive and influential sound known as Motown.
As the Temptations, the group would go on to have 42 chart hits, win three Grammy Awards and become a fixture of the ever-evolving pop music scene by adapting their sound to the times. Their successes and tribulations are retold in the Broadway musical Ain't Too Proud — The Life and Times of The Temptations, which arrives in Spokane next week for a six-day run as part of the Best of Broadway series.
The book for the jukebox musical was written by playwright and MacArthur "Genius Grant" recipient Dominique Morisseau, who, like the band itself, hails from Detroit.
"It's a memory play told from the perspective of Otis Williams, who is still with us, who's still touring to this day, even at the age of 81," says Harrell Holmes Jr. He plays Melvin Franklin, a founding member of the Temptations and one of its "Classic 5" lineup along with Williams, Paul Williams (no relation to Otis), Eddie Kendricks and David Ruffin.
"It tells the full story of the things they went through, navigating family life and also the tumultuous time of the '60s, with it being Jim Crow and segregation. They wanted to make change through their music. One thing that I didn't know is that the song 'War,' which was made famous by Edwin Starr, was originally recorded by The Temptations," says Holmes.
"And then you have the story of what they went through internally, with some of the drug use and all of that craziness."
The behind-the-scenes "craziness" might come as a surprise to those who only know the Temptations' public image of the mid- to late 1960s — a quintet of clean-cut singers with suave dance moves and matching elegant suits.
But some of its members privately maintained lifestyles that were a little more rock 'n' roll than their sound or stage personas would suggest. David Ruffin and Paul Williams both struggled with drug addiction. Others, like Kendricks, fell out with other band members over the stylistic direction of their music.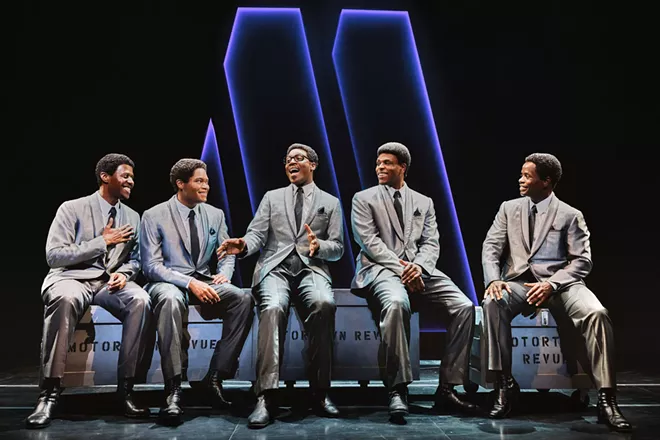 Because of the Temptations' Motown milieu, there are also some famous dramatized cameos in Ain't Too Proud. Smokey Robinson, who wrote or co-wrote early Temptations hits like "My Girl," "The Way You Do the Things You Do," "It's Growing" and "Since I Lost My Baby," features in the musical, as do Motown founder Berry Gordy and Supremes frontwoman Diana Ross.
"We do have a great song and segment in there where the Temptations and Supremes finally come together," Holmes says. "It's very difficult to get bored during this show because there's so much history."
For his role as Franklin, Holmes began preparing decades before the casting call for Ain't Too Proud.
"I actually started singing at the age of 7 after seeing the Temptations movie that came out. My very first performance was in my third-grade talent show singing 'Ain't Too Proud to Beg.' I ended up starting my own group called The Little Temptations," Holmes says. He even performed Temptations songs during his later outings on Star Search and American Idol.
More recently, Holmes read Otis Williams' memoir Temptations and watched performances and interviews on YouTube to get a better fix on who Franklin was and his dynamic within the group.
Although Franklin had been with the Temptations since the very beginning, his contributions became more prominent during their psychedelic soul phase. His husky line "and the band played on" on their 1970 hit "Ball of Confusion (That's What the World Is Today)" would later be adopted as a poignant commentary on the AIDS epidemic.
And Franklin, not unlike his bandmates, had his own private struggles. He developed rheumatoid arthritis at a very young age, and the treatment led to further health problems. Yet he continued performing with the Temptations until the year before his death in 1995.
"Outside of his amazing bass voice, Melvin was known for his personality. He was always smiling, always making funny facial expressions, and just having the time of his life. Those are some of the things I've tried bringing to the stage," says Holmes. Based on feedback from Franklin's children, he's managed to capture him accurately.
"They've gotten a chance to see the show and say I've portrayed their father well," he says. "That's the ultimate compliment for me." ♦
Ain't Too Proud • Jan. 17-22; Tue to Sat at 7:30 pm; Sat at 2 pm; Sun at 1 pm and 6:30 pm • $47.50 to $95.50 • First Interstate Center for the Arts • 334 W. Spokane Falls Blvd. • broadwayspokane.com