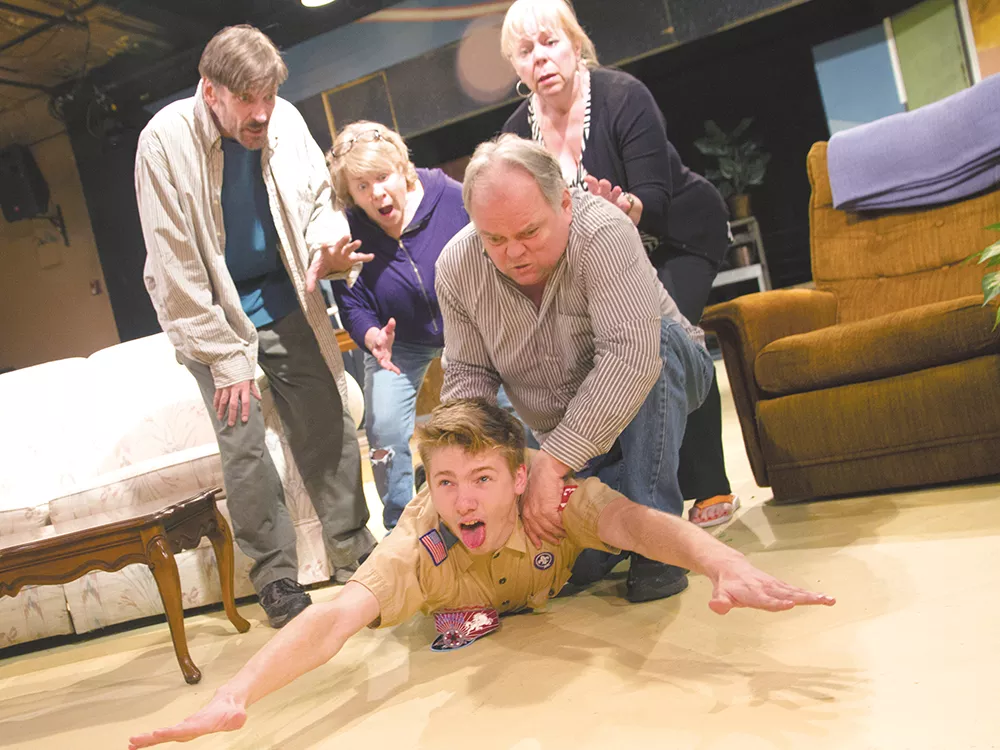 Interplayers Theater often stages lesser-known plays with the hope of introducing audiences to new and different theatrical voices. But what about totally unknown plays?
When Seeds of Change opens there next week, theatergoers will have the chance to witness a work being publicly performed for the first time ever. What's more, it's the product of homegrown talent. The play was written by local actor, poet and Spokane Falls Community College instructor Craig Rickett, and its debut run is being directed by erstwhile Spokanite and perennial audience favorite Michael Weaver.
Seeds of Change is a comedy about three Nazarene sisters — Joy (played by Kathie Doyle-Lipe), Faith (Maria Caprile) and Chastity (Mary Starkey) — who are forced to reevaluate their strict codes of moral behavior when circumstances find them cultivating cannabis plants.
"Nazarenes are quite socially conservative in the sense that [there's] no smoking, no dancing, no drinking, no movies, no mixed bathing. All of these lifestyle constraints were larded on to the religion," Rickett explains.
"The play is about these three women coming to terms with how their religion has defined them and ... limited their ability to interact in the world. The things that many people go through in their late teens, they're experiencing in their late 40s, early 60s."
The play has its origins in the playwright's own "crisis of faith," which he experienced years ago as a student at Southern Nazarene University.
"I did grow up in the Nazarene Church and went to college and graduate school at Nazarene universities," says Rickett. "During that process, I became less and less enamored with the religious lifestyle...They just didn't fit me anymore. I would probably be described now more as humanist than anything else, although humanism carries with it a lot of the same baggage that a religion would."
Rickett says that one of the difficulties in breaking out of any long-held belief system, whether it's religious, social or political, is leaving behind the comfort and safety of the cocoon it once provided.
"I spent a lot of years redefining a belief system that necessarily included everything I was taught as a young kid," he says. The complexity of his own experience — not least the difficulty he had in shaping his own identity from the inside out and how that identity came to be perceived by others — is something he wanted to address in Seeds of Change.
The play itself, first introduced to Ignite! Community Theatre in 2010, until now has only been performed as informal readings. That places unique demands on Weaver, who has to direct from a blank slate. Almost.
"A lot of the people in the cast have done readings of this play during its development period, so I'm one of the newer arrivals," Weaver says. "It's so interesting to come into rehearsals, and in a lot of ways the actors are ahead of me. But they're very open to the concept and ideas I'm bringing to it."
"What's really been fun is being able to turn to [Craig] and say, 'We need another line there, another half a beat.'"
As a director, Weaver is approaching the play as a "wacky, fun comedy" without downplaying the philosophical aspects that Rickett interwove from his own life experience.
"All good comedy has to have a serious underpinning," Weaver says. "You have to have something important at stake that the audience can identify with."
Seeds of Change • May 9 to 26: Wed-Sat, 7:30 pm; Sun, 2 pm • $28 ($20 senior/military, $12 student) • Interplayers • 174 S. Howard St. • 455-7529 • interplayerstheatre.org