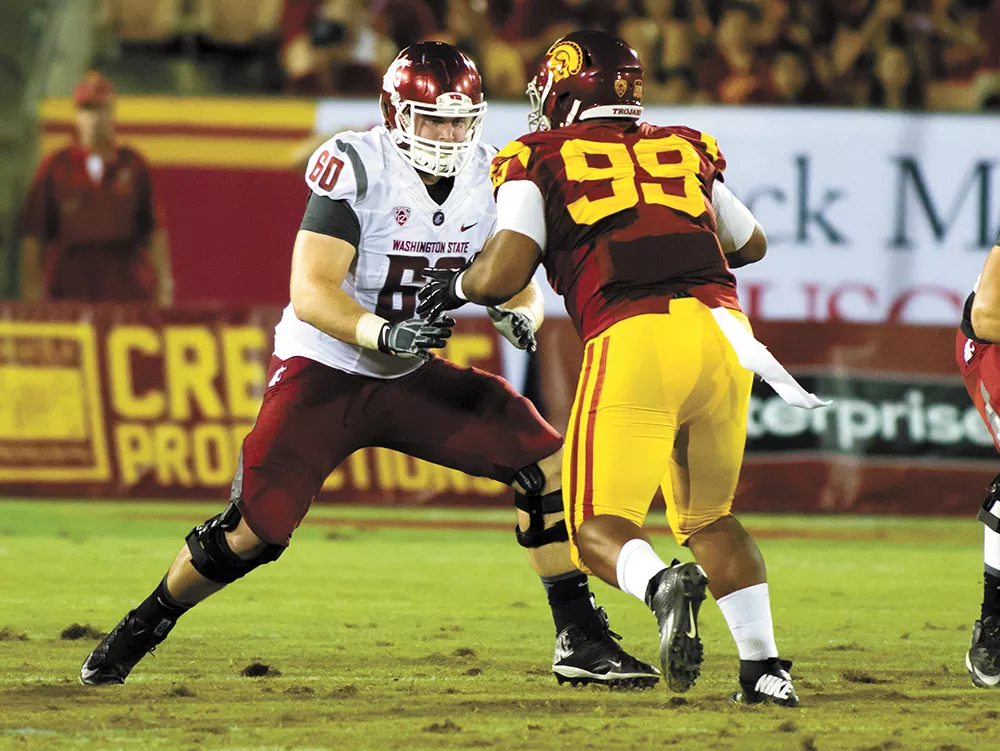 Football teams that have suffered through years of duress have been known to let up on the gas once they finally play in a bowl game.
The Washington State Cougars insist they are not one of those teams. They plan to prove it Saturday in Albuquerque, N.M., when the Cougars square off with Colorado State in the New Mexico Bowl in the first game of the extensive bowl schedule.
"We don't want to go down there just to have fun," running back Marcus Mason says. "We want to have fun while winning the game."
Kicker Andrew Furney added, "I don't feel like there's any feeling on the team that, 'Oh yeah, we've made it, we've arrived and that's that. Let's go out and celebrate and enjoy ourselves. Who really cares about the win?'"
The Cougars are just 6-6, but sports statistician Jeff Sagarin ranks their schedule as the toughest in the nation. The Rams are 7-6, but none of the teams they beat has a winning record, and their schedule was ranked among the easiest. If you're a betting type, Vegas lists WSU as a 4½-point favorite.
Colorado State is far more balanced on offense than WSU — the Cougars rank first in the nation in pass attempts, last in rushing attempts — but the teams do have similarities. Both struggled in recent years; both rely heavily on underclassmen; both run up-tempo, no-huddle offenses; and both have head coaches in their second year on the job.
Mike Leach, who guided Texas Tech to bowl games all 10 seasons he coached the Red Raiders, has steered the Cougars into their first bowl game since 2003, also the last season WSU finished with a winning record.
"This [coaching] staff has done a good job of really changing the culture," Furney says.
Colorado State coach Jim McElwain, a native of Missoula, Mont., is a former Eastern Washington quarterback and assistant coach. He took over the Rams last season after serving as offensive coordinator on Alabama's 2011 national championship squad. The Rams are making their first bowl appearance since winning the 2008 New Mexico Bowl.
"There is a certain aura that goes around being a bowl team," McElwain says, "and there is a certain club now; you can walk in the back alley and knock on the door and you have the secret code to get in."
Rams running back Kapri Bibbs is drawing All-America attention. He led the Mountain West Conference with 1,572 rushing yards (eighth in the nation) and 28 touchdowns (second). Bibbs best keep an eye out for WSU All-American safety Deone Bucannon, the Pac-12 Conference leader with 109 tackles.
WSU quarterback Connor Halliday, a graduate of Ferris High School in Spokane, ranks fourth in the nation with 4,187 passing yards. Colorado State QB Garrett Grayson, from Heritage High in Vancouver, Wash., ranks 18th with 3,327 passing yards. Halliday must be wary of blitzing linebacker Shaquil Barrett, who is tied for third in the nation with 12 quarterback sacks. ♦
New Mexico Bowl • Washington State (6-6) vs. Colorado State (7-6) • Sat, Dec. 21 at 11 am • Televised on ESPN