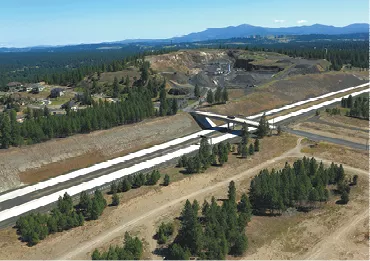 It's been nearly 70 years since the idea first surfaced and a decade since workers first broke ground. But the future path of Spokane's North-South Freeway, winding all the way to I-90, remains unbroken and unfunded, and city council members want to remind state lawmakers just how much remains to be done.
In a study session last month, councilmembers agreed the project should be high on its wish list of issues the city will ask its lobbyists to focus on in the 2014 state legislative session, which starts in January. They should also guard against "regulations that hamper urban development," especially fire code regulations, the council decided. Council president Ben Stuckart and others say they're concerned state lawmakers are considering mandating fire sprinklers in all single family homes.
"I find that an impossible burden if we want people to move inside the city," Stuckart told councilmembers. "I understand sprinklers save lives, but we're not going to be able to revitalize any of our neighborhoods if you have to put in sprinklers every time you touch [a house]."
Along with development in the University District, the list includes a handful of issues that, like the North-South Freeway, carried over from last year: a ban or fee on studded tires, changes to labor arbitration laws and dollars for the public works trust fund, which usually offers low-interest loans to local governments for infrastructure projects but was tapped last year to help cover other costs to the state's general fund.
Meanwhile, Mayor David Condon's administration is crafting its own list of priorities, as is Greater Spokane Incorporated, which usually focuses on economic development issues and will announce its final list in early December. The administration and council priorities will also get a final vote later this year. The Association of Washington Cities, where councilmember Nancy McLaughlin has served as president and currently sits on the Legislative Steering Committee, has approved its preliminary list with an eye toward taxes.
The group is again urging the state to increase the amount of liquor tax revenue passed on to cities and wants the Legislature to act on marijuana. Along with a cut of new pot taxes, the group wants medical marijuana rules in place to square that market with the new recreational one. A transportation package, potentially funded by tax increases, and the public works trust fund also made the list. The council is likely to sign on in support of each group's list. ♦