H
ow to draw the current Spokane city flag:
Start with two smears of Pepsodent toothpaste on a white backdrop. Then trace your dry erase marker around your coffee cup and fill it in with Wite-Out. Tape a bottle cap in the 2 pm position to the circle and then throw in a few of those family silhouette car decals. Label them "Children of the Sun."
Now, this is the most important part: On the right side, type out "SPOKANE," to differentiate it from all from the other city flags with tiny people waving at you from a little circle.
On second thought, type out
CITY OF
SPOKANE, so people don't confuse us for Spokane County or, God forbid, the Spokane–Spokane Valley Metropolitan Statistical Area.
<!—————EndFragment—————>
And there you have it, Spokane's current flag: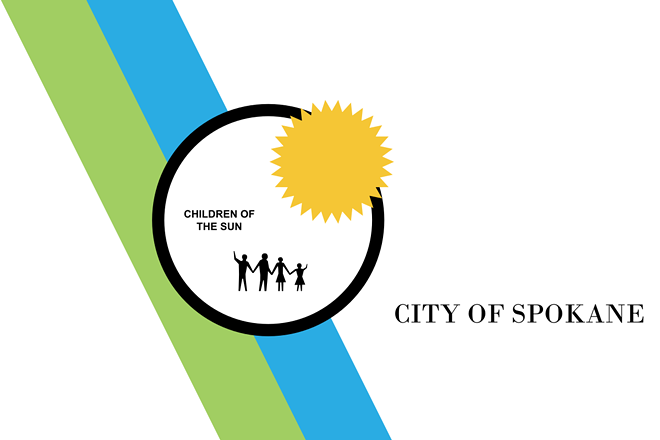 But lately, some local residents have been dreaming up a crazy possibility — what if there were a way to make an even
better flag
?
Monday night, the Spokane City unanimously passed a resolution to "select a simple, bold, new design for our city flag." The design will be chosen by a work group composed of council members, community members, as well as representatives from the Mayor's Office, Spokane Tribe and the arts commission.
Here at the
Inlander
, we're more than happy to get a little bit vexillological when the mood strikes us. So to help out all those would-be local flag designers out there, I've contributed some of our most brilliant design proposals.
Marmot skull and crossbones.
Scratch-and-sniff flag that smells like lilacs.
Solid white flag representing our city's long history of supporting diversity and inclusion.
Illustration of the Space Needle with a big red X stamped over it.
A generic "I ❤ SPOKANE!," but pass it around for everyone in the office to sign.
Use the current flag, but put sunglasses on the yellow sun to show how hip and cool we are.
Abstract tiled image that doesn't look like anything at first, but when you stare at it long enough a 3D image of actor of stage and screen Craig T. Nelson pops out.
The logo of Numerica Credit Union, as long as they sponsor the flag development process.
Flag that appears to be all black on first notice, but under a blacklight the image of the U.S. Pavilion appears.
Optical illusion that looks like Mount Spokane from one angle, but a really big pothole from the other.
A silhouette of a leaping salmon, to symbolize both the salmon that once swam the Spokane River and the salmon that you can still get for low, low prices in the freezer section at Grocery Outlet.
A giant "S," which stands for "symbolism."
An American flag but with, "(SPOKANE IN PARTICULAR)" stamped over it.
The Riverfront Park Clocktower over the cursive inscription, "It's 'TIME' to celebrate our beloved municipality, Spokane, Washington."
Whatever is on the front, the back should definitely have a treasure map guiding intrepid adventurers to the location of Spokane founder James Glover's hidden gold.
Gadsden flag with the "DON'T TREAD ON ME" slogan replaced by "DON'T MILDLY CRITICIZE OUR CITY OR WE'LL GET REALLY MAD ON SOCIAL MEDIA."
Flag that serves as a vision board representing the city's deepest desires, like an IKEA, a Cheesecake Factory, a Chick-fil-A, and a median household income over $50,000.
A screen print of the Scarface poster, completely unaltered.
Three interlocking symbols — a foot, a sphere and a snout — representing Spokane's three greatest athletic events, Bloomsday, Hoopfest, and Pig Out in the Park.
A bicycle spoke next to Campbell's Soup can. Let the public see if they can decipher that fiendish little riddle.
Giant QR code that links to a YouTube video of Mayor David Condon singing an acapella cover of "We Didn't Start the Fire," with the lyrics changed to be about Spokane.
Show our tech-savvy and our penchant for street repairs by becoming the first city in the country to have a flag that includes an animated GIF of a little construction worker.
Really impress visitors by illustrating the name of our city in Microsoft Word art, and putting the flag in a plastic binder before turning it in.
Include little tear-off strips at the bottom of the flag with numbers for Brett, a local guy who promises he gives really great guitar lessons.
Collage of ideas 1-24.