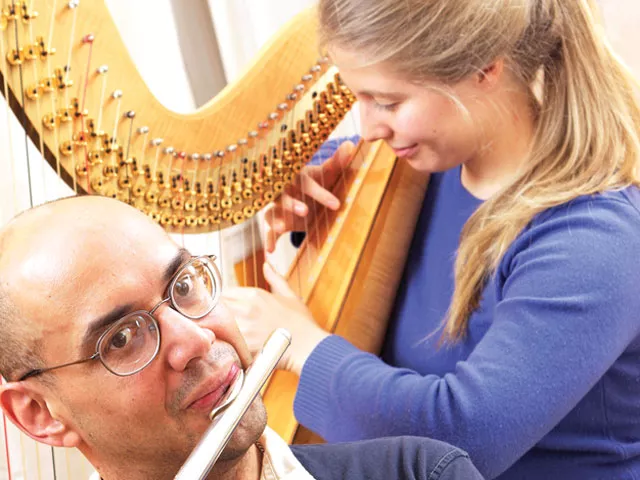 This weekend at the Fox, sitting hand in hand with your Valentine, you'll be relaxing to the wedding-reception music of Mozart's "A Little Night Music." And the concerto right after has such pleasant melodies — so relaxing.
Relaxing for you, maybe. It's not restful if you're one of the soloists in Mozart's Concerto for flute, harp and orchestra in C major. In fact, for the last couple of months, it's been anything but for Bruce Bodden, flute, and Earecka Tregenza, harp. They've been preparing so you can have your moment of tranquility this weekend.
Dec. 8, 2009 | 67 days to go before the concerts Bruce Bodden "hasn't even started working" on the half-hour-long concerto. (He's been busy preparing for other Spokane Symphony concerts, The Nutcracker and the Northwest Bach Festival.) "I know it already," he says, "and it doesn't have anything that's difficult to play. You just have to sound fabulous when you play it, and that's the hard part. So right now, I'm mostly thinking in terms of, 'OK, I have to be in especially good shape in February.'"
Dec. 21 | 54 days to go Earecka Tregenza is just glad that The Nutcracker is over with. "It has one of the most difficult cadenzas [solo passages] in the repertoire," she says. She's looking forward to "the holiday, which holds the lovely prospect of many uninterrupted hours of serious work on just the Mozart concerto."
Jan. 6, 2010 | 38 days to go "Sounding fabulous" and being "in shape"? What did Bodden mean? "A good analogy is figure skating," he says. "We've all seen skaters perform who are coming back from an injury and aren't quite physically up to the job yet — or who are in peak condition but not ready for the pressure, so either they crack or they go through their routine like a robot. Then there are the ones for whom everything comes together — that's where I want to be for these concerts. I'm taking a class in Alexander Technique to help with some issues of physical tension that I've been struggling with, and also I'm working on breaking the cycle of racing to meet one deadline after another, so that I can simply enjoy these performances."
Jan. 18 | 26 days to go Tregenza is planning on enjoying practice. Just before her second rehearsal with Bodden, she says, "Things are going well with the Mozart. It's solidly memorized at this point, and my practice schedule is set at about four to five hours of practice daily (not including orchestra parts). … The Mozart concerto has very intricate fingerings at high speeds, while still demanding a full, rich, even sound. The harpist probably plays 20 minutes of the concerto, which makes it a bit of an endurance test. Music is a lot like an Olympic sport. You're always striving to push just that little bit further, to keep working until the point your mind or body just can't take it anymore."
Feb. 3 | 10 days to go During their two-hour rehearsals, Bodden says, "Typically we will play through about half of a movement, see if there's anything that needs fixing. The cadenzas — sections toward the end of each movement where soloists back in the day were expected to improvise — are the parts that need the most rehearsal, since they are played much more freely than the concerto proper."
[The flute-harp concerto] "is one of the most charming pieces that Mozart, or anyone, ever wrote," Bodden says. "The movements of this piece remind me of a perfect summer day, followed by a perfect summer night and another perfect summer day. Its simplicity and grace draw our attention to the world outside our own heads and say, 'Look — isn't that beautiful?' Is anyone really going to complain that it's shallow or superficial simply because it's so easy to enjoy?"
Feb. 6 | 7 days to go Tregenza is looking forward to the first rehearsal with the orchestra — set for the Tuesday before the concerts — when Music Director Eckart Preu "will probably discuss tempos and the transitions in and out of the cadenzas."
Back in 1778, the concerto was commissioned by a flute-playing duke for himself and his daughter, a harpist. Tregenza thinks that Mozart was throwing down a challenge: "Sometimes I think he was thumbing his nose at the duke's daughter, saying, 'So you think you are a virtuoso — well, can you play this?'"
Feb. 7 | 6 days to go Listening to a rehearsal, it's amazing how much more prominent the harp sounds than on the obviously flute-biased recordings that I own. Both Bodden's and Tregenza's fingers are flying.
Creating the illusion of a perfect summer day can get complicated.

The Spokane Symphony Orchestra performs three works by Mozart, including the flute-harp concerto and the Requiem, on Saturday, Feb. 13, at 8 pm and on Sunday, Feb. 14, at 3 pm at the Fox. Tickets: $20-$42. Visit spokanesymphony.org or call 624- 1200 or (800) 325-SEAT.