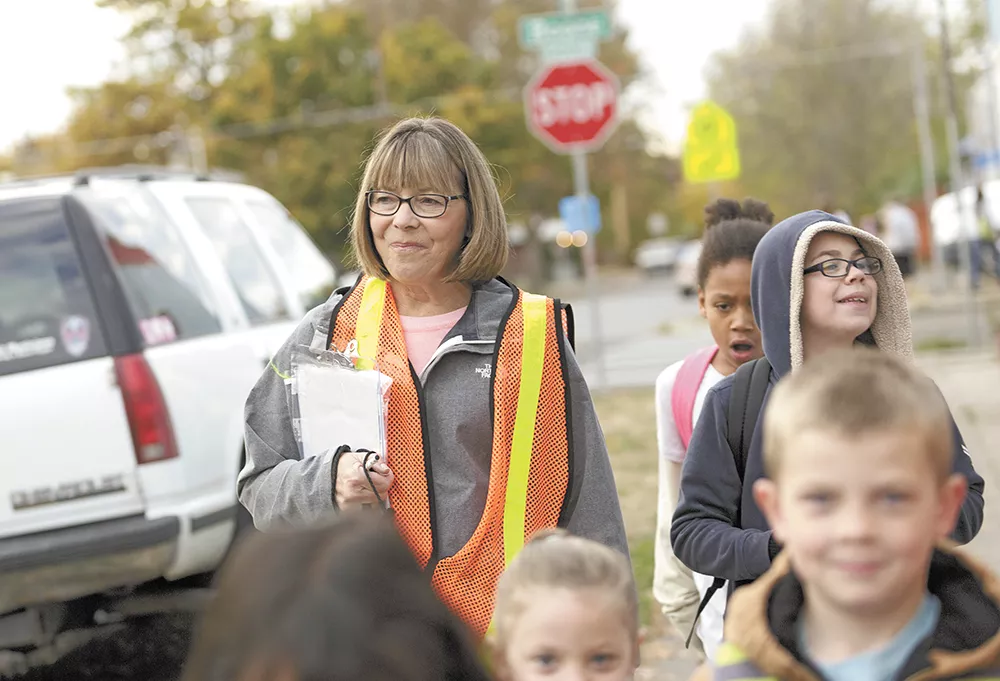 Karen Chipley calls out with enthusiasm: "Good morning, James!"
"Oh, you've got animal crackers — my favorite! Would you like a sticker this morning?" Chipley leans down and asks the tiny kindergartner, bundled up in a puffy blue jacket and clutching a sandwich baggie filled with pink and white frosted cookies.
James smiles and nods, so she flips past the pages on her clipboard of the morning's route to a sheet of superhero stickers.
"Good morning, Lola! How are you this morning? Did you find your jacket? If your hands get cold, I have gloves," she says to James' big sister, a second grader at Holmes Elementary in Spokane's West Central neighborhood.
With the two children in tow — their mother waving at the front door — Chipley heads down the sidewalk along Bridge Avenue, and then around the corner up Nettleton to the Walking School Bus' second stop.
A lively game of "I Spy" is in progress, and Lola, who spies something white (the clouds), has Chipley stumped.
This fall marks Chipley's second school year volunteering as a route leader for the Walking School Bus program. One morning each week, the retired resident of the Kendall Yards development dons a neon orange safety vest over her jacket and leads a shuffling caravan of children from their front doors through the neighborhood to Holmes. It's her mission that these dozen or so kids on the "blue route" start the day off as positively as possible; playing games, getting exercise and arriving at school on time and ready to learn.
"Today I left elated, thinking this was a good day — they were all smiling and pretty happy to be there, and it's not always that way," Chipley, 66, says after she's dropped all the kids off at the corner entrance to Holmes' playground and field.
The Walking School Bus began as a pilot program at Holmes this past spring, and has since expanded to Spokane Public Schools' Logan Elementary, West Valley's Seth Woodard Elementary and Cheney's Sunset Elementary in Airway Heights. It's run as part of the Spokane Regional Health District's Safe Routes to School program, funded by a nearly $100,000 annual grant from the Washington State Department of Transportation's Transportation Alternatives Program.
Safe Routes to Schools coordinator (and Inlander guest columnist) Mariah McKay says similar initiatives are trending across the U.S., with a twofold intent: to combat childhood obesity and ensure kids get to school safely each day. Through a phased implementation schedule over the next several years, eventually all schools in Spokane County will host the program with support from SRHD for at least two semesters, McKay says. Schools are then encouraged to maintain the program independently with the help of volunteers, which the program can't exist without.
At Holmes, early benefits of the program go beyond safety and exercise. During the spring pilot, attendance increased for 80 percent of students who participated in the Walking School Bus. That's important for the low-income neighborhood's school, whose students underperform in academic measures compared to other schools in the district and state. Most children enrolled there are also eligible for free and reduced lunch programs.
"Yep, there are some challenges in the neighborhood, and this is a way to get them to school safely," remarks Holmes Principal Stephanie Lundberg. "But having volunteers be a part and see that 'Hey, there's a lot of amazing things happening at Holmes'... getting that word out is really critical that it's not a bad school."
As the group grows larger with every stop, Chipley places check marks on the route list next to each child's name. She also tracks if the kids are on time, ready for the weather and behaving appropriately. To keep on schedule and make sure everyone arrives on time, the Walking School Bus — just like its yellow counterpart on wheels — can't wait long.
At the second stop on the corner of Mallon and Nettleton, only one of two boys marked for pickup shows up on time. Chipley observes that he's new to the school this year.
"So are you making some friends? Not yet? You will. It just takes time," she says cheerfully to the sulky boy, a sixth grader who transferred from the Cheney district.
Chipley doesn't give up when she encounters a grumpy or unyielding child. She knows many of these kids may have less-than-stable lives at home, and building up that trust takes time.
She recalls a fourth-grade girl on her spring route who wouldn't open up, no matter what Chipley tried during the first few weeks of the walk.
"I thought, 'How would I get through to this girl?' You couldn't break that hard shell. So when we got to school, I put my hands on her shoulder and said 'You know, I hope you have a great day at school today, and I love you,'" Chipley recalls. "Then the fourth week she brought me a little present in a bag. It was cherries she picked for me." ♦