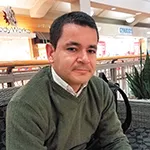 HENRY RAMIREZ
It's really difficult. I have tried it in the past, and sometimes I don't know why, but it is so difficult to find a [place to] park, especially in downtown.
What could be done to improve parking?
I think the best way, maybe, is to promote other kinds of transportation, or just allow people to use other spaces to park.
NICK AMBERSON
I would say on a scale of 1 to 10, a 7 out of 10... I find one every time, but the problem is finding a spot where you need to find one, rather than having to drive a couple minutes away.
HANNAH TEGROTENHUIS
It's usually pretty easy unless I specifically want a metered parking spot, and then I can never find one. But for the most part, I seek out one of the parking lots.
Is there anything that could be done to improve parking downtown?
Really, no. Once the construction stops someday. I think it is pretty standard for a city, and the parking lots seem pretty reasonable to me.
IRELAND KEEN
I feel like it is alright. It is definitely kind of difficult, especially downtown, to get a parking spot close to where you want to be, but I have lived in Seattle, and it is significantly easier than parking in Seattle.
DAVE ROVICK
I think it depends on the day, and what is happening. Generally speaking, I don't think it's too hard. I come from the Bay Area, and have been to a lot of other places where parking is a lot harder.