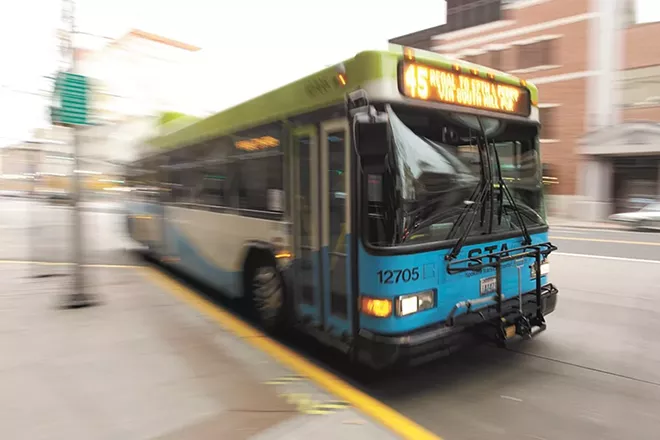 Back in 2016, the Inlander told the story of Ooh Media, an advertising firm fired by the Spokane Transit Authority. Today, that story has become a central piece of a lawsuit against the STA, filed last week by Ooh Media in federal court.
In 2016, STA CEO E. Susan Meyer accused Ooh Media CEO Ted Carroll of "continuing to misrepresent the board's ad policy." The final straw, Meyer had said, was an ad for the Amalgamated Transit Union — the union representing STA bus drivers — informing other drivers they have the "right to organize." While Carroll thought the ads were fine, Meyer argued they were a violation of a policy preventing advertisements from "expressing or advocating" views on public issues. The union sued after the ads were denied.
But since then, the Ninth Circuit Court of Appeals vindicated both the union and Carroll. STA's advertising policy was too vague, the court ruled, and STA violated the First Amendment by rejecting the transit union ad.
Ooh Media's lawsuit argues that Carroll had been punished for correctly arguing that the ads should be accepted.
"[STA] was his one client as they well knew," says attorney Jeffry Finer, representing Carroll. "He has been doing all he can to make ends meet."
And Finer argues that Meyer made untrue statements in the Inlander article that have made it difficult for Carroll to find work.
For example, Meyer had publicly blamed Carroll for initially refusing to run the United Coalition of Reason's ads about atheism in 2011.
But internal emails, according to the lawsuit, showed that it was an STA employee who initially told Carroll not to run the advertisement, saying "let's not go there with this ad" due to "huge pushback from both [the] CEO and director of operations."
"They may have been trying to balance their duties to their public and the obligations on the law, but they let the hammer fall on Mr. Carroll," Finer says.
The lawsuit seeks "significant damages" to be proven at trial. STA spokesman Brandon Rapez-Betty says that he cannot comment on pending litigation, but that STA hasn't been running advertisements on buses since it got sued in 2016.