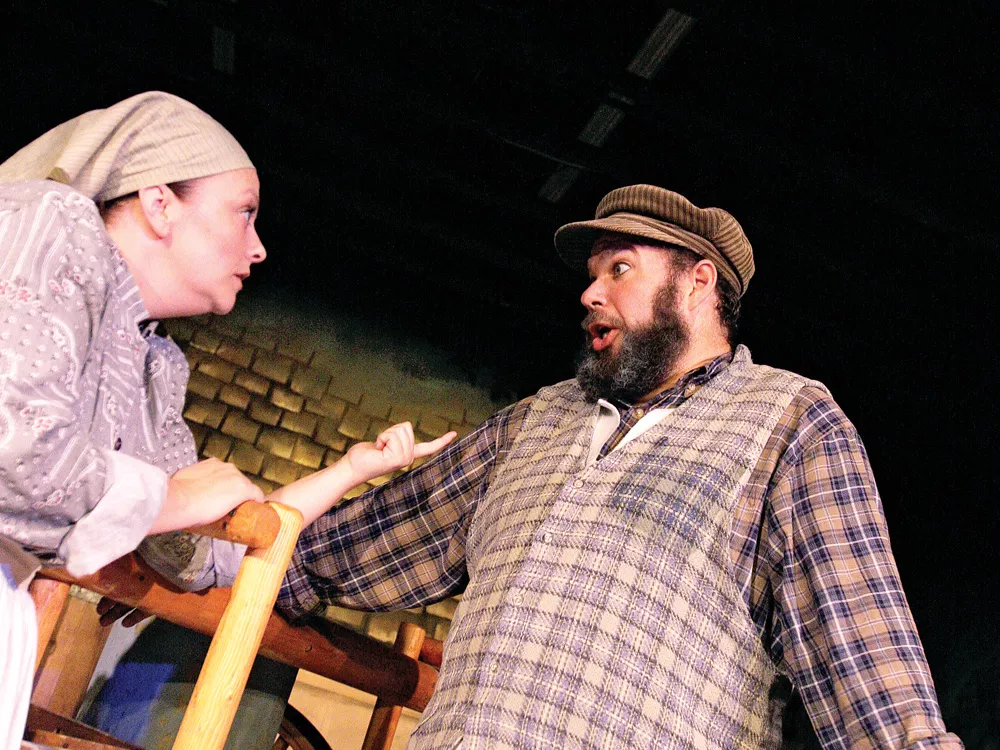 Big musical, small stage: You're not going to get epic dimensions when Coeur d'Alene's community theater does Fiddler on the Roof.

"Tradition" — the opening number, with all the mamas and the papas and the kids of the village of Anatevka spilling onto Lake City's smallish stage — looks more like rush hour chaos than artful choreography. (It's incredible how they manage to drag that dairy cart out of the wings.) And the show's final scene doesn't depict all the Russian villagers trudging off into an uncertain future with all their possessions piled atop creaky carts. There's simply no room. Instead, everybody sort of shuffles on and off, uncomfortably.
There are other disadvantages of doing a big show in a small house. Four musicians — even when led by talented workhorse Carolyn Jess, who deserves more credit for music-directing as many shows as she does — are never going to sound like a Broadway orchestra. And a large cast digs too deep into local acting reserves: Some of the supporting parts are performed by theatrical newbies, and it shows.
So: A definitive Fiddler? Far from it. But director Abbey Crawford's production at Lake City Playhouse features some successes: a couple of strong central performances, a couple of effective smaller scenes, and a couple of large-group scenes that are effective despite the physical constraints.
Take, for example, Tevye's farewell to his daughter Hodel, who's leaving the village to join her husband in Siberia. Tevye, the central character, is a poor dairyman who struggles to raise five daughters in Czarist Russia even as Jewish traditions start to break down all around him.
Just prior to the danced dream sequence, Cara Bray sings "Far From the Home I Love" with an affecting combination of nostalgia and determination while her onstage father — Steve Kane as Tevye — gets all watery-eyed. It's an example of an intimate, two-character scene that a small theater can get right. And when choreographer Ali Waid, given adequate space onstage, directs dancers in the "little Chaveleh" dream sequence right afterwards, Crawford's performers nail it.
Kane does best with Tevye's sarcastic digressions during his spot-lit, narrative prayer-asides. The tragic moments — the breakup of the family, the onset of the pogroms — are less persuasive. But Kane can belt Tevye's longing for the good life, both in "If I Were a Rich Man" and in the barroom belligerence of "L'Chaim." It's a likable performance.
As Golde (the mother who only wants nice, rich husbands for her daughters), Renei Yarrow strikes a good balance between hilarity and the sense that she wants the best for her family.
Even some of the overcrowded scenes work well. "Tevye's Dream" (meant to hoodwink his own wife about the proper suitor for one of their daughters) is portrayed with half the cast wearing ghostly robes and little kids popping into view, dressed as freakish goblins. It's an unsettling moment that's also funny — and evidence that large-scale scenes aren't impossible to do at Lake City.
Besides, Fiddler is such a rock-solid show that nearly any performance is worth viewing. I overheard two middle-aged playgoers saying that this was their first onstage Fiddler since their school years. A good reminder for them.
Just last year, two of the three men who combined to create Fiddler — composer Jerry Bock and book writer Joseph Stein — died in their old age. But their accomplishment outlives them, and a community-theater production like Lake City's, despite its flaws and cramped conditions, still helps perpetuate a great show. Tevye doesn't want us scoffing at tradition.

Fiddler on the Roof • Thurs-Sat 7:30 pm, Sun 2 pm, through Oct. 9 • $19; $17, students and military; $15, seniors; $10, student rush; $9, children • Lake City Playhouse • 1320 E. Garden Ave., Coeur d'Alene • lakecityplayhouse.org • (208) 667-1323