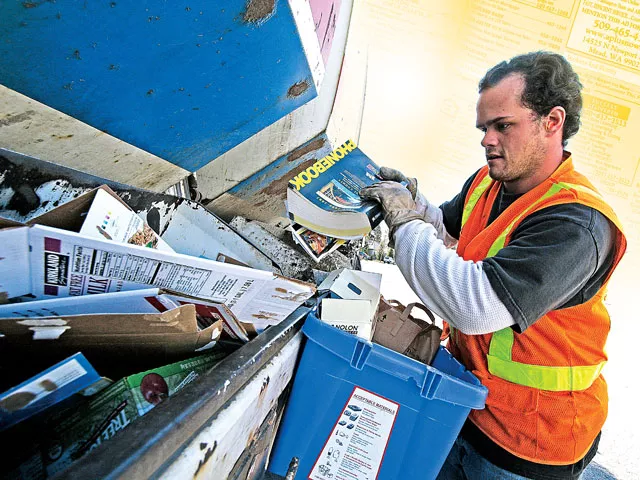 For Kitty Klitzke, it's a one-woman war. Big stacks of shiny new phone books get dropped at her Spokane apartment building — and they just sit there, untouched by any of the tenants.
"I hate phonebooks," she says. "There are two things I have been unable to stop getting no matter how I try. Phone books — all of them — and Comcast flyers. No matter how I try."
Klitzke —who also works for Futurewise, a statewide group working toward building healthy communities — thinks phone books are a waste.
"I am involuntarily barraged with them both at my one-person Google-equipped office and my one-person Google-equipped home," she says. "It's better not to make them at all."
Klitzke takes it upon herself to lug them to her office to be recycled (because paper recycling isn't offered at her apartment building). Since she doesn't own a car, it can be a bit of a process
"Sometimes I throw [a phone book] in my backpack or bike panniers and take it to the office. They are heavier than you think, though — I usually regret [it]."
Klitzke isn't the only one who's fed up. Jeanette Henderson has been on the phone book company's do-not-deliver list for years — and yet, every few months, new ones arrive at the front door of her Seattle home.
Once she confronted a phone book deliveryman, telling him she had asked not to receive any more.
"And he said, 'Well, it's just easier if we drop them off everywhere — we can't really pay attention to those lists,'" Henderson says.
Earlier this year, Henderson walked through her neighborhood, snapping photos of untouched phone books sitting on porches and asking neighbors she'd never spoken with if they wanted them. No, they said — they were as frustrated as she was.
"It's so wasteful when you can't choose," she says. "How many times do I have to have these damn phone books delivered on my porch?"
Kitty Klitzke: "It does make me angry to think how wasteful [phone books] are, not just the paper which would serve us better as trees, but the fuel to transport them and the magnets that are mined for them." [Photo: Young Kwak]

Klitzke's angry about the waste. Henderson's fed up with the publishers' disregard for her opt-out requests.
Phone book company lobbyists promised to address both issues two years ago when Washington Rep. Geoff Simpson (D-Kent) introduced a bill that would have required publishers to implement an opt-out option.
The publishers said a law wasn't necessary. They'd do it on their own.
But they didn't.
"Lo and behold, this last year when I got my Yellow Pages, I searched through the beginning of it and cursed under my breath. I realized they lied to me," Simpson says. He couldn't find opt-out information anywhere in the new phone books. "I called them on the carpet and said, 'This was not what we agreed to.'"
While Simpson feels "pretty confident" that opt-out options will be more prominently featured in the next round of phone books, citizens like Henderson and Klitzke are just two in a growing movement calling for the death of phone books.
Nationwide — from North Carolina to California — legislators have phone books in their crosshairs. They are a nuisance. Junk mail. A waste of paper. A detriment to the environment. They're a product from which private companies make $13 billion annually — and yet local governments have to use tax dollars to dispose of them.
"[Phone book companies] sell advertisements. They sell their ads by saying, 'Here's how many households we reach.' They don't care if you immediately take it and put it the recycling bin," Henderson says.
And as Colorado's Rep. Mark Ferrandino says, because of Google and Internet phones, they're slowly becoming an obsolete piece of technology.
"It's not about if they go away, it's about when," Ferrandino says.
Who Should Pay?
Viccy Salazar says no matter how easy it may be to recycle a phone book, this issue is about waste —about making a product that isn't necessary.
She heads up the Environmental Protection Agency's Materials Management and Stewardship Team for Washington and Oregon. Her group is concerned with getting manufacturers to manage the entire life cycle of their products — particularly those with negative effects on the environment: batteries, fluorescent light bulbs, old tires. And phone books.
In 2008, studies showed that 20 percent of American households have gotten rid of their land lines and gone to cell-phone use only. Yet despite that rising number, Salazar thinks that phone books still have a place. Not everyone has an iPhone or Internet access to look up phone numbers. At least not yet.
"I think [the phone book's] place is changing significantly," she says — while pointing out that phone books' relevance is hardly an excuse for the waste they create.
In 2005, the EPA estimates, 660,000 tons of phone books were manufactured — but only 18 percent were recycled. Salazar says that makes sense: the national recycling rate (for all materials) is just 32.5 percent.
"They are creating a waste stream — a very significant one — for communities to deal with," she says. "The best answer is not to produce phone books that are not needed and only to generate them on the level that is needed. It doesn't matter how much you can recycle them."
Scott Cassel, founder of the Product Stewardship Institute (a nonprofit with a similar mission as Salazar's EPA team), agrees: "This is not like dropping off gold — where it has a value for people," he says. "This has a cost for local governments."
The PSI says that local governments spend millions each year to recycle phone books.
"[Phone books are] an environmental problem, but they're also a visceral issue for people — they just don't like to get phone books. They feel it's an intrusion of their privacy," Cassel says. "That's what makes this a unique issue."
The PSI wants consumers to have clear, easy options for not receiving phone books.
"[Phone book companies] are not paying the environmental costs, and they certainly are not paying the disposal costs," Cassel says.
"They should manage the end-of-life of [their] product. Once the consumer no longer needs it, then they should set up recycling programs," he adds. "That should not be an extra cost for the municipality."
In addition, the EPA and the PSI think do-not-deliver lists — ones like Jeanette Henderson signed up for — need to be accurate and taken seriously by publishers.
Both the EPA and PSI say that many publishers are taking steps in the right direction — Websites have popped up publicizing opt-out information, while some directories print it on the cover. The Yellow Pages, which begins delivering in Spokane at the end of April, offers an online opt-out.
But Salazar says that's hardly enough: She thinks publishers need to seriously consider the changing needs of consumers.
"When you're basically producing a product that is never used for its intended purpose and goes directly into a landfill … seems to me there's gotta be a better way," she says. "It doesn't matter how much you can recycle them, it's still worse to produce them if they aren't needed."
But Jim Hail, president of Coeur d'Alene's Hagadone Directories (which produces the Black Book phone directory), says that despite industry-wide efforts to give opt-out options and be environmentally-conscious, publishers end up looking bad.
The Black Book — like most phone books — doesn't cut down trees to make its pages. They're made from recycled paper pulp and wood chips that would otherwise be discarded from lumber mills. They use soy inks and water-soluble materials. They also offer an opt-out for customers on their Website.
"This is something I scratch my head over, you can appreciate that the phone book — at least the one I produce — is 100 percent recyclable. And it's made from post-consumer recycled paper," he says. "Yet, how in their infinite wisdom, can they categorize phone directories in the same class as nuclear waste, medical waste and fluorescent light bulbs?"
Hail adds, "I wish I had a voice as strong and powerful as the PSI people do. For some reason, they've chosen to attack our industry. Telephone directories comprise only 0.3 percent of municipal solid waste. Again, not trying to throw stones — but let's talk about the newspaper industry at 4.9 percent.
"I'm not saying phone books are not an issue for people. I'm saying it's only a very minor piece of the puzzle in the big picture," he says.
On the Front Line
Midway through the South Hill route that she runs on Tuesday mornings, Kay Kuest rummages through a blue recycling bin. She sifts out the paper first, then glass. Plastic gets dumped in the truck last before she flings the bin back to its place on the curb.
She says that between phone book delivery periods, she doesn't see too many being recycled. She's picked up three today and on Freya between 28th and 29th she calls out No. 4: a crisp new edition of the Yellow Pages.
Kuest says the bins are obviously heavier ("it's like a stack of magazines") after a phone book drop, but they don't bother her much. In her year as a driver for Spokane Recycling, she's more worried about finding dirty diapers — or worse — in the blue bins.
Paper makes up the majority of what Spokane Recycling picks up at the curb — swelling slightly higher than usual in months that phone books are delivered (April, July and September).
After a phone book gets picked up, it gets mixed in with newspapers and other mixed office paper. Then it's taken to two local recycling centers — and then, ultimately, sold to other companies to be recycled.
Doug Krapas, at Inland Empire Paper Company, which turns recycled paper into newsprint and phone-book-grade paper. [Photo: Markus Burns]
Scott Windsor, director of Solid Waste Management for the city of Spokane, says that paper recycling isn't much of an issue locally. There's a paper company —the 99-year-old Inland Empire Paper Company — right in the Spokane Valley that buys most of the paper that Spokane Recycling picks up, repurposing it to make newsprint and phone-book-grade paper. Most cities don't have it so easy.
But despite our in-town paper mill, Windsor still points out that recycling is "a volatile industry," and that while the city of Spokane may make $1,000 in a month collecting and selling paper, it often has to pay to get glass, cardboard and mixed office paper recycled.
Windsor notes that the eventual disposal of items like fluorescent light bulbs are paid for by the consumer. And people are choosing to buy that item. Disposal of phone books comes at the cost of the city.
"[The city] gets the cost of picking them up. The revenue for recyclables doesn't cover the cost of picking things up," he says. "The cost of fluorescent light bulbs — the consumer pays the full cost. You're paying up front for the disposal at the back end."
History Books
By day, Fanny Majer was better known as Madame Majer — known for her extravagant hat and feather work of all kinds. It said right there in her ad, listed in the 1927 Spokane City Telephone Directory. If you wanted a hat, Madame Majer was, clearly, your best bet.
That 1927 phone directory — and every other since the first Spokane phone book was printed in 1890 — is a history book. They all sit on a shelf in the downtown Spokane Library's Northwest Room, a room that houses rare and fragile items. Over a century of local history sits side by side on a large metal shelf. The phone books start small. They swell in size each year, going paperback in the 1980s.
You could learn a lot by examining them. You'd know what businesses filled the downtown core, or who lived in your house when it was built. You'd know that a fish market sat where the downtown Thomas Hammer is now, and that you could buy a new fur coat in downtown. You'd know where everyone lived and what they did for a living.
Northwest Room Librarian Riva Dean says phone books are a critical guide to local history. [Photo: Markus Burns]
Librarian Riva Dean says someone comes in every day to look at the phone books: historians, people tracing their own family's history.
"I think it would be a bad thing if they were only online," she says. "If somebody 20 years from now wanted to look up businesses, or what school was here or there, they couldn't do that."
Historical value is one reason people say that printed phone books should continue to exist. Another argument is that fewer phone books will mean fewer jobs —from recycling to manufacturing, from delivery to sales.
"This is big business, there's profit in it," Jeanette Henderson says. "The argument that if you have opt-in and not many people opt in [to get phone books], there will be fewer jobs. And it's like, 'Well, really? You want jobs that are all about creating waste?' Um, to me, that is not the most logical argument."
Simpson, the state representative, says that regardless of jobs or environmental waste, the ways that people access information are simply shifting.
Phone books, he says, are "really kind of a dinosaur, in my opinion. I use Google for everything. I have a phone that can do a Google search just by talking into it. I'm on the go a lot. And I wouldn't carry a phone book around with me."
A bill that Colorado's Ferrandino sponsored would have enabled people in his state to opt out of phone books for five years straight. It was shot down in early March — but he thinks that maybe the bill was just a little ahead of the game.
"I do think Yellow Pages and White Pages are a thing that over the next decade will change significantly," he says. "I think it was a bill before its time, in some sense."
Ferrandino says that legislation across the country is forcing publishers to change. He wonders if their product is even useful to the publishers anymore.
"At the capitol building here, after the phone books were delivered, they sat in the lobby for at least three weeks before I saw them get thrown away," he says. "I told the lobbyists, 'Go pick them up — it's not good for your cause.'"