A
coalition of immigrant-focused organizations
has created the Spokane Relief Fund for Undocumented Immigrants, in order to help families who are unable to access federal aid during the coronavirus shutdowns.
The partners sponsoring the work include the Spokane Immigrant Rights Coalition (SIRC), the Hispanic Business and Professional Association, Latinos en Spokane, Mujeres in Action and Raiz.
So far, with more than $29,000 raised, the fund has been able to help 27 families with $500 to $1,100 grants, often to help with rent as one or more parent has lost work due to the COVID-19 pandemic and the ordered closure of many businesses.
Some of the families were working in restaurants or in the construction industry before Gov. Jay Inslee's stay home orders closed many businesses around the state, says Hanncel Sanchez, director of Mujeres in Action, an organization that helps domestic and sexual abuse survivors.
With families losing income in mid-March, some were unable to pay April rent, let alone rent for May, Sanchez says.
"We know it's a domino effect and people will be stuck in this financial crisis for months," Sanchez says, "unless the government does something to help this community."
Despite the fact that many undocumented workers contribute to state and federal taxes, they're ineligible for federal assistance that's been sent to states to help as national unemployment levels have skyrocketed, the coalition notes.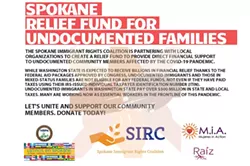 "I think it's really important for people to know that immigrant families, whether they're documented or not, pay taxes in this state and pay federal taxes," says Jim Dawson, Spokane program director for Fuse Washington's Eastern Washington staff, and a co-founder of SIRC. "They're often left out of any aid and they're disproportionately impacted by the pandemic."
Washington state has created a disaster relief fund that undocumented immigrants are also eligible for, Sanchez says, but the process to apply may not be as accessible to many who don't have reliable internet at home, or those who have difficulty with the wording of the application.
"We're finding a lot of undocumented people are not applying, and even those that do, they're not guaranteed to get this aid," Sanchez says.
One of the most direct ways that people can help the immigrant community in Spokane is through this local relief fund, Dawson says.
"Making donations to support these families is a really targeted and important way to help during the pandemic," Dawson says. "One-hundred percent of the donations go directly to the families."
Sanchez says the response to the fund has been great so far, both from community donors and the families who've been helped.
"People were incredibly grateful to get help to pay their rent. It was one more thing they didn't have to worry about," she says. "The community has responded so generously. We've had people donating their [stimulus] checks from the government to these funds. It's been incredible."
Donations can be made at the
GoFundMe page
or checks can be made out to "UUCS" or "Unitarian Universalist Church of Spokane" by putting "legal defense fund" in the memo line. Checks may be mailed to 4340 W. Fort George Wright Dr., Spokane, WA, 99224.
"We're proud of our community, proud of our supporters, and we hope we can continue to do this work to uplift the immigrant families affected by this pandemic in the next few months," Sanchez says.