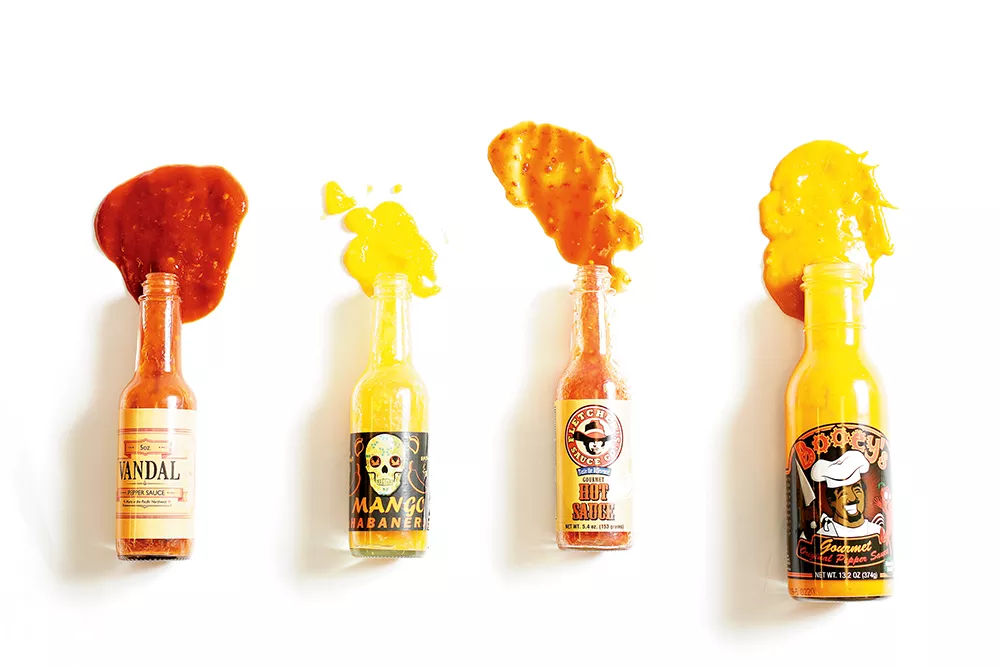 When it comes to adding a little extra kick to a dish, from scrambled eggs to chicken wings, what local options are out there? Commercially available hot sauces crafted right here in the Inland Northwest are less in number than we anticipated, but these four meet a number of heat needs, whether you like it more mild and slightly sweet, or something that'll really zing your tastebuds.
A group of hot-sauce loving/tolerating Inlander staffers each brought a dish of their choice and sampled their way through four Northwest-made hot sauces: Booey's Gourmet Original Pepper Sauce, Fletcher's Gourmet Hot Sauce, 3Ninjas Mango Habanero and the Moscow-made Vandal Pepper Sauce. What follows is what we each thought and how the sauces stacked up.
SPICELORD IN TRAINING
My partner and I are big fans of First We Feast's Hot Ones web series, on which charismatic host Sean Evans interviews celebrities while eating progressively spicy chicken wings. While I'm definitely not ready to take on the "Last Dab" challenge or "Da Bomb," I can tolerate some heat, like classic Sriracha (actually pretty tame by Scoville scale measures, at 2,200 units; i.e. not that hot) or my current fave, Yellowbird's habanero sauce. So I wasn't worried that any of these four local sauces would be too much.
My vehicle of choice was a breakfasty, homemade burrito bowl with rice, black beans, white and green onion (I love onions!), tomatoes, ham and eggs. I seasoned it with some cumin, cayenne and garlic salt. I love to make this bowl on the weekends with all types of hot sauces or some salsa and sour cream — the texture and savory-salty flavors can use a little kick, and carry it well.
For this dish, the standout sauce addition is Fletcher's. It's got a pretty clean, traditional flavor, with a nice level of heat — not so overbearing you can't taste the food underneath — and a heavy tomato base. Fletcher's hits right in the middle of where I want my hot sauce; not too hot, and not too mild. Closest to Fletcher's both in heat and flavor is the Moscow-made Vandal Pepper Sauce, which also features a bit of smokiness.
The Booey's Gourmet is definitely better suited to things that don't already have a lot of flavors going on, unlike this burrito bowl, such as chicken or cauliflower wings or even for dipping. Its creamy, almost Buffalo-esque flavor, however, just didn't do it for me with this dish.
Lastly, I really enjoyed 3Ninjas' Mango Habanero sauce, but it was definitely too sweet for this particular dish. I could see it adding a nice sweet-spicy contrast to something like pulled pork or chicken tacos.
Overall, each of these sauces have some great pairing potential, but as far as a one-size-fits-most, I think Fletcher's is going to be your best bet. (CHEY SCOTT)
FRIES & 'FLANCH'
I'm the type who rarely puts hot sauce on anything but scrambled eggs or mac and cheese, so I usually just rely on a trusty bottle of Sriracha at home. That said, I have a pretty good tolerance for spicy things and once even managed to tolerate the can of "medium" enchilada sauce instead of the "mild" (if you know, you know).
Off the bat, I was familiar with one of these four hot sauces. Shortly after moving to Spokane, my now good friend Pete shared with me the wonderful secret of "flanch." You take Fletcher's Hot Sauce, mix it with ranch and — boom — you have a spicy fry sauce.
When tried on some cheesy scrambled eggs, the Fletcher's and Vandal hot sauces were pretty similar. Of the four, they were the spiciest, though I wouldn't say either of the tomato- and vinegar-forward sauces would warrant a red flag for anyone who's got even a small tolerance for heat. The Vandal Pepper Sauce would be especially tasty for a spicy bloody mary mix.
For my palette, the Booey's Gourmet hot sauce was very vinegary, but the buttery sauce also seemed like it would be great on chicken wings.
Meanwhile, the 3Ninjas Mango Habanero didn't live up to that pepper's spicy reputation, with a mostly sweet jam-like consistency and a creeping warmth. This sauce could be great to add a delicate kick to a summer fruit salad, with the kind of slightly noticeable flavor pop that gets people asking you, "What's your secret?"
My ranking by heat (coolest to hottest): 3Ninjas Mango Habanero, Booey's Gourmet Original Pepper Sauce, and a tie for Vandal Pepper Sauce and Fletcher's Hot Sauce.
My ranking by flavor (least favorite to favorite): Booey's, Fletcher's, 3Ninjas, Vandal. (SAMANTHA WOHLFEIL)
HOT STUFF
As a kid I was introduced to spicy foods through my heritage — my Italian mom made some mean spicy sausage — and geography; growing up for a while in rural Missouri meant some spicy sauces on all manner of barbecue. Later I explored spicy food on my own, from wasabi with my sushi to various Asian and Indian curries, Cajun cuisine to Buffalo wings. I wouldn't say I'm a crazed spice lover, but I do love to add a little Louisiana hot sauce or Sriracha to eggs or potatoes or, for the purposes of this experiment, a breakfast burrito that has both eggs and potatoes. I also add hot sauce pretty regularly to steamed vegetables and any Asian-inspired noodle dish that comes my way. I'll add that as I've gotten older, I've noticed my tolerance for spice has ebbed a bit. That's disappointing, but there are enough variations of heat in all the spicy sauces I enjoy that life will go on, if not quite as fiery.
Booey's Gourmet Original Pepper Sauce was my favorite of the four we tried. It would be perfect on wings, which was its original intent according to the label, and I liked the garlic punch that came through to me loud and clear. I would imagine the dose of butter listed among the ingredients also played a part in my enjoyment. Heat scale: 3/5
3Ninjas Mango Habanero was my second favorite. I had some fear going in to this one, as habanero peppers can be insanely spicy, and some sauces love it that way. The mango definitely dominated the bottle we had, the sweet fruity aspect would be great with pork. The habanero heat did subtly creep in a bit with repeated bites. Heat scale: 2/5
The Vandal Pepper Sauce was pretty mild to my taste. There was some heat that came through thanks to chili flakes floating in the sauce, but the heavy tomato aspect kept it pretty mild — more mild than I would typically bother with putting on my food. Heat scale: 1/5
Fletcher's Gourmet Hot Sauce. Again with the heavy tomato flavor. I prefer vinegary hot sauces to these ketchup-like concoctions, and this one just didn't bring any heat to the party. Nor flavor. Heat scale: 1/5 (DAN NAILEN) ♦