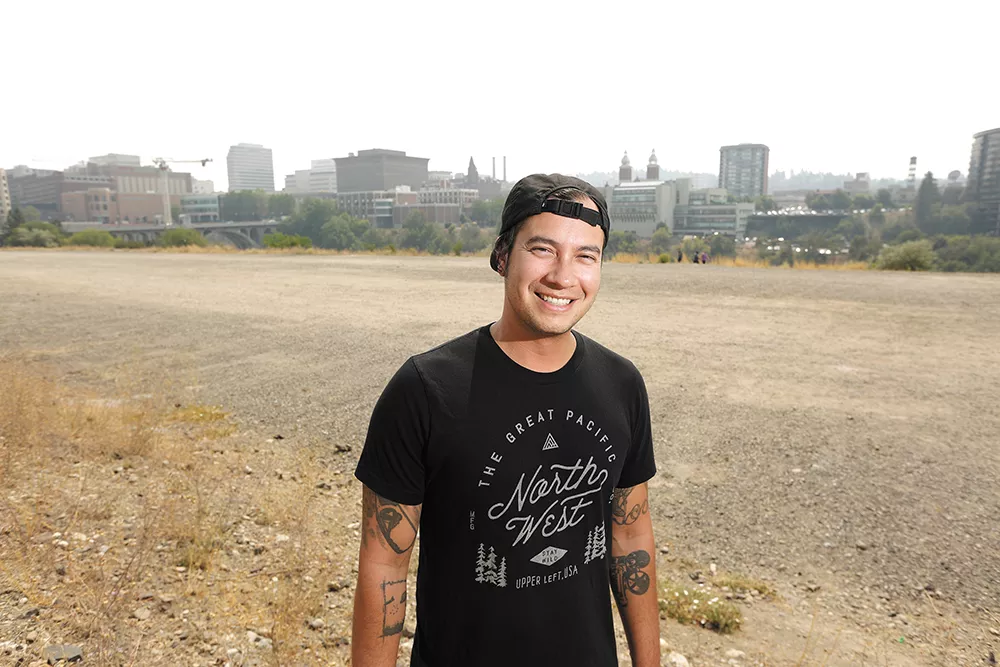 Matt Bogue wants to bridge the gap between Spokane artists and the Spokane community. It's why he and his wife Stephanie Bogue started Unifest: to bring people together.
"About three years ago my wife and I started the organization with the main goal to promote the vision of local artists and to lift up the local scene," Bogue says, "We want to add some artistic elements and some fun to Spokane community events in a broad spectrum of different ways."
Unifest is both a one-day festival, this year in Kendall Yards, and a company that specializes in connecting local events with local artists. They've partnered with Terrain, Bazaar, Borracho Fest, ArtFest and more.
And this year at Unifest 2018 Bogue hopes to continue introducing Spokane to new artists and musicians. By taking over the empty, Centennial Trail-adjacent lot in Kendall Yards, Unifest will have enough room for a beer garden, food trucks, stages for live art and live music and their trademark "Geo Dome," which will house various DJs throughout the day.
One of the musical acts playing at Unifest is Blake Braley, a Spokane native whose music is soulful, funky and guaranteed to make people move. Braley has only been on the scene for a few years but has rocketed from posting covers on YouTube to playing shows with Allen Stone.
"I'm just stoked that Matt reached out to me and asked me to play. There's so many awesome artists in Spokane, it's an honor to be given this opportunity at Unifest," says Braley, "I love how it promotes the creative side of Spokane. It's not just a music festival, it's promoting local creativity."
Braley is planning to play songs from his upcoming EP and is excited to test them out at a festival with diverse musical acts.
"There's so much talent in Spokane. There's also a lot of different styles, which is something I really love. It's not like Seattle where it's a dominant rock scene. It's more of a melting pot of a ton of different genres," Braley says.
Unifest will also feature sets from DJ Locke, DJ Donuts, Simmentall and Twin Towers along with sets from local bands Nat Park & the Tunnels of Love and Laminates — a band Bogue is a part of.
Another attraction for the festival is the live art aspect where local Spokane artists will create their art in real time at the festival.
Tiffany Patterson, one of the artists participating at Unifest, enjoys the unique challenge of painting live in front of an audience.
"Live painting is a lot different than painting in my studio," says Patterson. "But you just have to commit. You're not questioning the things that you're doing, you're just painting with a time limit and an end goal. It's kind of just this rush when you realize that you just have to accept what you're painting and not overthink it. It's hard for some people."
The live art is another way to make art and music more accessible to the Spokane community. Bogue hopes that the crowds for the live art are just as engaged as the ones for the live music.
"You can see a lot of art around town but actually seeing the creation of it with the live art is a really cool experience. It brings new artists to new people which is what I love to see," says Bogue.
Even though Patterson has struggled at times with the challenge of doing her art live, she loves the interaction with people while she paints. She might seem focused on her art, but she encourages people to ask questions or offer comments, or simply just to say hello.
"You just feel this great energy when you're painting with all the music going on and the people around you," says Patterson. "I'm this very impacted person and I can feel everyone's energy when everyone is happy and excited. I can feel it. It drives me. And that's what it's like at Unifest."
The other artists featured on Unifest 2018 will be Jessie Hynes (full disclosure: an Inlander employee) and Derrick Freeland, both based in Spokane.
The festival provides constant entertainment and opportunities to discover a new artist or musician, which is exactly what Bogue wants to happen.
"We have some big events like Terrain that celebrate the Spokane culture, and I think we can never have enough of those," Bogue says, "It's my passion to bring new art and music to people."♦
Unifest 2018 • Sat, Aug. 18 from 3-11 pm • $5; ages 12 and under free • Kendall Yards • 1335 W. Summit Pkwy. • unifestnorthwest.com