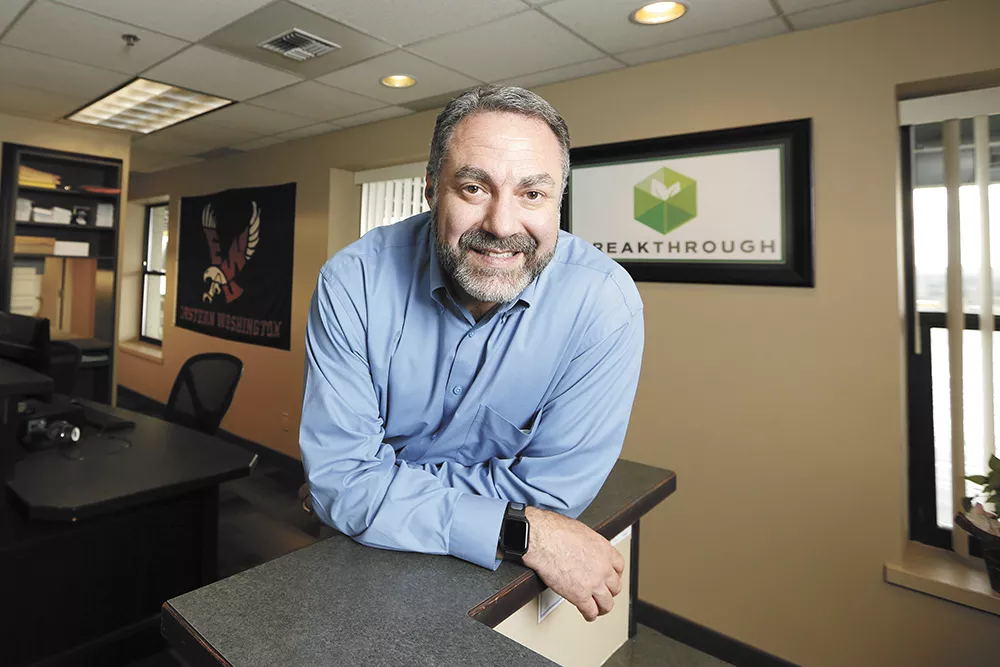 When it comes to the appointees for the highest positions within the U.S. Department of Housing and Urban Development, Secretary Ben Carson has a type.
Of the 10 HUD regional administrators, each charged with overseeing HUD in multiple states, several have ties to Secretary Carson or President Donald Trump. And as a Washington Post analysis last year revealed, Carson's HUD has a habit of giving raises and promotions based on loyalty instead of expertise or housing policy experience.
There's David Tille, HUD's New England regional administrator, who served for Carson's presidential campaign in New Hampshire. There's Denise Cleveland-Leggett, leading HUD's southeast operation, who was a corporate lawyer and who has long known Carson. And there's Lynne Patton, a longtime Trump family employee with no experience in housing, now overseeing New York and New Jersey. (Patton recently said "I honestly don't care" if she violated a federal law.)
But then there's Christopher Patterson.
Until several weeks ago, Patterson, 50, was in charge of 10 group homes for foster kids in the Inland Northwest. Now, Patterson is overseeing all of HUD's work in California, Arizona, Nevada, Hawaii and U.S. Pacific territories as a regional administrator.
It has some local social service workers whispering: Where did he come from?
He didn't get the job because he has any particular expertise in housing policy. At Breakthrough, the group-home agency he founded, Patterson never dealt with HUD. And it's not because of any connection with Carson.
"I've never met the man," Patterson tells the Inlander.
If you ask Patterson, it's because of what he learned from what he calls his "past life": growing up in foster care, and breaking out to operate his own business in social services. It's why, despite the questions, Patterson says he's not surprised he got the job at all.
"Why should I be?" Patterson says. "I mean, bottom line is if you want something in life you gotta go get it."
As a foster kid who frequented the streets of Spokane, Patterson could have headed down the wrong path. When he was a teenager being delivered to a new foster home, he heard his social worker say Patterson "isn't going to live to see 18."
Patterson, of course, would prove his social worker wrong. He graduated from Riverside High School in Spokane, and after a stint in the Job Corps forestry program, founded Breakthrough in 2006. He felt a calling to help provide a stable environment for kids in foster care. Later, Patterson graduated from Eastern Washington University with a bachelor's in interdisciplinary studies.
And it was through Patterson's work at Breakthrough that Patterson started working with people on both sides of the political aisle. He frequently would travel to Olympia and advocate on behalf of kids and businesses, he says.
"I had the opportunity to where I just made good impressions," Patterson says.
His work in politics also brought him face to face with U.S. Rep. Cathy McMorris Rodgers, who Patterson says he's known "for a long time." McMorris Rodgers actually recommended Patterson for a position with the U.S. Department of Health and Human Services, her communications director Jared Powell confirms.
"She has always enjoyed working with him and she's seen his positive impact on the community," Powell says.
The HUD position wasn't something that Patterson really had his eye on. Rather, it was "something that was brought to my attention," and Patterson believed in HUD and its goal of helping vulnerable people. He calls doing what he does now the "truest form of servant leadership."
"I'm not a political junkie. I've never been an elected official. I just simply did it on my own merits," Patterson says.
Patterson says he voted for Trump because "you can only kick the can down the road so long." People on both sides wanted change, Patterson argues, and Trump would bring that. And even though Patterson has never met Carson, he's admired him from afar.
"I believe in who he is, what he represents, and what he stands for," Patterson says. "Here's a man who came from nothing, and he became one of the best neurosurgeons in the world."
When asked if Patterson had concerns that Carson didn't have experience with housing policy before being chosen to run HUD, Patterson scoffs and says "no." In Patterson's view, the policy background isn't the kind of experience you need.
"I think you have to have the biggest heart in the world," Patterson says. "And the ability to learn very fast, and learn to be a people person and work with a lot of personalities."
Though he comes back to his home in Colbert on weekends, Patterson's office is based in San Francisco, among the slate of Western cities drowning in rising housing prices and a growing homelessness crisis.
He says helping folks get out of homelessness is his No. 1 objective. And to do that, he wants to help them become more self-sufficient.
"People do want to be able to change their own lives and they do want to take pride in their own work," Patterson says. "They want to be able to look at their kids in the face, they want to look in the mirror and be proud of what they get."
His plan, he says, is to strengthen public-private partnerships.
"That's key, to make sure there's successful structure between agencies. Whether you're for-profit or nonprofit, you have to be able to design an affordable way of living for people of all backgrounds," Patterson says.
Patterson says he supports a "housing first" approach that HUD has encouraged across the country. The model aims to connect homeless individuals with housing, without preconditions such as sobriety or treatment requirements. It's the approach pursued locally in Spokane by Catholic Charities.
"You've gotta have people in safe environments to live off the streets to recuperate and heal," Patterson says. "It's a good thing. You just have to be careful how much density you put in one area."
Rob McCann, executive director of Catholic Charities of Eastern Washington, says the regional administrator has a huge impact on an organization like Catholic Charities. Ben Carson, McCann says, hasn't affected Catholic Charities "one bit." But Jeffrey McMorris, the regional administrator in charge of Washington state, has been "very helpful" to the organization and a great partner to work on providing assistance to serve people in need.
McCann says he's gotten calls from Catholic Charities organizations in California asking about Patterson. But McCann doesn't know him. What McCann would hope for anyone in that position, however, is that they have "a profoundly deep understanding of housing issues," understand political systems and understand the region.
Patterson, who still monitors Breakthrough after hours, says a month into the job at HUD, there's been a lot to take in already. Every day he is being humbled.
"I'm drinking from the fire hydrant," he says. "Not the fire hose."
His goal is to become the best regional administrator he can be. He wants to bring change by having the same heart, passion and drive that he brought to Breakthrough. He credits the hundreds of people working in his region for the work they do — whether it's providing community block grants or public housing assistance. None of them, he says, want to see a kid go hungry, or go on the street like he once was.
But he says his experience on the streets taught him one thing.
"The one thing I can say is there's only one you. And you have to find people that have a like-minded mentality, ideology, moral compass, work ethic and standards," Patterson says. "You surround yourself with people you know and like and you trust." ♦