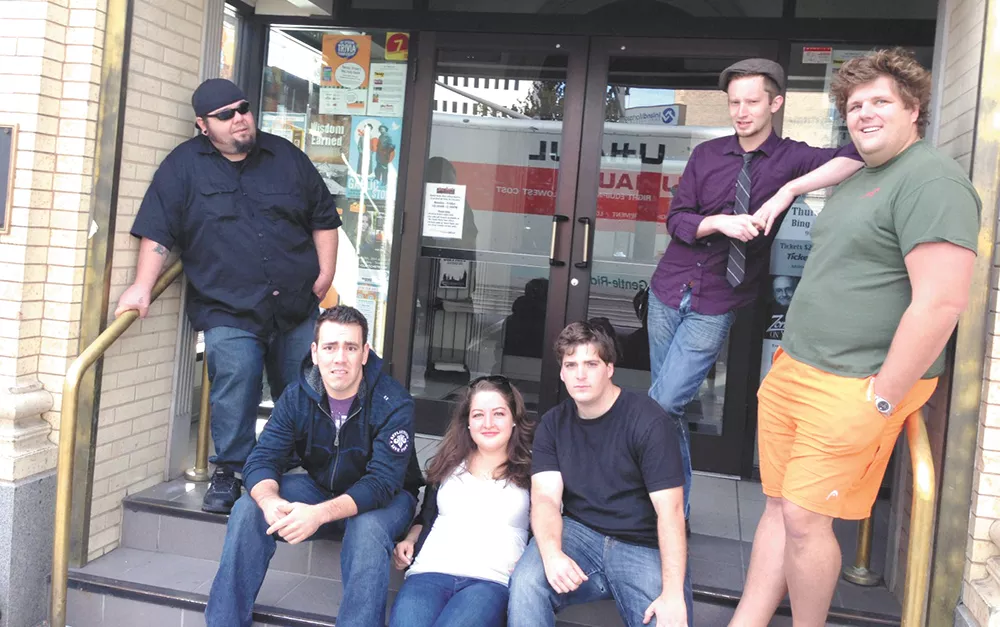 Mattie Sobotka doesn't want to spend a lot of time thinking about coffee, but she can't help it. When the 24-year-old isn't studying nutrition at Washington State University's Spokane campus, she's working as a barista. She'd rather be out at a Spokane bar working on her comedy act, though.
"A lot of my jokes are coffee related," says Sobotka. "I'd say about 40 percent of them have something to do with coffee."
It hasn't yet been a year since Sobotka decided she wanted to give stand-up comedy a whirl, but on Halloween night she'll take to the Bing Crosby Theater stage with four other up-and-coming entertainers for a showcase of Spokane's new comedic talent. It's been a big year for Sobotka and for comedy as a whole in Spokane, where open mics and comedy nights have sprung up, ushering in a fresh crop of folks looking to do one of the most difficult things in all of entertainment — stand at a microphone and try to make people laugh.
"You can go out to a movie and spend $15, or you could go see quality comics from your own backyard," says Mike Schneider, who organized a series at the Bing's Ovations bar that served as the preliminary rounds for the Spokane Laugh Off on Friday night, which he also hosts.
Schneider, whose day job finds him as a consultant to auto dealers, also founded a weekly Friday night open mic at the Red Dragon, where he's been known to get behind the mic himself. He says the boom in open mics helps comics find a different route to getting stage time.
"There are amazingly funny people in Spokane and this is just another way for them to get their name out," he says.
Many comics still flock to Uncle D's Comedy Underground, where owner Don Parkins has long fostered a supportive environment for the comedy community. Sobotka performed her first set at Uncle D's and still makes her way there for the weekly Thursday night open mic, but like many other young comics is pleased to see other options out there now.
"There's this one big group of people who are super supportive," she says. "I don't know if it's something in the water, but so many people suddenly want to come out and participate."
When he unfolds the slip of paper, Nick Cavasier can't help but cringe. "The topic is airplane food," the host of the Wednesday open mic at Brooklyn Deli says.
The first comic approaches a microphone in the corner of the bar. Next, there's the sort of silence — punctuated only by the shaggy-haired guy at the mic mumbling the words "airplane food" — that comics dread and audiences perhaps dread more. But he comes through. He's 21, too young for the days of airline food, and has only been on a plane once. He goes on to riff about the absurdity of this suggestion. It's good stuff and people laugh. Crisis averted.
At the new Brooklyn Deli open mic, the crowd writes suggestions on slips of paper and the comics have to riff on whatever topic happens to be selected, even if it's suggested by a smartass knowing that someone is going to accidentally re-create an old Jerry Seinfeld bit. They go head-to-head (the competition is more friendly than fierce) until someone walks out a winner.
It's a different take on the open mic and brings together the sort of improv goofiness that the Blue Door Theatre has been purveying for years with the stand-up scene. Matt Dargen has had a hand in both improvisation and stand-up, first as a member of Gonzaga's Boone Street Hooligans sketch comedy troupe, as well as performances at the Blue Door, before getting up in front of the mic alone about a year ago. His comedy, and that of some of the other performers you'll find at the Brooklyn Deli show, is a little more out there. Some call it alternative, or indie comedy.
"The stereotype was that people just wanted to hear dick jokes. But that's far from the truth. Places like Neato Burrito [an open mic every other Thursday] have been more receptive to more nontraditional acts. It's not hard to get time [in Spokane]," says Dargen, a 22-year-old who is wrapping up his last class for a computer science degree from Gonzaga.
Dargen's comedy aspirations might seem inverted to some. He's actually from Los Angeles, growing up just across town from some of the most renowned comedy clubs in the world. But it's in Spokane where he sees a future in kick-starting his comedy career — which he'd rather pursue instead of computer science, at least for the time being.
"I think that doing stand-up in L.A., whether you like it or not, it's a commercial endeavor. Spokane is a very thriving scene, and a place where if you have something you want to do and you believe in it, people are willing to watch," says Dargen, citing other local young comics like Josh Teaford, who plays shows in Seattle, as examples of how comics can go from Spokane to bigger stages.
Lately, Dargen has been focusing some of his energy on a TED talks-gone-awry series called "Great Ideas: Spokane: Today," featuring bizarrely hilarious PowerPoint presentations. In one of the shows, which played around town throughout October, Dargen, playing the part of the dweeby, idiosyncratic Shempy Bronkus, explained why Spokane is so "quaint." Eventually, the presentation veers into something akin to a bad science-fiction book proposal. It's about as weird as you can get while keeping people laughing.
"I'm not so far from traditional stand-up. I still tell stories and have some pretty standard 'jokey' jokes," says Dargen. "I've just been amazed how supportive [other comics] have been."
Schneider, who is heading up the Halloween night Spokane Laugh Off at the Bing, believes in Spokane's comedy scene. He cites Dan Cummins, arguably the most successful comic to come out of the Lilac City, as proof that funny people can emerge from smaller towns. He also tosses out names like Michael Glatzmaier and Harry J. Riley as people whose talents should land them on TV.
Schneider thinks of himself as a champion for Spokane comics, and he'd love to see someone break out of here. The solution, he says, is to make this fledgling scene as inclusive as possible.
"I want it to be an environment where anyone can come out and it's not political. If you want to hone your skills, there are bigger and better shows we can get you," he says, adding that the Bing comedy series aims to use these up-and-comers as opening acts for the big names they plan on continuing to book.
Mattie Sobotka will to need to keep that barista job for now. But soon, she hopes making people laugh can get her away from thinking about coffee all the time.
"When I first started I wanted a side hobby. After my first four months, I was hooked. Now I'm doing the Bing show with the best comics in Spokane. How far it goes, I shall see." ♦
Spokane Laugh Off • Fri, Oct. 31, at 7:30 pm • $20 • Bing Crosby Theater • 901 W. Sprague • bingcrosbytheater.com • Show is followed by a screening of Halloween
---
COMEDY OPEN MICS
Brooklyn Deli & Lounge | Every Wednesday, 8 pm
Uncle D's Comedy Underground | Every Thursday, 8 pm
Neato Burrito | Every other Thursday, 10 pm
Red Dragon Chinese | Every Friday, 8 pm