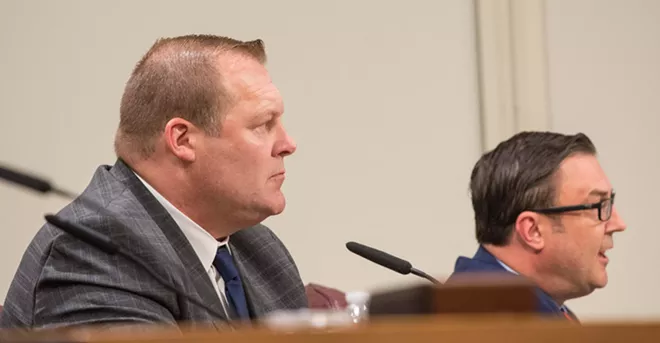 M
ayoral Candidate Shawn Poole is a firefighter
. He's been a firefighter for nearly 27 years. He was a firefighter 11 years ago this week, when he fell
through a floor
in the middle of an inferno at the Joel apartments while trying saving a fellow firefighter.
"If you can imagine actually descending into hell, that's what they did," Fire Chief Brian Schaeffer said back in 2009.
The actions won him a Purple Heart and a Firefighter of the Year designation. They did not, however, win him the endorsement of Spokane's International Association of Fire Fighters Local 29 fire union. Instead, the Spokane Firefighters Union threw their support toward Poole's more liberal rival, City Council President Ben Stuckart.
"They want to back somebody who is, you know, maybe possibly has name recognition," Poole speculates. "And Ben certainly has name recognition."
Tim Archer, the current president of the fire union, echoes that theory.
"If I were just a guessin' man, I would think that it's the assumption that, you know, Ben's a political juggernaut in this town. He's so electable," says Archer. "I think maybe they thought Shawn was a long shot."
Meanwhile, former union President Randy Marler pointed to Stuckart's record when the endorsement vote was held last November.
"Unfortunately, he chose a bad race to try to jump into politics, at a time when we had a candidate that we had a history with and had a really good working relationship with," Marler says.
"Ben has a history and a track record of supporting the workers of Spokane and being friendly to labor... There's something to be said for somebody who has been elected, and has proven that their open-door policy is an open door policy."
While some organizations have endorsed multiple candidates during a primary, Marler says that's rare for the fire union.
That's not to say there weren't any other options.
"I think it could have happened differently," says Archer, a personal friend of Poole's. "I'll leave it at that."
Poole, to be clear, does believe that he's the better candidate to represent the interests of firefighters.
<!——————StartFragment——————>"I will tell you this," Poole says. "Who better to empathize and sympathize and understand the plight of firefighters [than] somebody who's been a dues-paying member for the past almost 27 years?"
Name recognition isn't everything, Poole argues.
<!——————StartFragment——————>"I have 30 years of executive-level leadership experience," Poole says. "I have experience managing a multimillion dollar budget. As an Army colonel, that's what I did."
A Supreme Court decision last year, Poole says, meant that he could have said, "Well, you guys endorsed Ben, so you guys can go pound sand. And I'm not going to pay union dues anymore."
<!——————EndFragment——————>
But Poole says he's remained with the union and keeps paying dues.
"I don't begrudge them in any way, shape, or form, you know. They chose the candidate that they wanted to get behind," Poole says. "People have a tendency to get behind somebody who they think can win."
Nationally, most firefighters are ideologically closer to Poole than Stuckart — according to one International Association of Fire Fighters
survey in 2016
, almost twice as many firefighters were willing to say they supported Trump than Clinton. Still, the IAFF has already endorsed Biden over Trump in 2020.
The Dues Sucking firefighters leadership will always support Democrats, even though the membership wants me. Some things never change!

— Donald J. Trump (@realDonaldTrump) April 29, 2019
Marler says the union doesn't exclusively back Democrats — they supported former police officer Jeff Holy in his run for state Senate
last year
. But, at least at the Washington state level, Democrats tend to be more friendly to firefighters, even as police unions support more conservative candidates like
Nadine Woodward
.
"We support those who support firefighters," Marler says. "Once upon a time it was way more common that both Republicans and Democrats supported firefighters. The Republicans are not looking out for the firefighters anymore."
Poole suggests that his ideology could have played a part in being passed over as well.
<!——————StartFragment——————>
"I'm a fiscal conservative," Poole speculates as to the reason he's passed over. "You have to remember, labor unions historically, have been more Democratic. Labor unions, it's hard for them to get out of that labor mindset that a fiscal conservative can still work with labor unions."
<!——————EndFragment——————>
Poole voted against the Prop 1 public safety levy earlier this year, which raised property taxes in order to fund more police officer positions — and also save the jobs of many of his fellow firefighters.
In 2016 the city got a $9 million
Staffing for Adequate Fire and Emergency Response
(SAFER) grant and used it to hire 48 new firefighters. But when that grant ran out, the city had to either find new funding — like with the property tax levy — cut something else in the budget or lay a bunch of firefighters off. Poole says the city should have found something else to cut rather than raise taxes.
Poole also proposes the city might have used its emergency reserves to continue supporting firefighters until funding could be found.
"We have an emergency reserve in the city of Spokane," Poole says. "I would have hoped that somebody would have stepped up to the plate and said, 'You know what, we're going to fund this because we did not do our due diligence for the past five years to find stopgap funding for the SAFER grant positions.'"
Poole lambasts the city for spending too much on overtime costs and too much on upper-and-mid-level managers. <!——————EndFragment——————>
But Stuckart, says he's been a part of the budgeting process, and that finding an extra $5 million here or there isn't all that easy. A $5 million cut, he says, is as much as eliminating entire departments.
FIRE'S TARGETS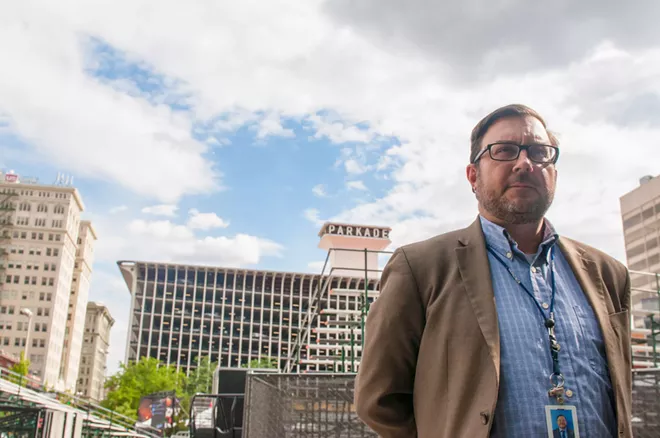 It isn't just an endorsement the union is giving Stuckart, however.
<!——————StartFragment——————>The Spokane Firefighter Union PAC has donated $2,000 to Stuckart's campaign. Not only that but the firefighters union from Seattle also chipped in $500. Meanwhile, the PAC donated $40,000 to the Citizens for Liberty and Labor PAC.
"We're clearly attempting to run an independent expenditure in support of Ben Stuckart for mayor," Marler says. Marler hopes to recruit more labor groups to donate to the PAC, though he says that he doesn't expect them to do any ads before the primary, nor does he think they'll be able to match the largess of the
Washington Association of Realtors
.
Stuckart has been a key ally of the fire union. He's pushed for the public safety levy to keep firefighter jobs, over the mayor's objection to the tax hike. In 2015, he passed an ordinance requiring two firefighters to respond to every call, even on the
smaller Alternative Response Unit
calls. The mayor and fire chief opposed that ordinance — but the
firefighters union pushed for it
.
The year before, Stuckart acknowledged violating city ethics rules by forwarding a confidential email from the city attorney to the fire union's Don Waller — concerning the union's court case
against the city
.
Asked by the
Inlander,
Stuckart denies that he's too close to the fire union.
"I would argue that one of my biggest problems with the Fire Department is the duplication of services on the West Plains," Stuckart says. "The airport has a fire station. West Plains has as a fire station."
Stuckart says he's told the union that there needs to be a conversation with the airport about combining fire services.
"I've been very upfront with them about [how] the duplication is going to have to stop and we're gonna have serious conversations with the airport about combining," Stuckart says. "And that, to them, might mean that they lose the West Plains station."
In the past, the fire union-supported PACs has been among the more controversial in the city. In 2017, fire-union-funded
Spokane for Honest Government
was fined $7,000 for failing to correctly report $94,000 in independent expenditures for City Council members Lori Kinnear and Karen Stratton. Two years ago, that PAC was widely condemned for putting out inaccurate and deceptive attacks attempting to slime council candidate
Matthew Howes
.
Archer says he takes the reputation of the fire union very seriously. He doesn't want to see any shenanigans.
"Sometimes unions overstep their bounds and lose their credibility when it looks like we're just scratching backs and playing blue-red politics," Archer says. "I was very clear with the Citizens for Liberty and Labor that I'm watching them like a hawk. How this goes determines the future of independent expenditures [from the union.]"
In general, Archer suggests, he approaches politics warily.
<!—————StartFragment—————>

"Some of the political stuff with the union scares the shit out of me," Archer acknowledges.
THE FATE OF BRIAN SCHAEFFER
Meanwhile, there's another crucial fire department question for the next mayor: What do you do with Fire Chief Brian Schaeffer?
<!—————StartFragment—————>"I've been asked multiple times by members of the union, they'll point-blank say, 'Are you going to fire [Fire Chief] Brian Schaeffer?" Stuckart says. "And I've said, 'Nope, not talking about that. Not an issue I'm not comfortable talking to you about.' And they pressed me on it, the last couple times we've met."
Schaeffer, through city spokeswoman Marlene Feist, declined to comment. City officials are forbidden from electioneering, she says.
Both Marler and Archer deny asking Stuckart if he planned to fire Schaeffer, but there's no question that Schaeffer has been controversial within the union, even before
he was hired
.
"The chain of command is not healthy," Archer says. "It's not a healthy organization."
Archer says he wants to be careful not to bash Schaeffer too much.
"He's a great people person. He's a great communicator. He's a great advocator for our membership," Archer says. "I feel like he genuinely cares about his employees. He was attempting to get extra salary saving plans to mitigate dispatch layoffs. There are some things he does very well."
<!—————EndFragment—————>
<!—————EndFragment—————>
But he also says that
"there's a lack of buy-in from subordinate leadership underneath him."
Last year, after reports of
bullying, hazing and sexual harassment
within the Fire Department, Schaeffer vowed to try to improve the culture.
<!—————StartFragment—————>But Archer argues the push for political correctness has gone too far.
<!—————StartFragment—————>
"It's a little bit of, for lack of a better term, that 'social justice warrior' mentality," Archer says. "Where a tone or certain words are assigned malicious intent."
<!—————EndFragment—————>
In particular, he cites the investigation into a
satirical firefighter calendar
. The calendars, intended to raise money to fight muscular dystrophy, dressed up the firefighters from station 4 in rompers and put them in silly and, arguably, sexually suggestive poses. But Schaeffer argued the calendar was unacceptable.
<!—————StartFragment—————>"The calendar was a case of jumping over mouse turds. That whole incident is the tip of the iceberg," Archer says. "I feel like there's a pattern of retaliation or harassment against members who vocalize the criticism of the fire chief." (Schaeffer denied the allegations of retaliation in a
KXLY story
.)
Stuckart initially refused to comment on how he felt about Schaeffer. But the
Inlander
pressed him: He'd praised police chief Craig Meidl. Why was he remaining mum on Schaeffer?
"I think my conversations with Schaeffer in the back room about threats to public safety are much different than what he says in public," Stuckart says. "To me, that means he's singing out of both sides of his mouth, which isn't a good quality."
In particular, Stuckart has been frustrated over the decision by the Condon administration to push to move to an integrated dispatch system. The City Council and the fire union have been united in their opposition to the Spokane Regional Emergency Communications (SREC) center. Last week, the union filed a grievance about the administration subcontracting dispatch work to non-bargained employees.
Stuckart wasn't happy about Schaeffer's comments
last month
about the council vote to oppose joining the integration.
Police Chief Craig Meidl reacted to the council vote by aiming to "reassure the community that our dispatch center will continue to provide exceptional service ensuring safety for our community members and first-responders."
<!—————EndFragment—————>
But Schaeffer was explicitly critical of the council vote, arguing that "today's conclusion could place the effectiveness of the region's fire service at risk" and that fracturing the system "places a significant barrier to ensuring the safety of the Spokane community's firefighters and the public that we are sworn to serve.
"Schaeffer just wants to create controversy," Stuckart says. "And Meidl is much more careful in his words. Meidl's threading a needle. And he's very capable of doing that. And I think that's why he's so respected in the community, and by his own employees."
Shawn Poole, meanwhile, doesn't take the opportunity to criticize his current boss.
"Brian Schaeffer has done a really good job of bringing diversity or keeping diversity going within the Fire Department," Poole says about Schaeffer. "He hired the first assistant female fire chief, which is huge and I give him a lot of credit for that. He's done a great job of trying to, you know, save these SAFER grant positions."
<!—————EndFragment—————>
And if the fire union doesn't like him?
"I really don't care what the union likes or who they like or they don't like," Poole says. "The fire chief doesn't work for the union. The fire chief, the police chief, they work for the mayor. ... As long as they're doing their job, providing those services in a fiscally responsible manner, then, you know, what? You're good in my book."