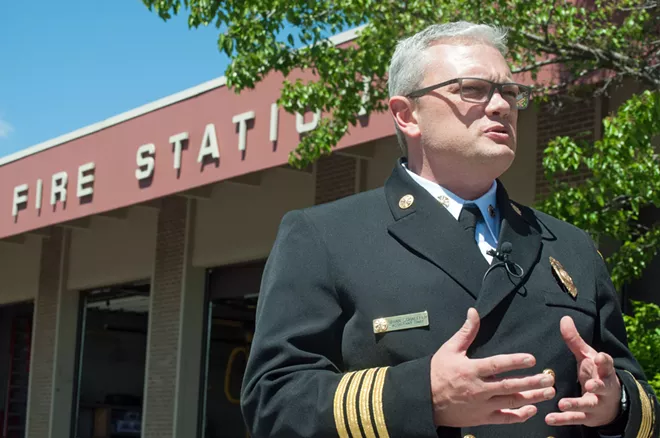 Brian Schaeffer was only eight months old when a flame from a scented candle lit the fire that could have killed him. Schaeffer was in his crib in a mobile home in Freeburg, Illinois, when the candle caused the drapes to catch fire.
And he was alone. His adoptive mother was across the street, borrowing something from a neighbor.
"When I say [my introduction to the fire department] literally started as an infant, it literally started as an infant in every sense of the word," Schaeffer says.
Yesterday, Mayor David Condon — in a widely expected move — appointed the longtime local firefighter Spokane's fire chief. Schaeffer had been serving as the interim chief ever since the retirement of former Chief Bobby Williams.
In his office, Schaeffer takes the yellowed 1971
Freeburg Tribune
newspaper clipping and describes the horror that his adoptive dad, a firefighter himself, experienced while riding on the fire truck that day.
"The fire truck is taking a left. The fire truck is taking a right. And another left. And you're thinking, 'Oh, this is in my area of town. Oh, this is in my neighborhood,'" Schaeffer says. "And then you pull up, and your newborn infant and your wife
[are]
involved in this pretty significant fire. "
One of his neighbors, John Long, rushed into the mobile home to save Schaeffer. He would later be treated for smoke inhalation. One of the other firefighters suffered a burn from the blaze. And the family wound up homeless.
"The money, the checkbooks, everything was destroyed," Schaeffer says. "It was really a devastating situation."
As he discussed the honor it was to be appointed chief in front of Downtown's Fire Station 1 yesterday, Schaeffer described his 28 years working as a firefighter that brought him to this point.
"The journey hasn't been without great sacrifice for myself and my family," Schaeffer says from the podium, as he begins to break down in tears. "I want to acknowledge and thank my wife for forgiving me for hundreds of missed meals, vacations, races and sometimes even promises, when my responsibilities at the fire department pulled me away. I would never have made it without you."
As Schaeffer officially takes the reins, he'll continue as the head of a department that is in the midst of change. As buildings have become more resistant to fire and as the population continues to age, the profession of firefighting has moved away from responding primarily to burning buildings and toward responding to medical emergencies.
That's true for firefighters across the country. But there are a few issues in Spokane, in particular, that Schaeffer has to grapple with:
1. Save the 48 grant-funded firefighters before the SAFER grant expires


The $9 million Staffing for Adequate Fire and Emergency Response grant the fire department received last September was enough to hire 48 new firefighters. For a department that had been understaffed for years, and was lagging behind the industry standard for response times, the new staffers came with a sigh of relief.
"I feel strongly that that's the minimum," Schaeffer says.
But the grant came attached to a ticking clock; it only lasted two years. Once the two years runs out, the department has to face the prospect of firing those new firefighters.
"They have not even hit the streets yet," Schaeffer says. "There's a lot of consternation within the department."
The city will measure the effects of the new staff on department effectiveness and safety, then search for ways to keep funding them. If not, all that time and money spent training the new firefighters could be wasted.
"What we prepared for the policymakers for a group of options to have sustainable funding for moving forward," Schaeffer says. One option is a basic fire levy. Another option, just signed by the governor this year, is to create a municipal fire district. A third takes a unique tack, applying a "fire benefit charge" based on a building's fire risk, rather than simply its property value.
"We're seeing that being used all across the state, more and more and more," Schaeffer says. "That may be a good one."
We took at a crack at examining the costs and benefits of the fire benefit charge
last year
.
"Time is ticking here," says Randy Marler, president of the Local 29 firefighters union. "We have less than two years. it should be a conversation between the fire chief,
union
and the community, to find out what they really want from their fire service."
2. Get the rookies experience — and fast
The influx of new firefighters — some funded by the grant, others replacing aging firefighters who'd retired — poses another challenging situation for Schaeffer. Right now there are 70 different firefighters on their probationary period — the term where a rookie firefighter is trained, mentored and reviewed for suitability.
"That's a concern," Schaeffer says. "You have to build experience. Building experience is tough, especially with the generational differences."
He notes that the older firefighters were trained on the textbook, but the younger generation is more tech-savvy.
"This generation, it seems like they were delivered with an iPhone connected to their umbilical cord, right? They're better connected and better informed, and I would argue better educated, than any generation ever," he says. "Which is a great opportunity. But if the training division and our leadership don't understand that, and don't meet the needs of these people, we're going to have huge problems."
Schaeffer says there's going to be another wave of retirements soon.
"That vacuum of experience with people retiring is a priority for us to address," Schaeffer says.
He says that he's going to implement a new management system to standardize managing incidents across the department. That training, he says, is crucial.
"We should focus most of our energy on the firefighter rank," Schaeffer says. "More decisions that affect people's lives in the street are made by those people at the firefighter level. Thousands of decisions that, if they were wrong, could result in people dying in the field."

3. Deal with soaring overtime costs
For Spokane's fire and police departments, the use of overtime has sent salaries soaring and has eaten into city budgets. Last year, the department spent $3.1 million in uniformed overtime. This year, it's already spent more than $861,000 as of May 25.
Schaeffer says that currently, the department doesn't have much of a choice about using overtime, as contractual rules require a certain amount of staffing for fire stations.
It used to be that whenever someone at a fire station was sick, a relief firefighter would fill in. But when budgets were being slashed years ago, the relief firefighters were some of the first positions to be cut. So today, the department uses overtime as a way to address the issue.
"We can't run a two-person engine, contractually," Schaeffer says. "If somebody calls in sick, and we don't have the personnel on duty to fill it, we [use] overtime."
Even the smaller "Alternative Response Units" created to respond more rapidly to r
elatively minor
emergencies require at
least two firefighters
to respond, thanks to a 2015 city council vote.
The overtime issue that has been exacerbated by a few things, Schaeffer says: The department added two fire stations, which created more opportunities where a firefighter could call in sick. And in recent years, the department has become older.
"We have a lot of long-term injuries and illnesses. That has an impact on overtime," Schaeffer says. "We have people with job-related cancer that aren't able to come to work, and people with knee surgeries."
Schaeffer hopes that this problem lessens as the younger crop of firefighters take hold. Younger people don't tend to get sick quite as often.
4. Improve the relationship with the union

It's not unusual for a fire or a police department to
clash
with the union representing the rank and file. Marler, the Local 29 firefighter union's interim president, says that's not necessarily a bad thing.
"
I don't think it's an unhealthy or an abnormal thing for the union leadership and the administration to have an adversarial relationship at times," Marler says. "I feel like we've experienced that like anybody else does."
In the final days of the fire chief search, members of the Local 29 union raised several issues highlighting underlying tensions between labor and management: They raised frustrations over feeling cut out of the process. They raised concerns over the fact that Meghann Steinolfson, a member of the city's Human Resources division, sent out a letter that appeared to show favoritism on behalf of Schaeffer:
"I also really really really encourage all of you to attend the community forum. If your direct reports can also attend, all the better," Steinolfson's letter said. "This is the department's opportunity to not only meet the candidates but to support Chief Schaeffer."
Steinolfson did not respond to an interview request to the
Inlander
two weeks ago about the issue,
instead
sending sent an email to city spokesman Brian Coddington outlining her response. The email was not forwarded to the
Inlander
by Coddington, but the
Inlander
later obtained it via public records requests.
"We need to make it clear that we have offered as many opportunities, if not
more,
than other groups have had to participate and they've declined," she wrote in her letter.
She notes that she "met with John Goodman and Randy Marler on Friday, February 24th to discuss their feedback on the process."
"I extended an invitation
for
the president of Local 29 and the president of the [Spokane Area Fire Officers] to participate in interviews, and submit interview questions for consideration, I received no questions from either group," she also noted.
Meanwhile, the union also lamented that Fire Station 4 Capt. Andrew Bessmer, who didn't have much administrative experience in the fire department but had tons in the military, was eliminated early in the selection process.
In an interview with the
Inlander
, Bessmer said that the average firefighter felt "totally left out of any decision in the fire department."
Schaeffer strenuously disagreed with that assessment.
"You'll never find a fire chief who, I feel, is more connected with what goes on out in the field... I still go to calls. I'm still there, seeing the work that is going on in the street," Schaeffer says. "The labor leaders see things one way. And I respect their perspective. But there's a handful of them. There's 300 of them out there that are in the field right now that know me, and I
think
have a pretty large trust in what I do."
Schaeffer, who was in the middle of interviews for the fire chief position when the story broke, was frustrated by the way the news stories read two weeks ago.
"It really seemed to be scripted," Schaeffer says. "It was disappointing."
Shortly after, Goodman resigned as the head of the Local 29 union. Schaeffer speculates that it was because Goodman was just "done with Local 29 and that philosophy."
Marler, the interim president, says the timing was purely coincidental.
"Our former union president stepped down for personal reasons," Marler says. "Didn't have anything to do with the chief process or anything like that."
Schaeffer says he believes that the relationship with the labor union is important. That's one reason why, on June 13 and 14, the department and the union
are
sitting down for a
Labor-Management Alliance
session. It's an intense two-day program, where veteran facilitators help walk the union and the administration through the most complicated issues.
"You take problems in a department that are existing and you work through them together," Schaeffer says.
Going forward, Marler strikes a note of confidence in the new chief.
"I don't think that there's anything that lays in front of us that we can't work on together with the chief," Marler says. "I don't think we're that far apart. I wholeheartedly believe that the fire chief's number one priority is the safety of the community. We're looking forward to working with him, and working out the details of how we get there."