Christine Meyer was on her way home from an anniversary trip with her husband this past May when she saw the news on her phone: Maya Angelou had died.
She cried. And when she got home, she went to work. She wrote the Wikipedia articles about Angelou and her work, and she would be the one to add dates, update facts...
"Change it all to the past tense," she says. "That was hard."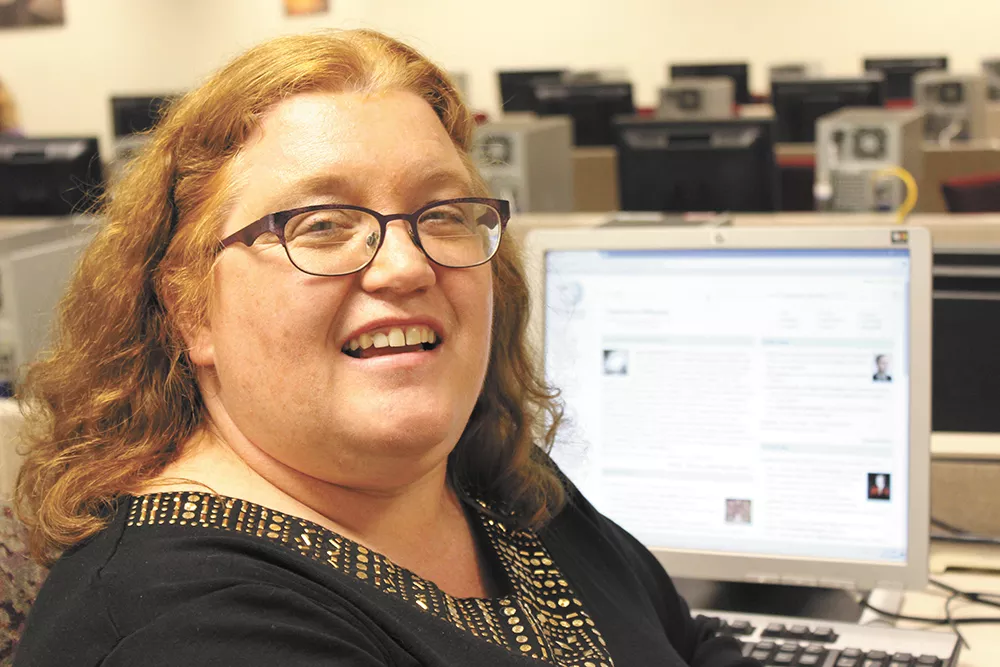 It had started years earlier when Meyer, a sign language interpreter at Washington State University, started making small edits on Wikipedia on topics that piqued her interest. She wrote entries for the Wiggles, Blue's Clues and Sesame Street. At some point she came across Angelou's Wikipedia page and found it in surprisingly poor condition.
"Then I went to the I Know Why the Caged Bird Sings article, and it was even worse," Meyer recalls. "And I remember thinking, 'This is kind of shocking to me that such an important writer would have these articles in this shape.'"
The thing everybody knows about Wikipedia is that anyone can edit it. But few actually do. Of the millions of people who view Wikipedia, only about 130,000 have made an edit in the past month. The typical "Wikipedian" is an English-speaking twentysomething man with a college degree but no children. And despite years of community discussion about how to fix the "gender gap," only one out of 10 editors is female.
Unlike the sexist threats and blatant hostility that plague other online spaces, Wikipedia's gender controversies tend to involve more subtle judgments of prominence, worth and identity. In one 2013 case that became known as "category-gate," the category list of "American Novelists" was deemed too long and hundreds of names on the list — including Louisa May Alcott, Harper Lee and Amy Tan — were moved to "American Women Novelists."
Tied into this is another well-known problem, as Meyer found with Angelou: that women writers, artists and scientists often have shorter and sloppier Wikipedia articles than men with similar accomplishments. Sue Gardner — who stepped down as the Wikimedia Foundation executive editor in June after six years as a strong advocate for "gender gap" issues — did a Reddit "Ask Me Anything" forum late last year about why these are difficult problems to solve.
"It's really, really hard to talk about 'women' or 'women's interests' because of course women make up more than half the world's population, so it's kind of absurd to imagine you can easily pigeonhole what women are interested in," she wrote. "But I always laugh when people say that Wikipedia is complete — that everything that needs to be written about has been written about — because when I read Wikipedia I am constantly stumbling across gaps in our coverage."
Meyer had read Caged Bird as a high schooler, and that was it. So when she decided to take on the project of fixing Angelou's articles, she started by reading Angelou's work. She sought out other resources and studied every one as she came to know the author and her fascinating life. Angelou kept Meyer busy by continuing to write and rewrite her own story, with Mom & Me & Mom published in 2013.
"What 85-year-old publishes her seventh autobiography?" Meyer says. "Maya Angelou. All of our articles said she wrote six autobiographies, so I had to go back to every single thing: 'She wrote seven... '"
Meyer credits several mentors for helping her through the process of writing about Angelou, especially Adrianne Wadewitz, a literature professor and influential Wikipedian whose death in a rock climbing accident this past April left a major hole in the community.
"She basically taught me how to write a literary article and led me by the hand about what I needed to," Meyer says. "There was one point when I went on her Talk page and said, 'What am I doing? I'm this middle-aged white woman from Moscow, Idaho, writing about a black writer, about racism and childhood rape and civil rights — what am I doing?' And she said, 'Well, you're the one who took it on. You were excited to do it, so you have to finish it.'"
Meyer went to Washington, D.C., for training earlier this year, and now leads workshops on the Wikipedia basics that can be daunting for beginners. She's known women who got fed up with the culture and others who've simply gotten busy with other things in life, but says that for her it's always been worth the work.
"If it wasn't fun," she says, "I wouldn't waste my time." ♦