click to enlarge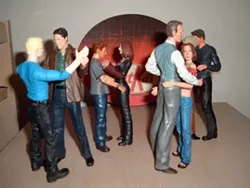 FRIDAY!

Buttermilk's probably your best bet for tonight if you're looking to rock. Old-school Spokane punk outfit the Buttermilk 5 was a hit at last year's Rapture Punk Rock Reunion, and they plan to punk the shit out of the Baby Bar tonight. They'll play with Seattle's Dukich and DJ Smickage. 9 pm. FREE. 21
For something completely different, head to Empyrean for Common Loon, Mile Marker Down and one of our favorite Spokane folk-acts, the Terrible Buttons. The Whitworth band is an entourage — a team of folk-minded kids that bring an Arcade Fire-like passion to their shows. Price unknown. Awesomeness assured.
SATURDAY!

Because hangin' out on East Sprague is one of our new favorite pastimes, hit up the newly-revamped, kinda vegan-friendly Checkerboard Tavern (1716 E. Sprague) tomorrow night for Tommy G.'s performance there. He's that friendly street performer you see near Thomas Hammer downtown and sometimes in Riverfront Park (when the cops aren't hasslin' him). Show won't cost you a damn thing.
All the cool kids will be dancing their girl-pants off at the Hockey show at Empyrean Saturday night. The former Spokane band has taken the world by storm in the last year, winning an European MTV Video Music Award and a nod for "top best moments" at last year's Sasquatch Festival from Spin Magazine. Not even I, who like to poke fun at them, can deny that they are damn good at what they do. All-ages. $12. Sometime in the PM.
SUNDAY!
Sundays are for booty shakin'! Portland's popular Boy Eats Drum Machine comes back to Spokane on the Sabbath, singing and shouting and kicking up a fuss. This will be a dance party, for sure. 7 pm. $7. All-ages.
The Blvd is no more, folks. What was Henry's, Mother's, the B Side, the Spread, Bricks and the Zombie Room is now (drumroll, please) THE SEASIDE. Yes, silly name — even Bill Powers, the new owner, agrees. Wrap up your weekend festivities with a show by That 1 Guy. He's a trippy, Seussian lyricist who plays a Magic Pipe and, if you're lucky, a Magic Saw. Awesome. 7 pm. $8. All-ages.