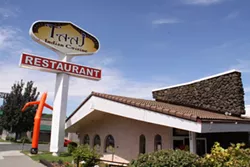 It's a testament to the lust for the food of the subcontinent how quickly word of Taaj Indian Cuisine ripped through the local internets. The joint opened last Wednesday and already it's received an incredible amount of Facebook love and blog buzz. Three separate freelancers pitched some version of, "OMG we have Indian Food downtown again."
Kirsten Harrington was the quickest of those. You can read her account in The Inlander on Thursday. In the meantime, sate yourself with some menu goodness. (The menu has nearly 100 items. Click here to download the whole thing.)
Oh, and also: Go to the place, for God's sake. We've had Indian downtown before. It didn't work out so well. So patronize. We don't want Taaj going the way of Bombay Palace.