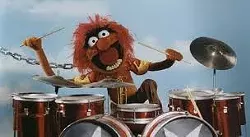 Whoa. Last weekend of August? Crawl out from under that rock and get out there this weekend before your memories of summer are deep under some snowbank.
When drummers refer to "the greats," they're talking about this guy. Ed Shaughnessy, like Buddy Rich or Art Blakey, is a jazz legend, having played as the Tonight Show's drummer (in the Carson days). He'll play — of all places — the Shadle Park High School Grand Reopening tonight, along with the Bob Curnow Band. 7 pm. $10 - $15. All-ages. (4327 N. Ash)
They've ditched the veggie van (a vegetable-oil powered tour van), but Boston-based band the Grownup Noise has gained attention for much more since then — namely their opening spot for Thao & the Get Down Stay Down. They'll come play a new spot — Nyne — tonight with hometown favorite Mark Ward. 9 pm. $5. Gotta be 21.
Christmas! Not the holiday, but almost as good. The Olympia-based surf punk bands is a hoot and a half and will cram into the Baby Bar tomorrow night. 10 pm. Free. Gotta be 21.
Screw Lilith Fair! We've got the Lilac Fair. The brains at Empyrean are throwing the first annual Fair as a benefit show for Vanessa Behan Crisis Nursery, and it features a pretty amazing lineup of local female musicians, artists, dancers, performers and crafters. In fact, the day-long festival inspired us to write this article on local female musicians this week. The show starts off at 3 pm tomorrow, and ends late tomorrow night with a performance by Pasties & Paddles. All-ages.
Local masters of all things groovy, the long-standing jam/fun outfit Groove Patrol struts its stuff tomorrow night for an epic CD release show at Ichiban (202 W. 2nd). 8 pm. Gotta be 21.

And last, but (for volume alone) hardly the least: The loudest metal duo on the planet (this is not proven, but I'd put money on it) returns to Spokane for a show tomorrow at the Seaside. Jucifer, a husband, wife and wall of sound, takes the stage for their umpteenth show here in the 'Kan with Anadonia, the Toy Garden and Belt of Vapor. 9 pm. $5. Gotta be 21.

And you could always go see the Nuge on Sunday (Knitting Factory). Or you could sleep and not get shot with a bow and arrow.